Camp Okavango is located on the remote Nxaragha Island at the heart of the permanent Okavango Delta, ensuring a water wilderness experience, no matter what time of year you arrive. The Okavango Delta comprises a convoluted labyrinth of lakes, lagoon and hidden channels that spread out over an amazing 16,000 square km area when in flood, and less than 9,000 square km during dry spells. Due to its location in the arid Kalahari region, the Delta attracts prolific wildlife that venture here in search of water.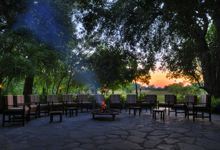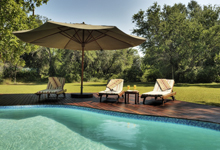 An elegant thatch-roof structure, Camp Okavango comprises a main lodge building that includes a stylish cocktail bar, lounge area where guests may meet and mingle, as well as a reference library pertaining to the regions wildlife. A spacious dining room opens up onto a large patio the perfect location for evenings around the fire. Other highlights include a birding hide, as well as a deck with a plunge pool to cool off on hot summer days.
This luxury Botswana camp facility accommodates a maximum of 24 guests at any given time in safari tents with sliding doors that have been decorated in an East African-style. Private viewing decks and raised teak platforms complete the scene. Those who are keen to indulge in the epitome of creature comfort may opt for the Okavango Suite, a completely private thatched cottage that is popular amongst honeymooners.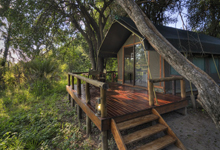 Camp Okavango accommodates only 24 guests in intimate East African-style safari tents with sliding glass doors. Each tent is individually situated on a raised teak platform with en-suite facilities and a private viewing deck. For those who are looking for the ultimate in exclusivity, Camp Okavango boasts the Okavango Suite a thatched cottage offering complete privacy, which is ideal for honeymooners.
Safaris
Game-viewing safaris are facilitated by professional guides who have extensive knowledge of the area and accompany guests on an exploration of the variety of tranquil waterways by dugout canoe (mokoro) and motorboat. Alternatively, opt for a guided nature walk on one of the various nearby islands and stand the chance to spot some of the regions larger wildlife species. Birding opportunities abound and fishing enthusiasts may cast a line for bream and tiger fish.
General
Children
Children over the age of 16 are welcome and enjoy a fully-inclusive stay at Camp Okavango.
Getting there
Access is by charter aircraft from Kasane (served by road transfers from Victoria Falls and Livingstone) and Maun. Camp Okavango also has a private registered airstrip that may be used by visitors who prefer to travel independently.
Airstrip coordinates: 19.07.59S 023.06.32E.
The airstrip is 890m long and is covered in grass with soft sand.
Maximum aircraft weight for public transport is 3500kg as it is a category "C" licensed aerodrome.
Electricity
During daytime and evenings power is generated by means of generator (AC 220V). Video batteries may be recharged and all tents are equipped with a 220-volt AC plug for hairdryers, and invert 12-volt DC lighting is supplied at night once the generator are switched off.
Credit Cards
All major credit cards (Visa, Mastercard and Diners Club), but please note that American Express is unfortunately not accommodated.
Baggage Allowance
Each person is allowed 20kg luggage in soft sided bags.
Kindly contact an African Travel Gateway representative should you require any further information pertaining to Botswana accommodation venues or Botswana camp facilities.