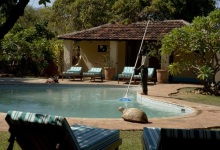 Kapani Lodge is an exclusive camp situated on the banks of one of the Luangwa River's many ox-bow lagoons. It is located close to the main Mfuwe area of the South Luangwa, one of the finest National Parks in Zambia. It is a luxury safari lodge, accommodating just twenty guests and is open throughout the year. This is an ideal place from which to start your Zambian safari experience. Above all else the wildlife gameviewing in the area close to this camp is as good as you will find anywhere in Zambia, if not Africa.
Accommodation at Kapani Lodge
Each of the eight standard suites has its own lounge with bar fridge and the beds have overhead fans inside their walk-in mosquito nets. Our two Lagoon Houses are even more spacious with private views and are ideal for honeymooners or those looking for a little more space and seclusion. The camp is on mains electricity and offers most modern facilities. A thatched building in the centre of this luxury safari lodge houses the lounge and library.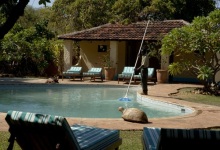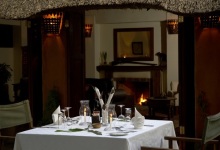 It is pleasantly cool in the hot weather and warm and cozy in the cooler months with an open fire. According to the season, dining is al fresco with dinner taken either on the terrace, the spacious deck, or by the swimming pool. Private dinners can also be arranged for guests seeking a little more seclusion. The bar and dining area is set on a deck overlooking the Kapani Lagoon and adjacent grazing lawns. Some guests choose to miss the odd safari trip into the National Park in favour of staying in camp to see what wildlife will come wandering by.
Safari Activities at Kapani Lodge
The location of the camp in the main Mfuwe area of the South Luangwa ensures an excellent African safari experience at all times of the year. The game drives and walks from this camp are as good as you will find in any of Zambia's National Parks. We have a small gift shop offering books, clothes and local crafts as well as a secluded swimming pool at the far end of camp.