Rio Azul Lodge is situated on the Govuro River Estuary in Mozambique just two kilometers from the river mouth. The Vilaculos Airport is 110 km south of the lodge and is used as the main point of access, as there are daily flights from Johannesburg to Vilanculos. The mangrove estuary system at Rio Azul is vast covering about 50 sq. kms and heading inland there is more than one hundred kilometer of waterways and channels. Guests at Rioa Azul have the opportunity to fish these estuary channels and explore the long beaches and rich birdlife that exists in this piece of paradise.
Accommodation at Rio Azul
Accommodation is comprised of six thatched beach chalets, and two thatched luxury villas each of which can accommodate 6 adults & 6 kids. In addition the villas have their own swimming pools and are beautifully appointed. The six beach chalets offer fantastic views of the estuary, and each chalet includes facilities that include electric fans, mosquito nets, ensuite bathrooms complete with shower, double basins, lights for at night and cupboards for storage.
The two luxury villas overlook the estuary, from their decks that houses their swimming pools. Each villa has a comfortable lounge with ceiling fans and a kitchen for guests who prefer to self-cater equipped with a fridge, microwave, deep freeze, oven & stove, crockery and cutlery). The Villa has three separate en-suite bedrooms. In addition to this there is a loft furnished with single beds that could accommodate six children.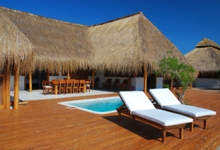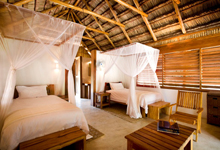 The main living area at Rio Azul has a swimming pool & deck that commands some of the best sunsets in Mozambique. The 31 foot bar, also with an incredible view is an inviting place to toast the end of a fun day in Mozambique.
Activities at Rio Azul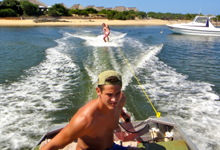 Although Rio Azul is a prime fishing destination for Mozambique, but in addition it also offers a number of other exciting activities that include: good bird watching, kayaking, snorkeling, walks, wind surfing, skiing and wakeboarding and dhow cruises. The snorkeling and diving at Rio Azul is not on site but day excursions with picnics are arranged to some prime spots such as Paradise Island and its surround reefs that make for excellent snorkeling & diving.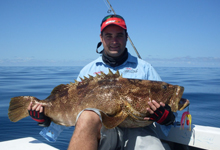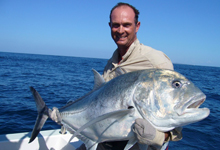 The fishing at Rio Azul is varied and challenging and offers sport fishermen a great mix including estuary fishing, surf fishing, fly fisihing and some world class offshore fishing. The list of species that have been caught at Rio Azul in its surrounds is long, and includes among others: Marlin, Sailfish, Wahoo, King Mackerel, Queen Mackerel, Bonito, Kingfish and Grunter.