The Nomad Adventure Tours operation is 100% African owned and operated, and offer guests safety, reliability, fun and an adventurous tours in Africa. The adventure tours offer some of the best value for money African Safari experiences available in Africa. Nomad started more than 15 years ago, with one truck, 2 staff and just one trip a month. Many years and kilometers later Nomad has grown to a fleet of about 40 vehicles, 130 members of staff and a host of Tours & Safaris that depart on set dates.
What to expect on an Overland Adventure Tour in Africa
Each African day is a new adventure, Starting at dawn some of the day is spent travelling from one place to another, which can be great or small distances. Lunch is normally and informal arrangement on the side of the road or at a local picnic spot, and evenings are spent socializing and relaxing at camp.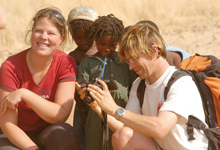 The group sizes range between 4 - 18 passengers and come from all walks of life & nationalities. The nature of an African Adventure Tour is such that a certain age group is more common and this is between the ages of 18 to 55. Although guests older than 55 years are welcome! Each tour includes three hearty meals a day, (unless otherwise specified). Vegetarians are catered for and are always impressed by the varied menu. Special dietary requirements can be met, but only by special request. In East Africa it is more difficult to cater to certain requirements.
African Adventure Tours & Safaris
Two types of African Adventure Tours & Safaris are differentiated between. These are Camping Adventure Tours and Accommodated Adventure Tours. They both follow similar routes so the main difference is wether you prefer camping or accommodation. Take a quick browse through the different tour & safari options for each ... Take note certain departure dates operate on as "small group departures", on these specific departures group sizes are no larger than 12 passengers, and as a result there is a supplement to the cost, please ask your consultant.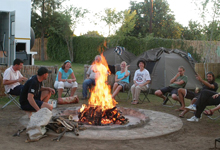 Overland Tours - Camping are tours in which accommodation is in large, 2 man canvas tents (with built in mosquito net). Guests put them up and take them down, which is actually very easy due to the simple design. Everyone receives a foam mattress for the duration of the tour. Unfortunately due to limited space these mattresses are not quite as thick and soft as your own at home, but one quickly discovers they are very comfortable. On the Camping Adventure Tours you need to bring your own sleeping bag & towel. Occasionally we spend a few nights in dormitory accommodation and then we sleep 4 - 6 guests per room.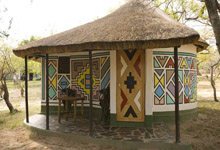 Overland Tours - Accommodated combine all of the outdoors and adventure that the camping tours bring, but with the main difference being you will sleep in a bed and not in a tent. The style of accommodation varies from destination to destination and makes use of hotels, chalets, hostels, lodges, permanent tented safari camps and traditional huts. In the Southern Africa Accommodated Adventure Tours, all rooms are twin share and have en suite bathrooms, with bedding and towels provided. However in the East African itineraries, all rooms are twin share, but do not always have private en suite bathrooms and guests will need to bring their own towels
Vehicles & Equipment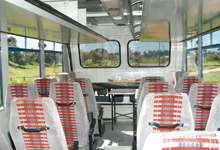 Nomad has a new and very modern fleet of vehicles. The safari vehicles are serviced and maintained according to the manufacturer's specifications. Overland trucks are replaced on a regular basis, and all vehicle and camping equipment is checked and replaced frequently and undergo spot checks by the operations manager. The guides that go with you on these overland tours are passionate and commited to the success of the African tour or safari that you choose.that we recruit, train and manage our crew to the highest standards. Our guides are all fully trained in First Aid.