If countries were people and their inherent qualities had to be summed up in a word that denotes their disposition, South Africa's would be 'sunny'. Southern Africa, in general, is blessed with agreeable weather for most of the year. Lacking in weather extremes, the best time to visit South Africa depends more on the experiences you wish to enjoy rather than seasonal temperatures.
For visitors, game-viewing safaris are high on their itinerary, followed by road trips along the Garden Route, a number of days in Cape Town and the surrounding winelands, whale-spotting along the south coast, seeing the wild flowers of Namaqualand, walking in the majestic Drakensberg mountains and taking in at least some of South Africa's hundreds of kilometres of exquisite beaches.
Seasons in South Africa
Situated in the southern hemisphere, South Africa enjoys a hot festive season where Christmas is spent with family at the beach or near a swimming pool. Mid-year, the three winter months can get cold. But, while night-time temperatures can dip below zero in places, day-time readings rarely sit in the single digits.
South Africa's seasons are as follows:
Spring - September and October
Summer -November to March
Autumn – April to May
Winter - June to August
South Africa can be broadly divided in two regions, one of summer rainfall and another of winter rainfall. The northern, central and eastern parts of South Africa have hot summers along with rains and then cool, dry winters. These include places of interest like Kruger National Park, Johannesburg, Drakensberg mountains and the Free State and KwaZulu Natal provinces. Kingdoms within South Africa, Swaziland and Lesotho, also experience summer rainfall.
Cape Town, Garden Route & Cape Winelands
The Western Cape Province, where Cape Town is located, as well as the Garden Route – which is the southern coast of South Africa from Cape Town to about Port Elizabeth, have cool and wet winters with hot and dry summers. Below are the average temperatures, rainfall figures and 'wet days' for Cape Town, to give an idea of what to expect.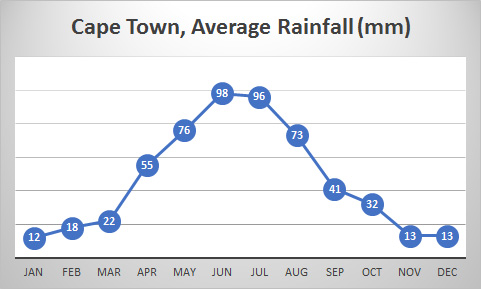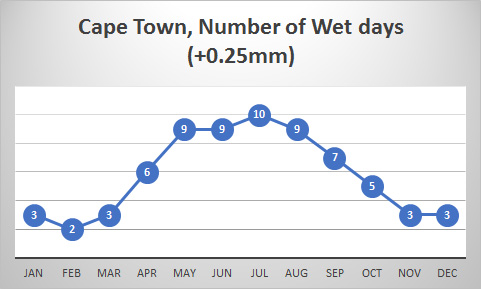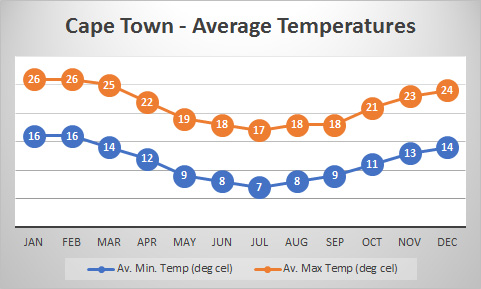 The Cape and Garden Route are exposed to intermittent cold fronts rolling in from the ocean in the south west which bring with them wind, rain and even snow to high lying areas. A cold front normally lasts 2 – 3 days before the skies clear to crystal clear sunny days with temperatures in the late teens to early twenties (degrees Celsius). A road trip from Cape Town and along the Garden Route is best timed during the whale-watching season from July to October. It is then that southern right, Bryde's and humpback whales can be encountered. Look for whales from cliffs overlooking the sea or join a boat charter for a close-up experience. The Garden Route can be enjoyed throughout the year but the summer months of November to April are better if you're planning to follow the coast and spend time on the beaches.

The western interior of South Africa (which is most of the Northern Cape Province) is filled by the vast 'Groot Karoo', a biome characterized by wide open shrublands with moonlike topography. This region is one of the less visited parts of South Africa. It has a very low annual rainfall, almost year round blue skies, hot summers and bitterly cold winter nights. It is considered to be semi-arid to desert, and is an under-appreciated area of true beauty and space.
Kruger National Park
Most visits to South Africa include time at a game reserve and more often than not at the Kruger National Park. The best time to visit depends on what you would like to see. In summer, when the African bush is at its greenest, birdlife is abundant as species numbers swell with the influx of summer migrants. The sunsets during this time of year can be a riot of pinks and reds and the air is generally clear. On the flipside, in summer the bush is thick, limiting visibility and making game spotting more challenging.

There are national and private game reserves throughout South Africa with many animals to see throughout the year, regardless of the season. The best time to visit Kruger Park for most people falls in the drier months of Apr - Sep. Below are some graphs indicating rainfall and temperature for the Kruger National Park.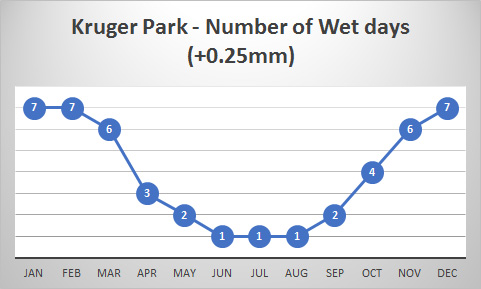 Drakensberg
In winter the vegetation of the Drakensberg is dry and neutral. But mild, clear days with almost no chance of storms make for wonderful day hikes. In summer, the mountains sparkle in their green finery and hikers can drink mountain-fresh water from running streams on the high berg. Thunderstorms and lightning are very, very frightening up in the mountains so hikers need to take care and keep a close eye on weather forecasts in the summer months.
Wildflowers of the Western Cape and Namaqualand
Between August and October, the arid, dusty earth of South Africa's west coast bursts into colour when the wildflowers bloom. In spring, white, purple, pink, red and flaming oranges explode to bring a riot of colour to the coast. From Darling, the West Coast National Park and Clanwilliam to Vanrhynsdorp, Nieuwoudtville and onward to the Northern Cape towns of Garies, Springbok, Kamieskroon and Port Nolloth - including the Namaqua National Park, you can experience the west coast wildflowers. These flower hot-spots can be reached within a one to five-hour drive from Cape Town.
Regardless of the season in which you travel to South Africa, there will always be dozens of attractions in their prime. We'll help you to plan an itinerary that takes in the best that the areas and seasons have