Take a look our new selection of Nomad Overland Tours through Southern & East Africa. These tours offer guests the option of doing an overland tour on a Camping or Accommodated basis.
Overland Tours in Africa are geared toward the adventerous traveler seeking to taste & feel Africa best and for what is really is! A safari experience in Africa can vary greatly in experience & cost, from self drive holidays, to high end fly in safaris.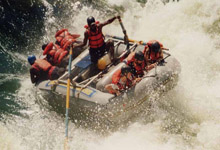 An overland tour takes the pressure of driving away that you would have in a self drive holiday, it also takes away the big expense often associated in accessing these remote parts of Africa, and gives you a blend of guided touring in Africa at an affordable rate ... at the same time an African overland tour offers excitement, change, unpredictability, friendships, involvement, beauty, a real feel of what its like on the ground in Africa ... and above all an African adventure!