Kaokoland, a largely unexplored region in the extreme north western corner of Namibia is a lesser-known destination, but one worth exploring. With the Kunene River forming the northern border with Angola, and the Skeleton Coast National Park along the Atlantic Ocean to the west, Kaokoland is sometimes referred to as Namibia's favourite off-road destination. With an interesting landscape, local culture and game-viewing opportunities, Kaokoland is a completely unique destination.
The Kaokoland landscape is sparse but varied, ranging from rugged mountains to open plains and dry riverbeds. This desert destination is ideal for keen 4x4 enthusiasts and more adventurous travellers, and can be accessed via road or from one of Namibia's airports. Chartered flights can be arranged to certain private lodges in the area, for travellers who would prefer not to travel by dirt road. Game-viewing in Kaokoland can be tricky, as the harsh terrain means game is not found in great quantities, but it is renowned for its population of black rhino and desert elephants. More common sightings are gemsbok and zebra, and lions are also found in the area. Since this region is so isolated, spotting game is all the more rewarding.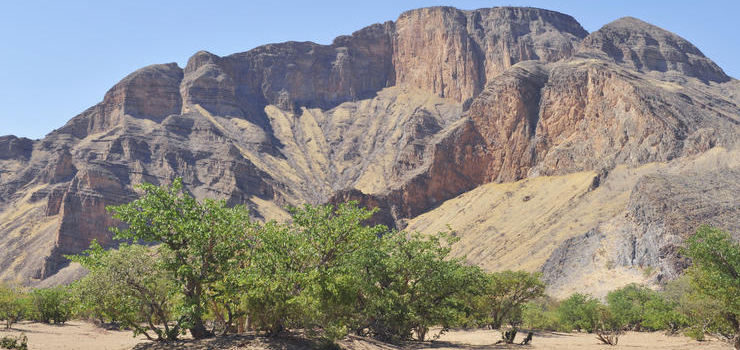 Kaokoland is home to the pastoral Himba ethnic group, a highly skilled and semi-nomadic tribe. Modern influence has been kept at bay, and many Himba tribes seem today the same as they have for decades. Responsible and respectful visits to certain villages can be arranged through guided tours.
As Kaokoland is a desert, there are typically significant differences between night and daytime temperatures. While summer temperatures can exceed 38°C/100°F, nights can drop to below freezing temperatures in the winter months, between May and October. Kaokoland does not receive much rain, though it is classified as a summer rainfall region, and occasional thunderstorms occur between November and March. The winter months are dry, with drought-like conditions in most years. Because of the scarcity of water and the dry conditions, malaria is minimal.
Serious off-roading should only be attempted in high-clearance 4x4 vehicles, and preferably in a guided group as the roads can be tricky, particularly if there has been rain. Traversing areas such as Van Zyl's pass and other routes through the north can be demanding, and should not be attempted by novice off-roaders.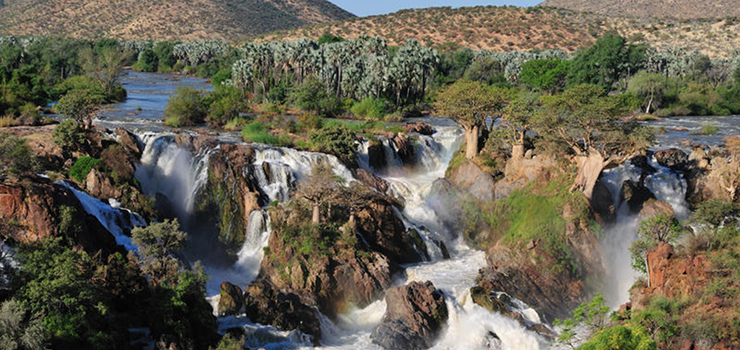 Epupa falls is one of the more accessible highlights of the Kaokoland region. The water level of this natural spectacle changes depending on annual rainfall, but the best time to visit is usually in April or May. There are overnight accommodation options for a range of budgets in the area around Epupa falls, including campsites right on the river. Away from the river, vegetation appears scarce, but in fact the desert-adapted flora supports nomadic herds of game. Other notable attractions include Ruacana Falls, which only flow after heavy rains, Ongongo hot springs, and sesfontein, a German fort from World War One.