Cape Town is one of South Africa's most popular cities, attracting around 28 million visitors each year. Situated between the cape fold mountains and the Atlantic Ocean, the continent's southernmost city is an absolutely unique destination.
Otherwise known as South Africa's Mother City, Cape Town is the country's most populous city, attracting people from all walks of life. With plenty of attractions, both natural and manmade, the diversity of Cape Town's activities is unmatched.

Parts of the city and surrounding suburbs wind around the slopes of Table Mountain, while some occupy prime space along the coast, with endless ocean and mountain views.
With more than 20 options to choose from, Cape Town has no shortage of beaches. The beaches are not only a surfer's paradise, but are perfect for relaxed visitors and adventurers alike, kids of all ages, and certainly those interested in marine ecology. Boulders beach is home to a large colony of African Penguins, and dolphins and whales are often spotted from Cape Town's shores.
The surrounding mountains and national park provide ample opportunity for hiking and mountain biking, with routes in varying length and challenge. Cape Town falls within the Cape Floristic Region, which includes incredibly diverse flora, and protected areas such as Table Mountain National Park boast thousands of unique species.
Views of Table Mountain can be found in most spots around the city, but the best view is from the top. The mountain can be explored by foot, bike, scooter or cable car throughout the year, and offers something different in every season.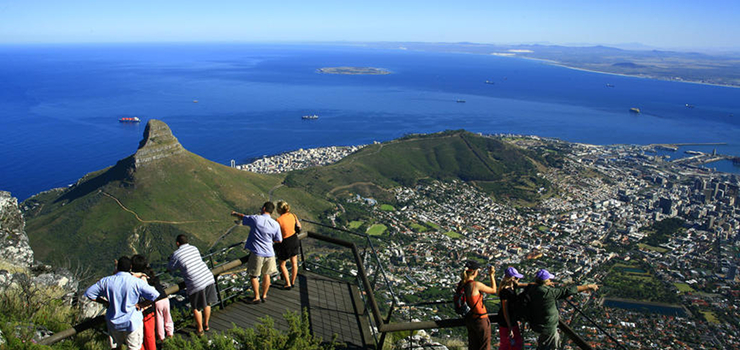 Summers in Cape Town are warm, reaching temperatures of up to 35 C/ 95 F. Winters are wet, with mild daytime temperatures of around 18 C/ 64F, sometimes colder. Between October and March, a south easterly wind blows through Cape Town, in some cases reaching up to 120km/h. On days when the wind blows, indoor activities like wine-tasting or even retail therapy at some of Cape Town's first-class shopping malls are ideal.
The nightlife in Cape Town is lively, with a mix of world-class restaurants, bars and clubs to choose from. One of the best places to enjoy a night on the town is Long street, an extensive strip of pubs, clubs and eateries in the city centre, popular with locals and visitors alike.
When it comes to dining, the variety in Cape Town is impressive. A cosmopolitan mix of food bazaars, small cafes, hearty pubs, vegetarian and vegan offerings and fine-dining establishments make Cape Town a premier foodie destination. Of course the wine is excellent too, as the city is only 40km from the heart of the Cape Winelands, where the best of South Africa's grapes are grown.
Cape Town is also an interesting destination from a historical point of view, and many tours include historical information. Visit the colourful neighbourhood of Bo Kaap, the arty district of Woodstock or Constantia, Cape Town's oldest neighbourhood. Accommodation of every description is available in Cape Town. From five-star hotels and private villas to homely B&Bs with mountain or sea views.
Tours & Safaris that Include Cape Town