Attracting around 900 000 people a year, the Kruger National Park is one of South Africa's most treasured destinations, and is as popular with locals as it is with tourists. The park is located in the north eastern part of South Africa and is surrounded by a number of unfenced private reserves. Together these reserves make up the Greater Kruger National Park, one of the biggest wildlife reserves in Africa.
The Kruger Park is home to some 140 mammal species, including the big five, and over 500 species of birds. Within the park are a number of different and interesting habitats. From savanna grassland, rocky outcrops and lush riverine forests to sandy riverbeds and acacia thornveld, the Kruger park is as diverse as the people it attracts. With just under two million hectares to explore, the Greater Kruger Park is a worthy addition to any itinerary and is a great option for a variety of budgets. The SanParks (South African National Parks) camps have a range of self-catering accommodation options, from campsites to family bungalows to guesthouses. The main SanParks rest camps have a restaurant, a shop, a pool and a fuel station in each camp, and are conveniently located throughout the park. The biggest camps, Skukuza and Satara sleep 500 and 200 people respectively.

One of the best attractions of visiting the Kruger park is the self-drive option. The park has around 3 000 kilometres of accessible public roads that anyone can traverse, putting guests in charge of their own game drives. Some Kruger camps also offer after hours guided night drives, giving guests the opportunity to spot nocturnal wildlife.
A number of picnic sites are scattered throughout the park, where guests may get out of their vehicles and enjoy a packed lunch or cook their own on the gas facilities provided. There are also a number of hides situated next to dams and rivers, which are ideal spots for avid photographers and birders.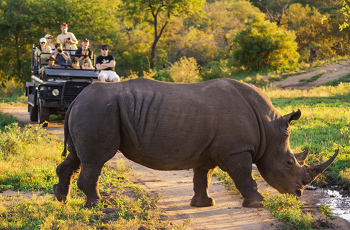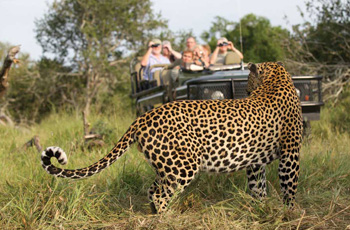 Within the Greater Kruger, there are also a number of luxury lodges that offer a more private and fully-catered experience. These lodges vary from intimate 10 sleeper camps to bigger, more luxurious establishments, and have the added benefit of having trained and knowledgeable guides available to take guests on open vehicle game drives. Guided walking trails are offered in the Kruger Park, and are an ideal way to experience nature up close. Experienced field guides facilitate day walks of up to eight people, exploring the wilderness surrounding the camps. For the more adventurous traveller, multi-day overnight trails in the Kruger Park can also be arranged through independent operators. These trails allow walkers to encounter game on foot, carrying all provisions, and camp out in the bushveld overnight.

While the Kruger Park has much to offer in every season, the winter months from April to September are the best time to visit as temperatures are mild, about 25 C/77 F during the day. During this time there is also less of a malaria risk and fewer insects.