Each year in September, the landscape of Namaqualand in the Northern Cape province transforms from arid dusty plains to a sea of colour. Flowers in every shade blanket the ground for as far as the eye can see. This completely natural spectacle is Namaqualand's biggest draw card, and while the window of opportunity is small, this trip into South Africa's hinterland is worth a spot on anyone's itinerary.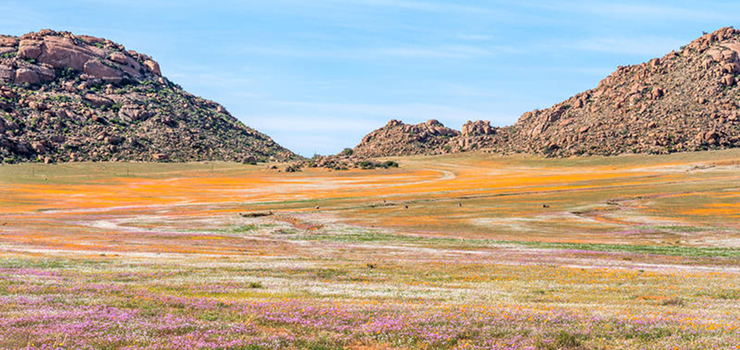 The spring flowers never cease to amaze and delight even the local population. Hundreds of locals flock to these parts at the start of the season. The flowers can be enjoyed from the comfort of a car, or even better, up close and personally on foot. Cycling is also a great option for the slightly more adventurous visitor and is also ideal for spotting game. Good places to visit for flower viewing include Richtersveld National Park, Goegap Nature Reserve and Skilpad Wild Flower Reserve, where up to 4000 different species of flowers may bloom. The weather determines which seeds will bloom each year, making each season an entirely unique spectacle. At least two days should be set aside to get the full flower experience.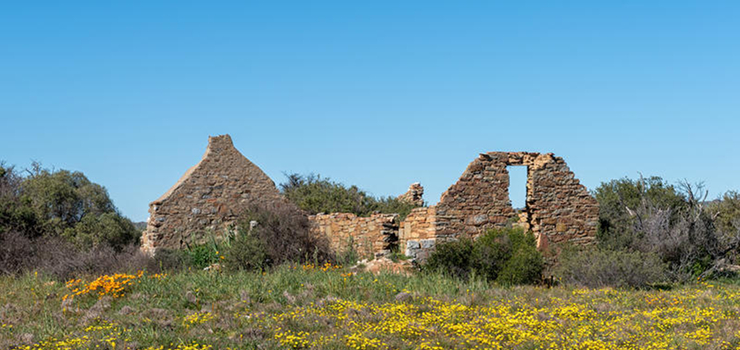 Undoubtedly, the best time of year to visit Namaqualand is in spring, between August and September, after the winter rainfall season has ended. Daytime temperatures in this season are pleasant, ranging from about 23 C/74 F in the afternoons to 10 C/ 50 F at night. Namaqualand's climate is desert-like, and rain is fairly scarce. Namaqualand is home not only to beautiful flora, but some of South Africa's most interesting fauna, too. Lesser-known species such as the rare Haartmans's zebra, aardwolf and the bat-eared fox can all be found in the region.
The Namaqualand flower route lies roughly five hours north of Cape Town, up the west coast. While hints of the flowers start just outside Cape Town, it is worth making the trip for the spectacular scenery. The Western side of Namaqualand is an almost 1000km stretch of relatively unspoiled coast, dotted with a handful of small towns, and in the north, the Orange river is its border.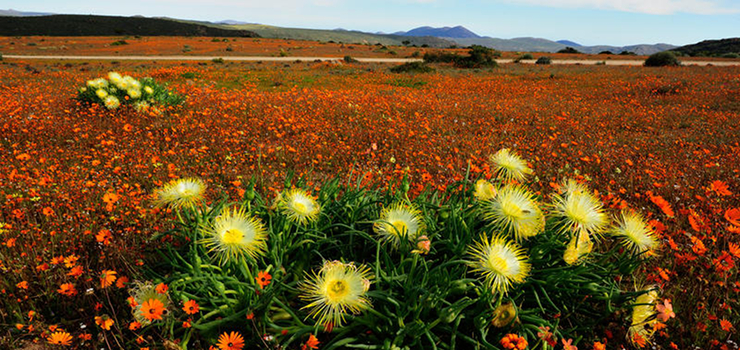 Namaqualand's proximity to the Orange River makes a rafting trip a great addition to the itinerary. The river forms part of the border between South Africa and Namibia and is a hub of water-based adventure and fishing activities. A number of companies run river-rafting operations on the Orange river, and while these trips are also dependent on rain, the best time of year to go is usually between March and April.
There are plenty of privately owned B&B's in the area, ranging from seaside cottages to farm-style accommodation.