A Fly in Safari is the perfect way to explore remote and wild parts of Southern Africa. It is also the best way to see the main attractions without spending days getting there on dusty roads. Fly in Safaris are perfect for short breaks. African Gateway Travel will whisk you off to some of Southern Africa's most beautiful wildlife areas. Convenient local and international flights between regions give you a quick getaway to remote reserves that abound with wildlife. Our Fly in Safaris start at your main port of arrival, typically an international airport such as OR Tambo International Airport in Johannesburg, South Africa or Eros International Airport in Windhoek, Namibia. From here you will connect to regional airports and at times make your way to your main destinations by light aircraft.
The types of aircrafts vary from smaller Cessnas to Caravans. Often airstrips in the wilderness areas are dirt, although some are tarred. They are typically located conveniently near the lodge. A representative will meet you at the strip and transfer you (often by open safari vehicle) to the lodge or camp where you will enjoy game drives, night drives, walking safaris or boating activities. At the end of your stay you will return by light aircraft to the next safari camp or via a regional airport to the international airport for your flight home.
The wilderness areas in Southern Africa are spectacular to see from the air. Below are a few of the destinations that are best explored on a Fly in Safari.
Fly in Safaris in the Okavango Delta
A Fly in Safari to the extraordinary Okavango Delta in Botswana starts with a flight to the international airport of Maun. This small airport is the gateway to the delta as well as Moremi Game Reserve. Here you will board light aircrafts for the short flight to Chiefs Island in the heart of the delta.
A flight above the channels, islands and plains of this unique inland delta is an incredible experience. The Okavango Delta is formed as water from the Okavango River rising in the Angola Highlands flows into northwestern Botswana. Instead of flowing onwards to the sea, the water fans out over a huge sandy area bringing life and lush greenery to the otherwise arid Kalahari Desert. The delta is a fan-shaped wilderness with lagoons and a myriad of channels.
Flights here require a skilled pilot. From the air it is often impossible to distinguish between marsh and solid ground and navigation requires expert knowledge of the land.
Landing is only possible on permanent islands and strips tend to be hard dirt or grass. It is also not unusual for the airstrip to be full of grazing red lechwe (antelope), in which case your pilot will make a couple of passes to clear the strip for a safe landing.
Fly in Safaris in Victoria Falls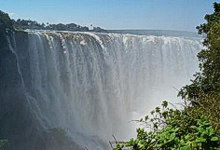 Forming the border of Zimbabwe and Zambia, spectacular Victoria Falls is the gateway to a number of excellent safari destinations. A Fly in Safari to this region starts with a flight to the international airport of Victoria Falls. Your first stop is the magnificent Victoria Falls. Described as 'Mosi-oa-Tunya' – The Smoke that Thunders, this thundering waterfall sends five hundred million cubic meters of water over the edge transforming the Zambezi River below from a placid river into a ferocious torrent cutting through dramatic gorges. From here small aircraft offer connections further afield. Kasane Airport in northern Botswana is the convenient pick up point for lodges in Chobe National Park in Botswana. From here you can also continue into the Okavango Delta.
Fly in Safaris in Namibia
A Fly in Safari in Namibia starts at Eros International Airport in Windhoek. From here connections to a multitude of small airports and simple landing strips make air travel to this vast desert wilderness a pleasant experience. The Namib Desert is the oldest desert in the world. Stretching over 1,500 kilometers from the Orange River in the South and into Angola in the north, Namibia's landscape ranges from rocky mountains to huge dunes in varying colours of sand. This stark environment is incredible to see from the air. In the south, the landing strip at Sesriem offers visitors convenient access to the remote and shadow lined sand dunes and salt pan of Sossusvlei at the Namib Naukluft Park. A low-level flight along the Skeleton Coast offers aerial views of the many shipwrecks along this treacherous coastline. The scenery at the meeting place of the desert and the Atlantic Ocean is simply spectacular.
Remote Hoarusib Valley is home to the nomadic Himba people. Here desert dwelling elephants have adapted to the harsh conditions. Convenient transfers by light aircraft to private airstrips allow visits to his area, otherwise only accessible by four wheel drive. Although roads between Windhoek and renowned Etosha National Park are tarred and well maintained, the airstrip at nearby Ongava Game Reserve allows visitors quick access to this gem of Namibia.
Fly in Safaris in Zambia
Zambia is fast gaining a reputation as one of Southern Africa's top wildlife destinations. Magnificent Victoria Falls is accessible from both Victoria Falls Airport in Zimbabwe and Livingstone on the Zambian side. Across from well known Mana Pools Reserve in Zimbabwe lies a Zambian gem, the Lower Zambezi National Park. Flights to Kariba in Zimbabwe provide access to this wilderness area teeming with elephant, hippo, lion and leopards. A flight further east from Livingstone to the small airport of Mfuwe puts you within a 30 minute drive by car to South Luangwa National Park. Considered one of the greatest wildlife sanctuaries in the world, the concentration of animals around the Luangwa River is one of the most intense in Africa.
Below is a list of typical Fly In Safaris that we offer in varying countries. Essentially each one is tailor-made, so please contact us if you don't see one that meets your requirements ...
3 Night Okavango Fly In Safari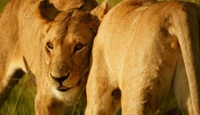 This short safari takes you into the Okavango Delta of Botswana - It uses 1 camp for 3 nights, allowing you time to get a good feel for this amazing area. We can replace this camp with any other safari camp in the Okavango Delta ... Read More+
6 Night Victoria Falls, Chobe & Okavango Fly In Safari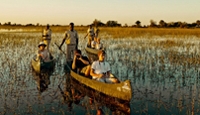 This 6 night safari takes in 3 areas of interests. We fly you into Victoria Falls for a visit to this wonder of the world, and then road transfer you into Northern Botswana's Chobe area where you enjoy a safari, and then fly you into the Okavango Delta for another safari, and then back out through Victoria Falls ... Read More+
4 Night Skeleton Coast Safari Fly In Safari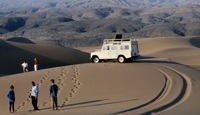 This 4 night fly in safari takes in some classical Namibia desert wildernesses, including Sossusvlei, the Skeleton Coast, the Kunene River and Etosha. It starts and ends in Windhoek and gives a traveller a fantastic overview of the vast and wild areas of Namibia. Every night is spent at a different camp ... Read More+
7 Night Zambia in a Week Fly In Safari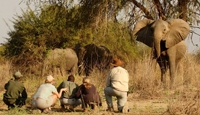 This 7 Night safari starts in Lusaka and ends in Livingstone. It takes in the South Luangwa National Park and Livingstone, where you get to visit the Victoria Falls from the Zambia side. There is good emphasis on "back to basics" in safaris in South Luangwa and it ties in nicely with Victoria Falls at the end ... Read More+