The Savute Safari Lodge is the perfect setting for a safari in Botswana. Located on the banks of the fabled Stolen River, this Botswana lodge is situated at the heart of the dynamic Savute eco system which is home to vast herds of lion and elephant.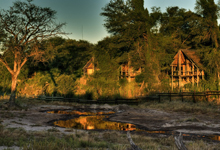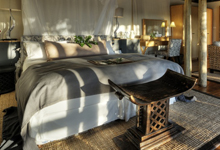 Designed to make the most of the striking scenery, the Savute Safari Lodge has great big sliding doors that open to reveal the striking panorama of the savannah beyond.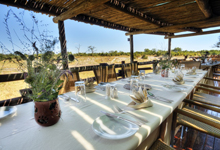 Looking out, you will enjoy breathtakingly barren vistas in the dry season, with vibrant greens and lush foliage taking over when the rains arrive. In 2010, for the first time in 30 years the Savuti channel started flowing again. This amazing natural phenomenon resulted in Savute Safari Lodge having excellent views of now 'permanent' river .. permanent until nature decides once again to shut it down.
Timber and glass chalets decked with thatching, boasting elegant furnishings, private decks, a combined bedroom / lounge area, as well as en-suite facilities.
A communal main building where visitors can meet and relax in the lounge or enjoy a refreshing drink at the bar while overlooking the channel.
A viewing deck.
An al fresco dining area.
A swimming pool from where you can watch animals congregating at the watering hole.
Safaris at Savute Safari Lodge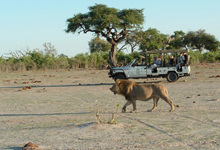 Game drive safaris in open 4x4 safari vehicles. The Savute area is privy to the second largest summer zebra migration in Africa, which normally occurs between November and December, and again between February and April. Visits to the ancient San rock paintings at Gubatsa Hills are also conducted. With the recent flooding of the Savute Channel, a steel bridge has been built across the channel allowing the game drives to still work the areas on both sides.
General
Unfortunately we cannot accommodate children younger than 12. No childcare or baby-sitters are available. Children are to be under parental supervision at alls times; children younger than sixteen are to share accommodation with a parent.
Savute can be reached via charter aircraft from Kasane (served by daily road transfers from Victoria Falls and Livingstone) and Maun to the Savute airstrip. Alternatively, the lodge is accessible by means of 4x4 vehicles.
Airstrip coordinates: 18.31S 24.04E.
Suites are equipped with a 220-volt AC plug for hairdryers and inverted 12-volt DC lighting. Video batteries can be recharged AC 220 volts.
Each visitor is allowed 20kgs' worth of luggage in soft sided bags.
Please feel free to contact an African Travel Gateway representative should you require any further information with regard to this Botswana safari lodge, or any other African safari adventures.