Set under the shade of big trees adjacent to the lazy waters of the Selinda Spillway, the Selinda Explorers Camp offers safari travellers an opportunity to experience some of the best Botswana wilderness on vehicle, foot or canoe. The Selinda Spillway is a natural waterway that connects the Okavango Delta with Linyanti Swamps via the Zibadianja Lagoon, and ultimately the Savuti Marsh.

Surrounded by hunderds of thousands of square hectares of bush, the Selinda Spillway and its adorning vegetation serves as a critical source of water to the abundant wildlife of the area. Large herds of elephant roam this tract of wilderness and healthy populations of lion, wild dog and leopard makes this area somewhat of a "predator viewers mecca".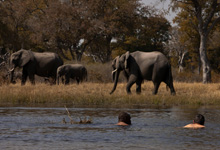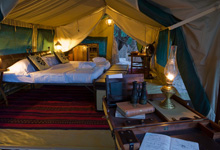 Selinda Explorers Camp has been placed into its enviroment sensitively, and uses solar power for its power needs and borehole water for drinking. Just four large safari tents make up this camp. Each has enclosed under the stars - ensuite facilities that include flush toilets as well as showers that are filled by jug (as required) with hot and cold water. Soft furnishings are luxurious to say the least and add the final touch of comfort and contentment. The actual safari experience focuses on game drives (both day and night), as well as walking safaris and canoeing on the Selinda Spillway.