Located in the iconic Lower Zambezi National Park, Zambia the Old Mondoro Camp strives to bring excellence and back to bush basics together with the result, a Zambia safari par excellance. Just 4 rooms (8 beds) make up this intimate camp.

They overlook the Zambezi River from a cluster of large Acacia trees that seem to act as some kind of magnet to the old bull elephants. The rooms are made from wood & canvas with blinds that can drop down to allow for a peaceful night's sleep, however this is not to say the chorus of the African night sounds don't fill the room. A mosquitp net covers the kind size (or single beds) and 220 v lighting fills each room. Hot and cold running wwater are of course standard alonmg with a flush toilet, wash basins and a large outdoor bath that gazes over the Zambezi River.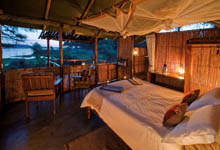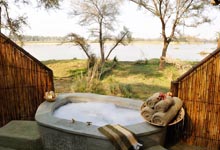 Safari activities at Old Mondoro are as diverse as the wildlife that occurs there. Game drives, bush walks, river safaris and fishing fill your day with adventure and excitement, and ensure that all means of seeing as much game as possible are covered. Game drives become nights drives as the diurnal game gives way to the nocturnal game, and these night drives have resulted in some of the best leopard sightings in Southern Africa.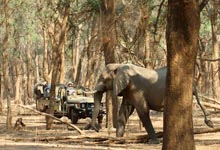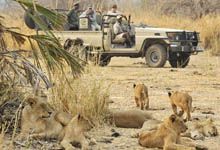 Walks are guided by an armed guide and highlight the lesser noticed details, smells and tracks that are missed by other traditional means of safari. Although a bush walk focuses on smaller elements, big game including lion, elephant, buffalo and hippo are regularly encountered making for a once in a life time moments.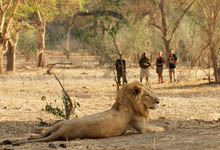 Motorized boating and canoeing allows guests the opportunity to view the landscape from the water, enjoy some excellent birding and get a closer look at some the waters regulars such as crocodiles and hippos. Fishing of course is also a big draw card and the most popular fish targeted is the tiger fish that averages around 2 – 3 kilograms but can get to sizes of about 9 – 10 kgs.