Jock Safari Lodge is the first private lodge set in the heart of Africa's premier wildlife reserve - the Kruger National Park. Situated in the southern area of the Kruger National Park at the confluence of the Mitomeni and Biyamiti rivers, the camp offers stunning views with the pool literally on the confluence. Each room's private 'Sala' (outdoor lounge) overlooks the river.

The romance and elegance of the past are reflected in this unique luxury lodge. The theme is set by Sir Percy Fitzpatrick's animal classic "Jock Of The Bushveld," a story written at the time of South Africa's first gold rush. The camp reflects this era, incorporating elements of the colonial past and indigenous Zulu and Shangaan cultures. The lodge has exclusive traversing rights in an area that is regarded as one of the best in the Kruger for its "big five" sightings.
Accommodation at Jock Safari Lodge - Kruger Park
Twelve luxury suites offer guests the unique opportunity to experience the gracious style of old world elegance surrounded by unspoilt wilderness. At Jock we offer an African cuisine which incorporates an abundance of flavours accumulated on the routes followed by sir Percy Fitzpatrick.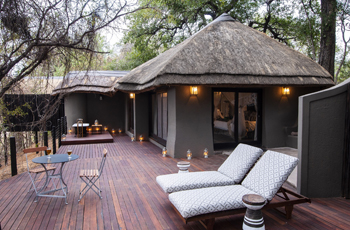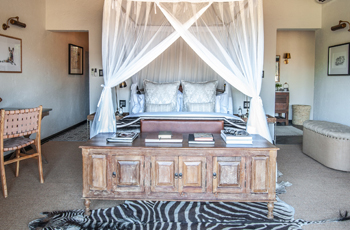 Petrus Dlokolo the Head Chef, and his passionate team, conjure up dishes of legendary proportions, allowing your taste buds to follow their own African journey. The cuisine is presented in a variety of locations. From Silver service in the elegant dining room, to an eating adventure under the panorama of the African night.
Safaris at Jock Safari Lodge - Kruger Park
Take a game drive in one of our open landrovers. The Kruger Park offers some of the best game viewing available in Africa and Jock Safari Lodge is situated in one of the best game viewing areas of the park. You will be accompanied by an armed, qualified ranger and an experienced tracker.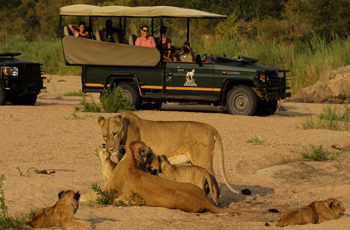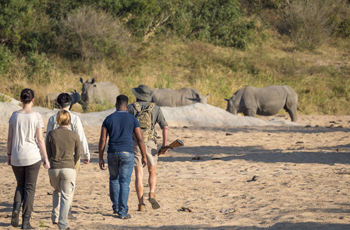 Off road driving from our private concession roads is allowed where game viewing warrants it. (e.g. sightings of big five, etc..). Guests are also treated to walking safaris, birding safaris and guided historical tours, making your stay a true African safari experience.