Day 1 South Africa, Cederberg Mountain Region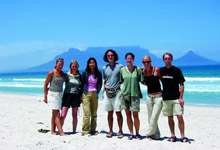 Leaving behind Cape Town, there's one last photo stop at Table View for a spectacular panorama of the city and Table Mountain. On the way we enjoy a wine tasting at an organic wine farm, Org de Rac. Heading further north into the mountainous Cederberg region, we arrive at our accommodation and your guides will give you a full briefing on the tour.
Day 2 Namibia, Gariep (Orange) River
Today we travel through the Northern Cape and Namaqualand, stopping at the remote town of Springbok for any last requirements. After crossing the Namibian border we check in to the lovely chalets overlooking the river that forms the border between South Africa and Namibia. Although officially renamed the Gariep River it is still generally known by the pervious name; Orange River, after the Dutch House of Orange.
Day 3 Gariep(Orange) River - Ai-Ais
This morning there's the chance to paddle canoes down the Gariep River or spend time relaxing. After lunch we travel north to the Ai-Ais Hot Springs. Optional Activities: Half-Day Canoe Adventure.
Day 4 Fish River Canyon - Kokerboom Forest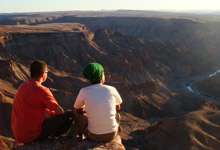 We take a scenic early morning walk along the edge of the Fish River Canyon, where photo opportunities are plentiful. Travelling into the Kalahari area of Namibia we visit the amazing Kokerboom Forest, renowned for the large concentration of Kokerboom (Quiver) Trees.
Day 5 Bushman Community - Namib-Naukluft Park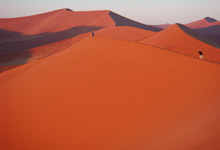 The Namib-Naukluft NP is one of Namibia's geographic gems. There are massive sand dunes in the Sossusvlei desert area as well the remarkable landscape. After a morning optional tribal interaction with the original Bushman (San) people we travel to the Namib and stay the night just outside the park. Optional Activities: African Tribal interaction.
Day 6 Namib-Naukluft National Park
We have a full day in the Namib-Naukluft NP that starts by being transported in to Sossusvlei, where we are joined by a expert local guide on a hike. Later we transfer to Dune 45 where you have the chance to hike up the dune for an amazing view and photo opportunity. In the afternoon there's a short walk into the Sesriem Canyon.
Day 7/8 Swakopmund
Today we cross the Tropic of Capricorn on our way from the desert to the Atlantic coast. Our first stop is Walvis Bay where we may see some flamingos. Then it's onto Swakopmund, the adventure capital of Namibia, where you will be briefed on the many optional activities available for the next day. Take a quad bike over the dunes, try sandboarding, skydiving or maybe a cruise to see dolphins. Optional Activities: Dinner, Quad biking, Sand boarding, Sky Diving, Scenic Flights etc.
Day 9 Khorixas - Himba Tribe
Today we head inland towards Khorixas in the north-west of Namibia. The following morning we will spend time with some of the semi-nomadic Himba people. The Himba are a pastoral people and predominantly breed cattle or goats, they are easily recognisable by their unique style of hair and dress.
Day 10/11 Etosha National Park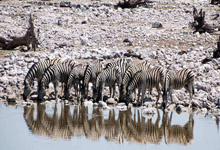 After our informative time spent with the Himba we travel south-east to Etosha NP - home to thousands of elephants, giraffes, zebras plus cheetahs, lions, rhinos and hyenas. The open plains allow spectacular viewing from your truck while on game drives. Our quality bungalow accommodation is inside the park at Okaukuejo and/or Halali which both boast floodlit night water holes where the animals come regularly to drink. Optional Activities: Night Drive with Game Ranger. Etosha National Park is one of Southern Africa's finest and most important Game Reserves. Etosha Game park was declared a National Park in 1907 and covering an area of 22 270 square km, it is home to 114 mammal species, 340 bird species, 110 reptile species, 16 amphibian species and, surprisingly, one species of fish.
Day 12 Windhoek
En-route to Namibia's capital, Windhoek, we stop at a craft market where you can buy authentic African carvings and paintings. On arrival in Windhoek we take a short driving tour around the city. Optional Activities: Dinner out