Xaxanaka Camp is one of the older camps in the Oakavango Delta and is situated in the world renowned Moremi Game Reserve. The Moremi Game Reserve is considered to be among Africa's top game viewing destinations. Wildlife abounds and the setting is rich in spectacular scenery including silent rivers, palm trees, savanna and lagoons. Animals such as elephant, buffalo, lion, leopard, lechwe, waterbuck and much more are resident and ensure a truly memorable Africa safari.

Xaxanaka Camp is built with thatch, reeds and wood, all sourced locally. It overlooks the Khwai River and the surrounding lagoons and islands that characterize typical Okavango landscape. The main area has elevated wooden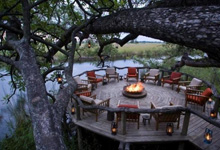 walkways that accentuate the already beautiful scenery. A small library, swimming pool and sundeck add to the camp's facilities that can be enjoyed during the day and a round deck that supports the fire place makes for the perfect evening relaxation spot after your safari. Electricity is supplied by battery powered lamps that work all night. The battery bank is charged by means of a generator that runs when the guests are out of camp on safari, to ensure peace & tranquility reign while you are in camp.
Accommodation at Xaxanaka Camp
Accommodation is made up of just twelve Meru style safari tents, and in true Xaxanaka style each tent is built on a wooden deck and has ensuite facilities including hot & cold water in the shower, a hand basin and a flush toilet. Ceiling fans in each tent are standard that is coupled with a water sprinkling system to to make for an environmentally friendly version of an "air conditioner". There is a plug point to keep those camera batteries fully charged so nothing can escape during your safaris! All the creature comforts at Xaxanaka Camp are met in a simple but tasteful style, and to add to it all this Okavango Camp is wheel chair friendly!
Safaris at Xaxanaka Camp
Safari activities from Xaxanaka Camp are varied and include boating trips, mokoro excursions (a mokoro is a long dug out style canoe powered by a poler), game drives conducted in four wheel drive vehicles into the surrounding wilderness. Bird watching is simply brilliant and in the summer months this picks up signifantly as many birds breed in the area. Guests are offered two guided activities a day and the choice is up to them.