When planning South Africa tours, an area that almost always forms part of the plan is the breathtakingly scenic 'Garden Route' is a feast for the eyes and taste buds offering travelers tantalising ocean and mountain vistas, charming country manors, mouthwatering seafood and wines, picturesque walking trails and some fantastic birding and wildlife viewing opportunities. One of the most remarkable and naturally beautiful coastal stretches in the world, South Africa's Garden Route meanders along the coast between Mossel Bay in the Western Cape Province and Storms River in the Eastern Cape although the entire section between Cape Town and Port Elizabeth has become synonymous with the Garden Route.

As the name 'Garden Route' suggests, the region is indeed a 'garden' of plenty to birds, marine life such as dolphins and whales, and wildlife. The Garden Route is characterized by its unique fynbos vegetation treating visitors to a stunning show of vibrant wildflowers, rugged mountains and cliffs, golden beaches, ancient indigenous forests, lakes and rivers, wetlands and the contrasting semi-arid Klein Karoo area. The botanical diversity along the Garden Route is of such great significance that it has been designated as one of South Africa's eight World Heritage Sites. Despite being a relatively small area, the Cape Floral Region is one of the world's most diverse and abundant floral areas and is home to more than 9600 indigenous plant species.
Best Time to Visit the Garden Route
A Garden Route tour is pleasant at any time with a comfortable temperate climate year round, but your interests and the activities you wish to do will largely determine the best time to visit the Garden Route. Average temperatures in summer and early autumn (December-March) are between 24-30°C/75-86°F, perfect for swimming and other water-based activities and as many hikes are coastal with opportunities for a refreshing dip, late spring to early autumn (October to March) is ideal. Winter days average 18°C/64°F with chilly nights perfect for sampling the uniquely South African fruit liqueur, Mampoer, beside a roaring log fire! The western portion of the Garden Route experiences seasons similar to that of Cape Town with most rain falling during winter (June-August), whereas the Eastern Cape's Port Elizabeth region experiences summer rainfall (December-February). As with any coastal region, weather can be changeable so pack a warm waterproof jacket for travel in any season. The main holiday resorts along the Garden Route can become extremely busy over Christmas and Easter so travelers should keep this in mind. If whale-watching appears high on your wish list, the best time to explore the Garden Route is between July-November with whale activity peaking in September.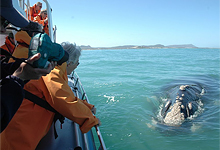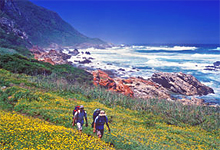 There are two equally impressive ways to explore the Garden Route - either head east from Cape Town or head west from Port Elizabeth. The well maintained N2 national highway makes for an enjoyable and easy drive and will take you the whole way - 755km/469mi - between Cape Town and Port Elizabeth. The coastal drive will take you through a series of delightful small towns and villages intermingled with the best that Mother Nature has to offer! There are also some excellent side-road road trips along the way so be sure to allow enough time to discover these hidden back road gems.
Highlights of the Garden Route
Hermanus - This charismatic seaside hamlet 120km/75mi from Cape Town overlooks sparkling Walker Bay and is a renowned whale watching hot spot attracting Southern Right whales (July-November), Humpback whales (May-December), Bryde's whales (year round) and the occasional orca. Land-based whale watching opportunities are some of the best in the world and Hermanus even has its own 'Whale Crier' to alert shore-based whale watchers of the whereabouts of whales with a blow of his kelp horn! Wine buffs will delight in exploring the Hermanus Wine Route with its picturesque vineyards sprinkled through the fynbos covered hills of the nearby Hemel en Aarde Valley.


Gansbaai - If you are keen to get up close and personal with the magnificent Great White Shark, Walker Bay is also a great place to go shark cage diving (June-September). The quaint fishing village of Gansbaai offers world class cage diving excursions of 3-5 hours duration depending on the weather, sea conditions and shark behavior – no diving experience or qualifications are necessary. Celebrate your feat of daring at a harbour-side bar with a locally brewed Birkenhead beer while you watch the fishing boats returning to shore against the setting sun.
Mossel Bay - The half-way point between Cape Town and Port Elizabeth is the home of The Oystercatcher Trail, a legendary and very popular professionally guided 'slack packing' trail covering 50km/31mi between Mossel Bay and the Gouritz River Mouth. The 3 day hike focuses on experiencing nature with expert guides providing fascinating commentary about ancient Stone Age caves, local flora and fauna and the rare African Black Oystercatcher bird which breeds in the area between September and March. Walkers are often rewarded with sightings of whales and dolphins and you may even be lucky enough to catch a glimpse of an adorable Oystercatcher chick or a curious Rock Hyrax, or Dassie, basking in the sun on the rocks.
Oudtshoorn – This is definitely a side-road worth taking! The mountains and mountain passes leading to the Klein Karoo region are an integral part of the magical beauty of the Garden Route. So 'stop and smell the roses' and take the time to explore the delightful, relaxed country town of Oudtshoorn situated in the heart of the Klein Karoo between the Outeniqua and Swartberg Mountain ranges. Believe it or not, Oudtshoorn earned its place on the world map due to the humble ostrich whose feathers became fashionable accessories among European nobility in the 1860's. At the time, the value of ostrich feathers was almost equivalent to that of diamonds and Mossel Bay and Oudtshoorn were abuzz with feather auctions.

Today, Oudtshoorn's ostrich industry focuses on leather, meat and tourism as well as feathers and a visit to one of Oudtshoorn's ostrich farms is an educational and entertaining must-do…you can even test out your ostrich riding skills! Oudtshoorn is not just all about ostriches and offers a multitude of other activities including the 11km Cemetery MTB Route for eager mountain bikers, cage diving with Nile crocodiles at Cango Wildlife Ranch, and the exquisite underground fairyland of the Cango Caves.
George – A popular holiday destination and the administrative and commercial hub of the Garden Route. George's small town atmosphere is nicely complemented by a modern infrastructure and airport making the town an ideal interlude on your journey along the Garden Route. Avid golfers are in for a treat as the Garden Route plays host to 13 world class golf courses. The Oubaai Golf Club near George is the first Ernie Els Signature course in South Africa located in a picturesque setting between the Outeniqua Mountains and the Indian Ocean where golfers may be rewarded with a spot of whale watching from the course. At Fancourt, golfers can tee off at one of 3 stunning courses with The Links holding the No.1 ranking of South African golf courses.
Knysna – A pretty town on the banks of a large warm-water estuary, the beautiful Knysna Lagoon, fed by the Knysna River. The estuary opens to the Indian Ocean after passing through two giant sandstone headlands known locally as 'The Heads', a treacherous stretch of water with a reputation for capsizing fishing boats.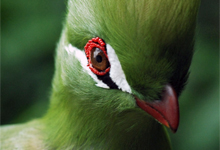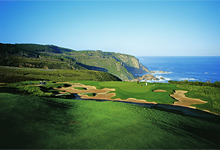 Knysna's historical roots are deeply embedded in gold mining and the timber industry, and today the town thrives on tourism and oysters with the annual Knysna Oyster Festival attracting a throng of devotees keen to fill their bellies with sweet, delicate molluscs. If oysters are not your thing, there are plenty of other festivals to choose from such as the flamboyant Pink Loerie Mardis Gras and Arts Festival, the 500km Africa Expedition multi-discipline endurance event, and the Knysna Literary Festival. The Featherbed Nature Reserve, accessible only by ferry, makes a wonderful family outing and you may even catch a glimpse of the stunning green Knysna loerie flying between the milkwood trees, or the tiny blue duiker antelope.
Plettenberg Bay – 'Plett' as it is affectionately known, is one of the many hidden gems along the Garden Route renowned for its sweeping golden beaches, great water sports, adrenaline adventure activities, bay cruises, whale safaris, fishing and bird-watching. In fact, one of the region's most important assets is its diversity of bird species with around half of South Africa's endemic bird species present in close proximity to Plettenberg Bay. Going from strength to strength since 2000, Plett's emerging viticulture scene is also well worth a look-see. Sixteen picturesque vineyards dot the beautiful Plett hinterland at the base of the Tsitsikamma Mountains producing award-winning Sauvignon Blanc and Bubbly.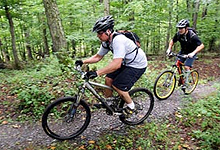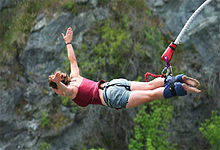 For a refreshing dose of nature at its best, head to the Robberg Nature Reserve which offers some spectacular hiking trails amongst striking fynbos-clad rocky outcrops. At Nature's Valley en route to Port Elizabeth, the impressive Bloukrans Bridge – you can't miss it! – stands 216m above the Bloukrans River marking the border between the Western and Eastern Cape Provinces. The bridge is the site of the world's highest commercial bungee jump and onlookers can watch the action from a live feed large screen television from the comfort of The Cliffhanger pub.
Port Elizabeth – The gateway to the Eastern Cape Province, 'PE' offers visitors a modern infrastructure and a well-equipped airport. Sparkling Algoa Bay is fast becoming known as the water sport Mecca of South Africa with activities such as snorkeling and scuba diving, jet skiing, canoeing, paragliding and windsurfing on offer. Port Elizabeth is synonymous with Addo Elephant National Park located in the malaria-free Sundays River Valley. An hour's drive will take you to the main gate and three game-viewing options are available in this fantastic Big 5 park: guided game drives, self-drive game viewing or 'Hop-on' guides are available who accompany you in your own vehicle.