Hidden away in the remote south-east corner of Zimbabwe like a secret fairytale garden is Gonarezhou National Park. This place is so incredibly beautiful, it is… well, it's beyond words!

Imagine the most breathtakingly pristine, serene, natural wonderland and you may get an inkling of the stunning natural grandeur of Gonarezhou. Even the most seasoned travellers admit that they have never experienced anything quite like Gonarezhou and wish they could stay longer…or perhaps never leave! There is so much to take in, to appreciate, that you could spend your entire holiday there and not need to go anywhere else. The only way to really experience the soothing ambiance of this hidden jewel is to be there in person.
Never heard of Gonarezhou? Do yourself a favour then and read on as this 'land of elephants', as per its namesake, has plenty of delightful surprises in store for its lucky visitors…
First established as a national park in 1975, Gonarezhou is just over 5000km2 and is endowed with a diverse and interesting range of lowveld landscapes intersected by 3 rivers, the Save and the Runde in the north of the park and the Mwenezi in the south. Picture towering, fiery-red sandstone cliffs, stands of stately baobab trees, and vast natural pans of water humming with birds of all shapes and sizes. Great expanses of open acacia-dotted grassland support a myriad of plains game, predators and magnificent forests.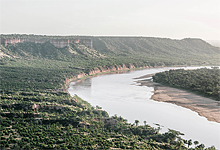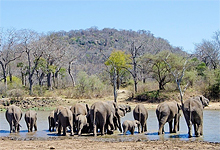 The wheels are in motion to complete the formation of the Greater Limpopo Transfrontier National Park, a vast tract of land that links Gonarezhou with South Africa's Kruger National Park and Limpopo National Park in Mozambique as well as several other parks and areas. This is great news for the animals – they will be able to move uninhibited between 3 countries and 35,000km2 of land and resume their ancient migratory routes.
Gonarezhou was closed to the public for many years during the Rhodesian Bush War and the Mozambican Civil war, re-opening in 1994. This may have been 'lost' time, however this period of closure could also be viewed as a time warp as the park escaped many of the effects of human intervention to which other parks in Africa have succumbed. Gonarezhou still remains largely untouched and is still one of the most pristine regions of wilderness on the African continent. Tourism is steadily increasing as major airlines and safari operators venture back into Zimbabwe, existing camps re-open, new safari lodges surface, and some predict that a major tourism revival is just around the corner.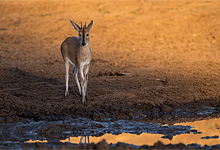 Despite the unfortunate hunting and poaching exploits during the early 20th century and periods of war, today Gonarezhou's wildlife thrives and is still wild in every sense of the word. The remoteness and ruggedness of their natural habitat allows the birds and animals to go about their daily rituals virtually undisturbed by people. In Gonarezhou it is still possible that you may be one of the few people that some animals have ever laid eyes on - a rare find in comparison to parks bustling with safari activity. Gonarezhou is renowned foremost for its sizeable herds of elephants, but there is also a wide variety of other mammals such as buffalo, hippo, white rhino, and a range of antelope including nyala and suni. Predators include leopard, lion, cheetah, and the endangered African wild dog. Extremely rare 'king' cheetah have also been spotted in Gonarezhou. The king cheetah has an unusual fur pattern compared to that of the regular cheetah. Its spots are blotchy and indistinct and it has 3 black stripes which run down the length of its spine. These characteristic markings are caused by a genetic mutation and both parents must possess this recessive gene to produce a king cheetah cub.
There are numerous highlights of Gonarezhou, but marvelling at Chilojo Cliffs as the setting sun casts a glow of pink, orange and red hues over the massive sandstone rock face is one of those special, memorable moments. Towering almost 170m/560ft over the Runde River Valley, the impressive 20km/12mi long Chilojo Cliffs situated in the northern region of Gonarezhou are definitely worth seeing. The Runde River Valley changes dramatically between the seasons, transforming the landscape from parched and dramatic during the dry winter season to a lush paradise when the river is in flood.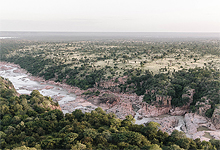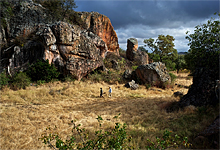 So, where might you stay to best appreciate Gonarezhou's stunning scenery and enormous diversity of flora and fauna? Both of these lodges are excellent choices and are open all year…
Singita Pamushana Lodge is located in a remote, tranquil and pristine sanctuary and time spent at Pamushana is a true wilderness experience. Situated in the private 150,000 acre Malilangwe Wildlife Reserve adjacent to the north-western end of Gonarezhou National Park, this family-friendly luxury lodge blends into a forest-clad hilltop with stunning vistas of Malilangwe Dam below. Considering its location, getting to Pamushana is actually easy. A direct scheduled flight from OR Tambo International Airport in Johannesburg will have you disembarking at Buffalo Range International Airport in just 2.5 hours. After clearing customs, enjoy a 45 minute game drive in the comfort of a closed air-conditioned vehicle as Pamushana's staff transport you to the lodge. Chartered flights may land at Malilangwe Reserve's private airstrip, a 25 minute drive from the lodge.

There is no need to worry about not finding enough to do - Pamushana has it covered! By the time you enjoy incredible wildlife encounters on daytime and evening game drives, head out on a sundowner cruise, tick off some of the areas 400+ species of birds, and gain an insight into the local Shangaan culture on a community tour you may want to extend your adventure a little longer. Pamushana also offers guided safari walks, spa treatments, visits to San Bushmen rock art sites, specialised activities for children, game fishing and stargazing. You could easily spend an entire week at Pamushana.
On the north-eastern edge of Gonarezhou, Chilo Gorge Safari Lodge is also perched on a hilltop with spectacular panoramic views of the magnificent Save River and into Gonarezhou National Park. Guests choosing to fly in may select from a scheduled, direct flight from Johannesburg to Buffalo Range Airport followed by a 60km transfer, or private charters can arrange to land at Chilo's private airstrip. The lodges attractive main area and incredible viewing deck overlooking the wild Save River are complimented by luxury private suites offering all of the comforts of home.

Chilo's knowledgeable and well-trained guides will take you on amazing adventures in neighbouring Gonarezhou. Partake in game drives in the national park, an educational cultural visit to Mahenye Village, a guided walk to nearby Chivilia Falls, a trip to Mahenye Island and an excursion to the red sandstone Chilojo Cliffs by the Runde River. The opportunity also exists to truly immerse yourself in the African wilderness by staying in a tented camp. Chilo's guides are passionate about Gonarezhou's birdlife and other interesting facets of life in the bush such as astronomy and the medicinal uses of trees and shrubs, and they are more than happy to share this fascinating knowledge with guests.
All you need to do now is decide when to go! As with most safari locations, the best time to visit Gonarezhou depends on your personal interests. If game viewing is your main priority, then the dry winter months between April and October may suit you best. Game viewing is typically best during these months as grasses are at their lowest and foliage at its sparsest, and with water sources few and far between the animals tend to concentrate along permanent rivers and pans. During the summer months from December to March once the rains commence, the scenery changes dramatically into a lush, green oasis. Despite things being a little wet underfoot and access to certain areas restricted, this is typically a brilliant time for birding, photography and witnessing the many newborn animals tagging along with their mothers. In winter, anticipate chilly mornings and evenings and pleasant daytime temperatures in the 20's °C /70's °F. In summer, be sure to pack your swimsuit as the evenings are balmy and the days hot.