When, exactly, is the best time to visit Cape Town? South Africa's second largest city is certainly a marvellous place to visit year-round, but consider the main activities you wish to do whilst in Cape Town and browse our handy guide to Cape Town's climate and seasonal variations and you will be all set to finalise your travel date.

Many a first-time visitor to Cape Town has let out an audible gasp of wonderment as the aeroplane window frames one of the most exquisite views in the world! The intricate, emerald green patchwork of the Cape Winelands, the sweeping arc of sparkling False Bay and the Cape Peninsula, and iconic Table Mountain which keeps watch over Signal Hill, Robben Island, the pulsating city centre and Table Bay.
Cape Town's Climate
When it comes to climate, Cape Town and the Western Cape are in a class of their own experiencing four distinct seasons. In contrast, many other parts of South Africa such as Kruger National Park, have a dry season (May to September) and a wet season (October to April).
Winters in Cape Town (June to August) are mild and moderately wet with large cold fronts, significant rainfall and blustery winds with an average maximum temperature of 18°C/64°F and chilly nights down to 8°C/47°F. Winter days in Cape Town, however, can also offer cobalt skies and sunshine reaching a very pleasant 25°C/77°F. So be ready for four seasons in one day, as they say! The majority of Cape Town's rainfall occurs during winter with umbrellas and raincoats most frequently put to use during June. The cities total annual rainfall averages 515mm/20in.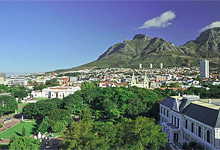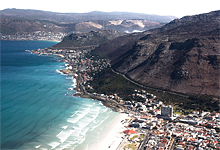 Bring your swimsuit and sunscreen for Cape Town's summer (December to March) to take advantage of warm, dry days with an average range of 16-26°C/61-79°F and the occasional day above 30°C/86°F. Cape Town is also well known for its strong winds. A sturdy 'south-easter' also known as the 'Cape Doctor' blows in from the Atlantic Ocean during late spring and summer and, later in summer, a hot 'Berg wind' often gusts into town from the semi-desert Karoo region.
Take a look at the charts below which display the average annual temperatures and rainfall for the Western Cape capital of Cape Town. As with most ocean side cities flanked by mountains, various microclimates exist in different parts of the city.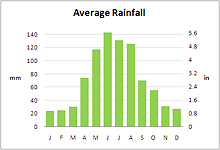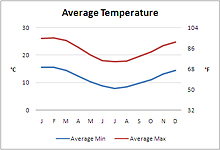 © Chart: African Travel Gateway, all rights reserved. Source data: http://en.climate-data.org/
Best Time to Visit Whales, Sharks & Penguins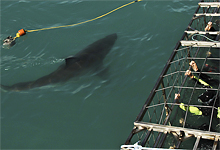 If you fancy some fin, fluke and flipper action Cape Town's False Bay is one of the top 10 locations worldwide for whale watching, and shark cage diving and the endearing African Penguins of Boulders are also two of Cape Town's major drawcards. Enjoy a privileged encounter with the largest mammals on Earth on whale watching boat trips departing from Simon's Town and the V&A Waterfront, as well as from the charming villages of Hermanus and Gansbaai. Peak whale viewing season is from June to December when the southern right whales arrive from Antarctica to mate, calve and nurse their young in relatively warm, sheltered waters. Humpback and Bryde's whales are also commonly spotted as are dolphins and Cape fur seals. The best period to see great white sharks in False Bay is between February and September. White sharks are extremely seasonal and tend to congregate around False Bay's Seal Island during South Africa's winter. Cage diving is generally excellent between February to early May and the breaching predatory behaviour for which the False Bay white sharks are famous for is at its peak between mid-July to the end of August.

The African penguin colony inhabits the Boulders Beach area year-round, but mating season during summer (December to February) is a good time to observe the penguins' natural behaviour. A private, sheltered sandy beach provides a great cool off spot at this time of the year where visitors can even swim alongside the penguins.
Best Time to Visit the Cape Winelands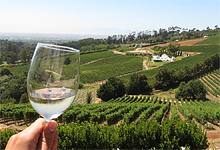 Most Capetonians will attest that any time is a good time to tour the picturesque Cape Winelands! Explore the many charming and historic wine estates and savour some of the world's finest reds, whites, sparkling wines and brandies. The warm autumn days between March and May are particularly jolly with a string of fun, family-friendly harvest festivals to attend where festival-goers may even participate in the age-old grape stomping tradition. The rich, fertile soils of the stunning Cape Winelands extend from Constantia, Stellenbosch and Franschhoek, to further north around Paarl and Wellington, and north east of Cape Town near Worcester and Breeriver. Winter is also a delightful time to visit the Cape Winelands with the crisp winter air, the lush green landscape and the crackling open fire places of the numerous award-winning Cape wine estates all adding to the ambiance, despite the winter rain showers. A delicate dusting of snow may also be seen on the surrounding peaks.
Best Time for Hiking & Walking in Cape Town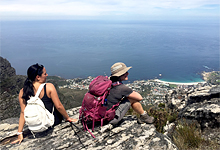 If you are planning on packing your hiking boots, autumn and spring in Cape Town are lovely seasons for walking. Enjoy the crisp, fresh days of the latter part of April to early June, as well as September and October. Table Mountain is a great place to start and there are a range of easy routes available to make your way to the top including Platteklip Gorge and the Pipe Track. The more challenging 4-6 hour Skeleton Gorge trail will take hiking enthusiasts across the 'table top' from the starting point at the spectacular Kirstenbosch Gardens to Table Mountain's highest point, Maclear's Beacon, and back down to Tafelberg Road via a scenic ride on the cableway. Table Mountain experiences its own microclimate and the infamous 'tablecloth' cloud formation can descend without warning, so be sure to take this into account when exploring on foot. Table Mountain National Park stretches 60km down the peninsula to the rocky cliffs of Cape Point where hikers can explore the pretty trails of Cape Point Nature Reserve. Hikes range from 2 hours to 2 days with stunning vistas of the Atlantic and Indian Oceans, delicate fynbos, shipwrecks and perhaps a whale or two offshore. If the luxuries of slackpacking are more your style, add one of our exciting Garden Route tours onto your itinerary. The 5 day guided and fully portaged Oystercatcher Trail starts in Mossel Bay taking walkers on an exhilarating and educational journey with highlights including sand dunes, coastal fynbos, Khoisan middens and secluded beaches. Enjoy spotting smaller species of wildlife and a multitude of bird species enroute, in particular the threatened African black oystercatcher.
One thing is certain – no matter what time of the year, a trip to Cape Town will be jam-packed with fun, excitement, nature, history and multicultural culinary delights so take a look at our Tours & Safaris in South Africa for a comprehensive range of Cape Town combos!