This 14 day self-drive tour of Namibia starts in Windhoek and heads north and east to end in Kasane, Botswana. The journey takes you on an exciting adventure of desert landscapes and wildlife, rivers and trees. The accommodation throughout is a cross section of tented camps, safari lodges, hotels and guest houses, but always clean, comfortable and with en-suite facilities. Most of the route is on tar road, but a significant section is on well prepared gravel roads so easily accessed by the 2 x 4 vehicle we supply. The itinerary and be done in reverse, and we can also provide a fully guided option.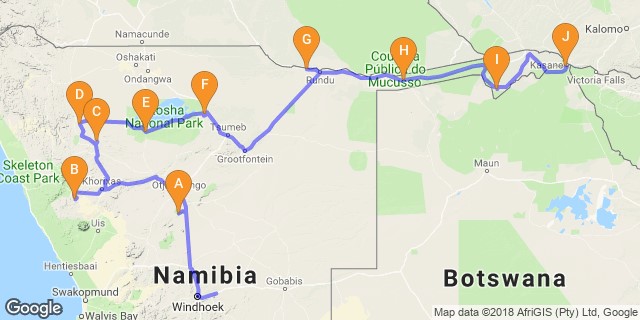 Day 1 - Windhoek to Okonjima Plains Camp, Okonjima Nature Reserve, Namibia
On arrival at the Windhoek International Airport you will be welcomed by a company representative who will present you with your travel documents and assist you with the collection of your vehicle (flight to arrive in the morning).You then depart north to the Okonjima Reserve where you will spend (2) nights at Okonjima Plains Camp on a dinner, bed and breakfast basis (Standard Room).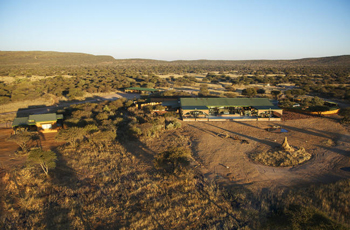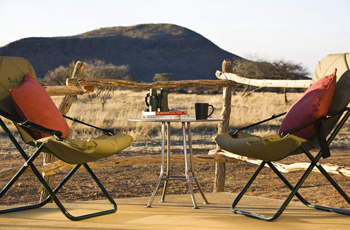 Okonjima Nature Reserve was formally a cattle ranch, but converted to a nature reserve in the 1990s. It is the perfect start to a northbound Namibia tour. Home to the AfriCAT, a conservation programme focused on carnivores the Plains Camp offers 30 rooms in three different room types, and lies in a secluded wilderness area of the 22 000 hectare nature reserve.
Day 2 - Day spent at Okonjima Plains Camp, Okonjima Nature Reserve
Spend your day taking part in some of the optional safari activities on offer (for your own account). The camp enjoys excellent sunsets and the safari activities focus around the conservation and encouragement of predators including leopard, cheetah and brown hyena.
Day 3 - Okonjima to Twyfelfontein Country Lodge, Twyfelfontein, Namibia
Head north west to Damarland, famous for the desert adapted elephant and the Twyfelfontein rock engravings. On the way you could visit Vingerklip (Finger Rock). You will spend (1) night at Twyfelfontein Country lodge on a dinner, bed and breakfast basis.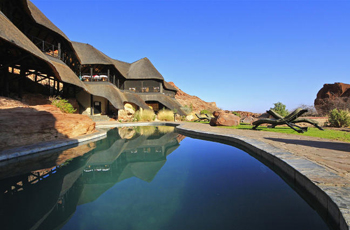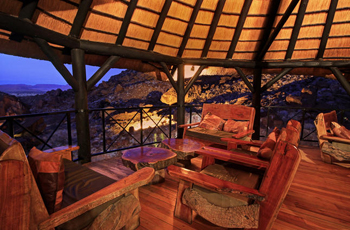 Twyfelfontein (translated 'doubtful fontain') is named after a natural spring. The area is located in the remote north west of the country. Home to an outstanding collection of Bushman rock art and evidence of Stone Age hunters that dates back many centuries. The Twyfelfontien Country Lodge is built from the natural sandstone of the area, with thatched rooves that have a cooling effect in the hot days that are so common here. Clasic views of across Huab Valley with its vast desert plains and distant mountains adds to the magic of this area.

Day 4 - Twyfelfontein to Toko Lodge & Safaris, Etosha West, Namibia
Today you make your way further north to Toko Lodge. Before you leave the Twyfelfontein area, you can visit to the engraving sites at Twyfelfontein, and the Burnt Mountain and "Organ Pipes". You can also visit The Petrified Forest near Khorixas. On arrival at the Rustic Toko Lodge you could visit the Katenda Himba Village, a short walk from the Lodge (for your own account). You will spend (1) night at the Rustic Toko Lodge on a dinner, bed and breakfast basis.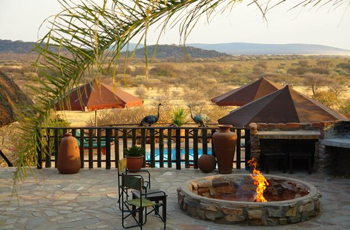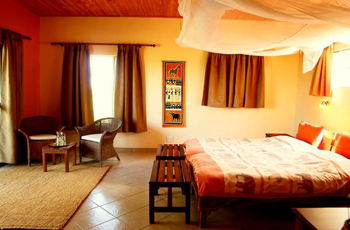 Toko lodge gazes overs thousands of hectares of Savanna, and with just 14 rooms in a beautiful garden with a cool swimming pool, it makes for a perfect stop after a long day. Located on the west side of the Etosha National Park, the terrain is different to the vast salt pans of the east. The topography is undulating covered in vegetation and home to a variety of wildlife species including Hartmann's Mountain Zebra, black-faced impala, elephant, rhino, leopard and lion
Day 5 - Toko Lodge to Dolomite Camp, Etosha West
Today your journey takes you to the renowned Etosha National Park. You will overnight at Dolomite Camp, which is located on the western side of the park. Time permitting you can already explore some of the park today (in your own vehicle, or you can book game drives with the lodge for your own account). You will spend (1) night at Dolomite camp on a bed and breakfast basis (Bush Chalet).

Dolomite Camp as one expects is built among a rocky outcrop. The thatched chalets are connected with a walkway and all afford breathtaking views of the surrounding mopane & moringa trees The area offers good game viewing owing to a number of water holes in the area. Guests can self drive their own game drives or opt to book onto a guided game drive experience.

Day 6 - Dolomite Camp to Okaukuejo Resort, Etosha South
Make your way to the centre of the park and to Okaukuejo, visiting various waterholes along the way in search of wildlife. You will spend 01 night at Okaukuejo Resort on a bed and breakfast basis (Waterhole Chalet).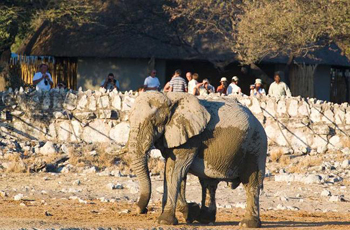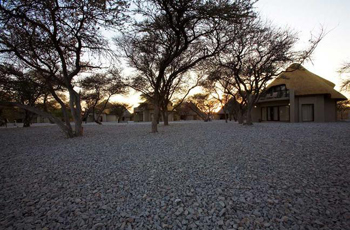 Okaukuejo is situated in the southern part of the national park just 7 km from the Andersssons Gate. Famed for spotlight waterhole, many guests have witnessed incredible wildlife sightings as well as interaction. The camp has a swimming pool, shop, bar and restaurant that guests can make use of. Among the guided activities on offer (as an optional extra) aare game drives and rhino tracking on foot under the guidance of an expert tracker.

Day 7 - Okaukuejo Resort to Emanya at Etosha Game Lodge, Etosha East
Another day to visit waterholes, as well as the majestic Etosha Pan, as you make your way east to Emanya@Etosha, located just outside of the park. You will spend (1) night at Emanya@Etosha Lodge on a dinner, bed and breakfast basis.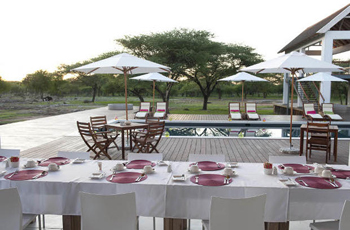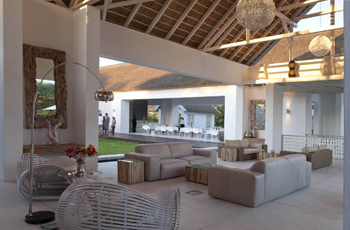 Emanya@Etosha Lodge is a 40 bedded 5 star lodge situated just 20 minutes from the Etosha National Park's Namutoni Gate. This is on the eastern side of this reserve. Guided game drives into the park are on offer and guests can expect to see and abundance of wildlife as well as birdlife associated with the 5000 sq km Etosha Pan. These can include flamingos, ostriches and many types of eagles and owls. Guests can also opt to relax in the lodge's foot spa or swimming pool and simply soak up the African sun.

Day 8 - Emanya at Etosha to Taranga Safari Lodge, Rundu
Early breakfast and then head north to the town of Rundu – the "capital" of the Kavango Region. On the way you might wish to visit Lake Otjikoto located north of Tsumeb, and the Hoba Meteorite located near Grootfontein. You will spend (1) night at Taranga Safari Lodge on a dinner, bed and breakfast basis (Classic Chalet).

Taranga Safari Lodge rests on the shady banks of the Kavango River, across of which lies Angola. The accommodation is built on stilts overlooking the water, and the lodge offers activities like guided river safaris in the late afternoon or early morning as well as fly fishing. A guided bush walk is also an opportunity, or a visit to one of the local villages whose inhabitants are well known for their wood carvings.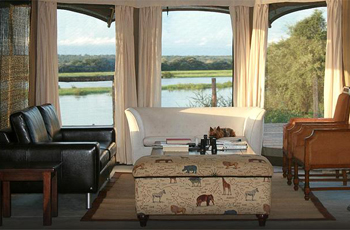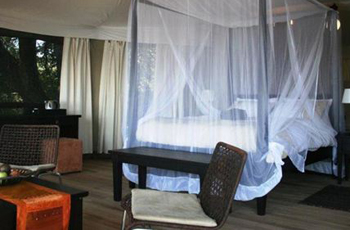 Day 9 - Taranga Safari Lodge to Nunda River Lodge, Mahango Game Reserve, Namibia
Today you travel further east, to the Caprivi region and Nunda River Lodge. Here you will spend 01 night on a dinner, bed and breakfast basis (Bungalow).

Nunda River Lodge is also located on the banks of the Kavango River and well situated to explore attractions of this area such as Popa Falls and Mahango National Park. The lodge also game drives and boat cruises on the Kavango as well as fishing and mokoro trips (wooden dug outs). The area is chaaracterized by large woodlands and flood plains inhabitated by lion, elephant and a lot of other game including the red lechwwe, antelope specifically adapted to life in wetlands.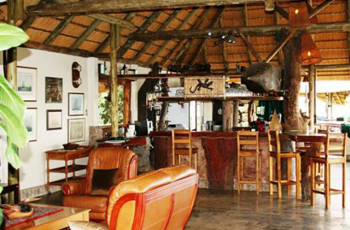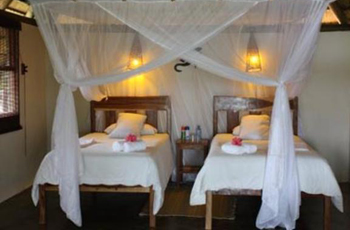 Day 10 - Nunda River Lodge to Nkasa Lupala Tented Lodge, Mamili National Park
Head further east into the Caprivi Strip and to Nkasa Lupala Lodge located in the Mamili National Park. Here you will spend (2) nights on a dinner, bed and breakfast basis.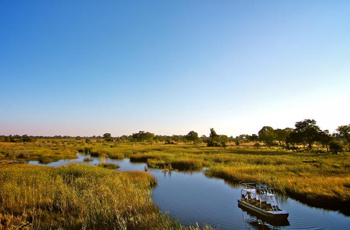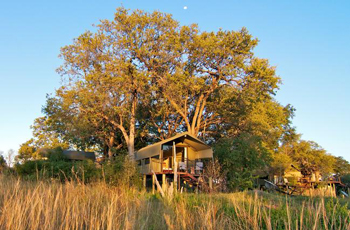 Mamili National Park (more recently renamed Nkasa Rupara National Park) offers a diversity of habitat not often associated with Namibia. These include reed marshes, thick savanna woodlands and slow moving rivers home to many hippo and crocodile, as well as lion, wild dog and elephant. The lodge has been built on one of the waterways that make up the Kwando - Linyanti River systems, and offers a selection of guided activities including some challenging 4x4 driving.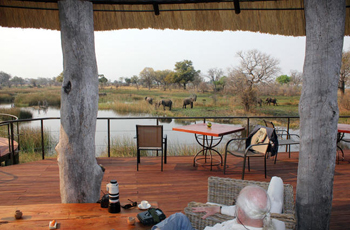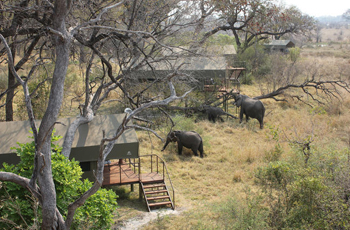 Day 11 - Day spent at Nkasa Lupala Tented Lodge, Mamili National Park
Spend your day taking part in some of the activities offered by the lodge (activities are for your own account).
Day 12 - Nkasa Lupala to Chobe Safari Lodge, Botswana
Early departure from Namibia and enter Botswana. Arrive at Chobe Safari Lodge in time for lunch (included) and an afternoon boat cruise (included). Here you will spend (2) nights on a full board basis including two game drives, two boat cruises and park fees (Luxury Room).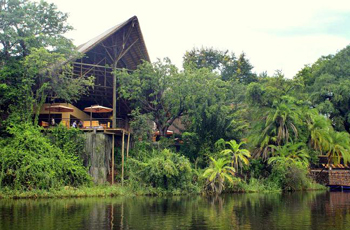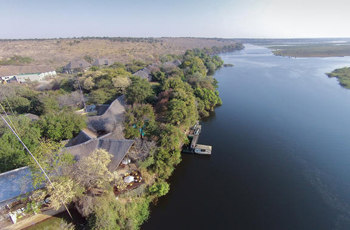 Chobe Safari Lodge is located on the banks of the Chobe River in northern Botswana. The area is known for its large herds of buffalo as well as elephant and a healthy lion population. Boat based safaris as well a guided game drives are all possible from the lodge. The lodge has beautiful gardens and lawns owing to the water from the river, and hippos are regular grazers on the property during the night.


Day 13 - On Safari at Chobe Safari Lodge, Botswana
Today you can enjoy a morning game drive in Chobe National Park, and in the afternoon a boat cruise on the Chobe River.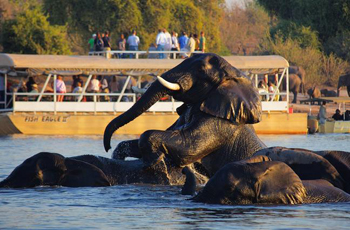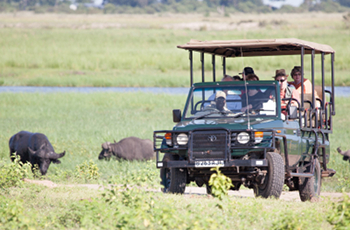 Day 14 - End Tour at Kasane Airport, Botswna
This morning you can join a final game drive at Chobe (included, but time permitting), before departure to Kasane Airport where you will return your rental car and board your flight home (flight home on own arrangements).
Tour Price
(Nov 2018 - Jun 2019)
ZAR 35 750.00 per person sharing
PLUS
USD 795.00 per person sharing
Jul - Oct 2019
ZAR 39 050.00 per person sharing
PLUS
USD 795.00 per person sharing
Price Includes
Meet & Assist Service with info pack (containing vouchers, driving directions, detailed itinerary, map of Namibia)
Accommodation and meals as specified
The activities which are specified as included
Tourism Levy
15% VAT
14 days use of GROUP 1M = 4x4 DOUBLE CAB / SIMILAR
Collect and return at Windhoek Airport Office OR at Windhoek Town Office
Unlimited km
Super collision damage waiver (SCDW)
Super theft loss waiver (STLW)
Third Party Liability
Value added tax @ 15% (VAT)
Tourism levy
Airport surcharge
Tyre and rim damage / replacement waiver
Windscreen damage / replacement waiver
Water damage, sandblasting damage and undercarriage damage** conditions apply
1st Additional Driver
Daily rate is charged per 24 hour period
Vehicle may be a range of makes - we regret the make cannot be guaranteed
Price Excludes
Additional meals
Additional Excursions / Activities
Beverages
All Park Entrance & Admission Fees
Any items of a personal nature i.e. telephone, laundry, curios, gratuities / tips / porterage, etc
Personal and Baggage Travel Insurance
All Flights
Visa applications
Change of Itinerary anytime after confirmation
Anything else not specified as included
Car hire excludes: (All these charges will be billed directly to the renter and are subject to change without notice)
Rental deposit: N$ 3 425-00
Contract fee: N$ 96-00
Carbon emission fee: N$ 200-00 per rental
Additional driver, as from 2nd additional driver, per rental: N$ 403-00
Young driver surcharge (18 – 21) per day: N$ 368-00
Baby-seat and Booster seat per rental: N$ 432-00
Claim admin fee - incident : N$ 862-00
Fine handling fee – per occurrence: N$ 339-00
Personal accident insurance (PAI)
GPS Units per day (deposit of N$ 1000-00): N$ 103-00
Cross border authorization letter : N$ 1 828-00
One way fee : Kasane – NAD 5 630-00
Towing charges (if not mechanical)
Valet – excessive dirt
Fuel
Assessors Fee in the event damage is greater than NAD 5 000-00 : N$ 862-00 per incident
Second spare wheel is included for Group 1M Double Cab 4x4 only
Additional spare tyres cannot be guaranteed for any vehicle group and are on request : Deposit NAD 1100-00 + NAD 255-00 per day
Overdue rental admin fee: N$ 816-00
Hail damage
Lost keys & call out fee
Cancellation / No Show Fees
Refuelling fee, if refuelling is more than NAD 50-00 : NAD 18-00