Namibia is an enticing and well-loved African holiday destination with spectacular and unique natural beauty considered by many as second to none. Many people remark that Namibia is like no place they have ever been to before! The parched Namib Desert, the tropical Caprivi Region, the immense Fish River Canyon, Etosha National Park in the north and the Kalahari Desert are only a handful of the amazing and out of the ordinary treasures Namibia has in store for visitors.
Namibia is generally dry and, with an average of 300 sunny days each year, a great place to visit at any time. However, different areas vary somewhat in climate and it is a good idea to pack for both warm and cool weather. When you choose to visit Namibia will largely depend on what it is you wish to do and see, whether it be game viewing, photography, general sightseeing or just sitting back and quenching your thirst with an ice cold Camelthorn Ale!
To assist you in deciding when to visit Namibia, spend a few minutes looking at the information below about Namibia's seasons and climate. Keep in mind climate patterns can vary from year to year so this information is not 100% guaranteed, however knowledge of Namibia's weather will help you to decide which of the great Namibia safaris to add to your Southern Africa itinerary.
Namibia's Climate
Namibia is the driest country in sub-Saharan Africa with a climate generally classed as arid however climatic variations occur depending on the area, altitude and proximity to the Atlantic Ocean. The weather in Namibia follows a two-season pattern – the Dry Season or Winter (May to October) and the Wet Season or Summer (November to April). Overall, travelling in Namibia is very pleasant with low rainfall and low humidity.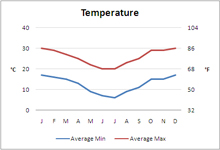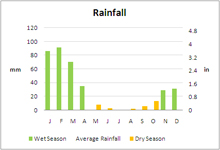 The above charts show the average annual temperatures and rainfall for Namibia's capital, Windhoek. The city is located in the Central Plateau region at around 1700m/5577ft and therefore experiences lower average temperatures than Namibia's parks which are located at or below 1000m/3280ft. Generally the parks are warmer, especially the desert areas, and the Caprivi area and Etosha receive more rainfall than Windhoek.
A visit to Namibia in the Wet Season
The Wet Season or Summer rains fall mostly between January and March with brief, localised afternoon thundershowers. The rain transforms the landscape from brown to green and breathes a new lease of life into the animals. In the height of summer (January and February) maximum temperatures are on average between 30-35°C/86-95°F and can reach 40°C/104°F or more in the desert areas. The northeastern Caprivi region receives the highest rainfall compared to anywhere else in the country, around 600mm/23in per annum and, generally, the country becomes drier the further south you go. By March and April, the rains dwindle and the days are a very pleasant 25-30°C/77-86°F with a chill in the night air. What does this mean for your Namibia safari?...
• Rain tends to fall in brief afternoon showers and should have a minimal impact on your travels.
• This is Low Season, so parks may be quieter and rates lower.
• Migratory birds are attracted by the rains and it is the best time for birding.
• Newborn animals can be seen alongside their mothers.
• Rutting antelope can put on quite a show as they compete for females and form territories.
• Predator sightings can become more frequent with the increase in young animals.
• Photographers are in their element with dramatic cumulonimbus clouds and vivid colours.
• Wildlife can be more difficult to spot behind lush vegetation.
• The wildlife disperses as the rains create more water sources to drink from.
A visit to Namibia in the Dry Season
During the Dry Season or Winter, there is little rain and humidity is low. The days are dry with clear blue skies and, over the course of the Winter, average daytime temperatures vary from 20-28°C/68-82°F. The landscape gradually dries out and browns as the Dry Season progresses. July and August are the main Winter months with brisk mornings and evenings. Night time temperatures drop to an average of 7°C/45°F and, in the deserts and areas of high altitude, nights can drop to below freezing. Game viewing is excellent during the Dry Season and most visitors choose May to October to visit Namibia, with September being the most popular month. What does this mean for your Namibia safari?...
• Wildlife is easier to spot as the vegetation is less dense.
• Game viewing improves as the wildlife concentrate around rivers and remaining waterholes.
• Morning game drives can be chilly so warm clothing, preferably layers, is advisable.
• Mosquitoes and other bugs are fewer.
• The air is clear and dust is at a minimum, although it does get dustier towards the end of the Dry Season.
• The parks tend to be a lot busier, especially Etosha, so plan your safari well in advance.
Your Namibia safari will no doubt include one or more of the following regions - the Caprivi, Etosha National Park and the Namib and Kalahari regions. African Travel Gateway has compiled information about the best time to visit these regions of Namibia…
Best time to visit the Caprivi, Namibia
Scenery in the Caprivi Region (renamed the Zambezi Region) is an interesting contrast to the rest of Namibia, dominated by swamps, floodplains, wetlands, rivers and woodland. Game viewing is excellent and visitors can be on the lookout for around 450 animal species, many of which traverse freely to and from Botswana's Chobe National Park. The Caprivi is home to species like hippo, buffalo, crocodile and water-loving antelope such as waterbuck which are rarely seen in the rest of Namibia. With around 430 bird species, the Caprivi is also a prime bird-watching area.
The Caprivi is situated in a tropical area with high temperatures, humidity and Wet Season rainfall so the vegetation remains green and lush all year round. On average, Summer rainfall occurs 8-10 days per month and there is virtually no rain between the Winter months of June and August. Visitors can expect Summer days to be around 35°C/95°F and drop to about 20°C/68°F at night. Lovely Winter days are in the vicinity of 28°C/82°F and nights can be quite chilly at around 7°C/45°F and can even drop to near freezing. Overall, the Caprivi or Zambezi Region is most pleasant for travelers during the Winter months however bird-watchers will be best rewarded in Summer.
Best time to visit Etosha National Park, Namibia
The incredibly photogenic Etosha is world renowned for its vast, bare open expanse known as Etosha Pan, a natural saline depression in the terrain and the largest salt pan in Africa. Etosha Pan takes up almost a quarter of the park's 22,270sqkm/8600sqmi area and its natural carpet of shimmery, silver sand and soft, salt-tolerant grasses appears to be never ending.
The pan attracts hundreds of mammal, bird and reptile species including the black rhinoceros and many uncommon and endangered species such as the blue crane. After rain the shallow pan fills with water, albeit briefly, and attract thousands of flamingoes and pelicans to breed. The southern edge of the pan is particularly good for game viewing as the waterholes become more and more alluring to wildlife as the Dry Season progresses and other water sources dry up. Huge herds of zebra, springbok, elephant and often whole prides of lion will congregate at the water's edge to quench their thirst and it is not uncommon to see half a dozen species milling around the same waterhole together.
The best time to visit Etosha for general game viewing and photography is between May and December with daytime temperatures ranging from 18-26°C/64-79°F in Winter and increasing to an average of 34°C/93°F by December. Be prepared to dress warmly at night during the Winter months as it can get quite chilly. The Summer months will also not disappoint, offering some spectacular sights, intense birding and brilliant photographic opportunities as dust is kept to a minimum by the rains. Daytime temperatures during Summer range from 25-35°C/77-95°F and can occasionally reach 40°C/104°F. The Summer rains usually commence around November.
Best time to visit the Namib and Kalahari, Namibia
The Namib Desert spans the entire coastline of Namibia from southern Angola down to the Northern Cape Province of South Africa in a belt approximately 100 kilometres wide. The central Namib is home to some of the highest sand dunes in the world and at the Sossusvlei clay pan in the Namib Naukluft Park, a sand dune climb will give you a fantastic workout! Summer days can be extremely hot, sometimes reaching 40-50°C/104-122°F between December and February, and some camps close during this period due to the intense heat. Winter days are a balmy 20-25°C/68-77°F but can plummet to below freezing at night. Rainfall in the Namib is minimal at 5-85mm/0.2-3.3in a year although coastal fog, often reaching 20-30km/12-19mi inland, offers a reliable source of moisture to plant life and the mammals, birds and reptiles which inhabit the harsh Namib environment.
The most pleasant time to visit the Namib is between March and November and, depending on rainfall, you may be lucky enough to catch a glimpse of desert wildflowers in bloom between February and April. Look forward to dazzling sunsets, dramatic desert landscapes and, with very little or a complete absence of light pollution, astronomy buffs can anticipate exceptional stargazing.
The semi-arid Kalahari Desert is situated south east of Namibia's Central Plateau region and extends into Botswana and South Africa. The Kalahari also experiences similar wide daily temperature ranges as does the Namib, but receives more rainfall, an average of 300-500mm/12-20in per year, which supports more plant life and provides some excellent tracts of grazing land. As for the Namib, the most comfortable time to visit the Kalahari is during the Winter months unless you are used to very high summer temperatures.
Back to our Namibia Safaris page.