There is a lot more to Zambia than the average traveller realizes. Situated in Southern Africa just north of Botswana, Zambia is well-endowed with lakes, rivers and waterfalls - 17 actually! - and is a utopia for all manner of water based activities such as extreme tiger fishing, kayaking, hydrospeed surfing and swimming in the rock pools under Victoria Falls.

Almost one third of Zambia is reserved for wildlife including 20 national parks, many of which offer exceptional big game encounters, superb photographic opportunities, intensively trained guides and some of the most highly regarded walking safari experiences in Africa. Zambia's pulsating capital and largest city, Lusaka, is an ideal base to explore the Lower Zambezi, South Luangwa and Kafue National Parks and a stay in Livingstone, the 'adventure capital of Africa', will put the spellbinding Victoria Falls at your fingertips.
The best time to visit Zambia depends on what you wish to do and see whether it be game viewing in the national parks, wildlife photography, water based activities or perhaps even witnessing the captivating Kuomboka Festival, an ancient traditional ceremony of the Lozi people which takes place at the end of each rainy season around April.
Zambia's Climate
Its important to understand Zambia's seasons and climate, before deciding when to visit the country. Approximately 80% of Zambia is situated on a plateau which is between 1000-1300m/3280-4265ft above sea level and this elevation cools down temperatures in most places giving the majority of Zambia a comfortable subtropical climate, great for travelling. Zambia has two distinct seasons – the Wet Season or Summer (November to April) and the Dry Season or Winter (May to October).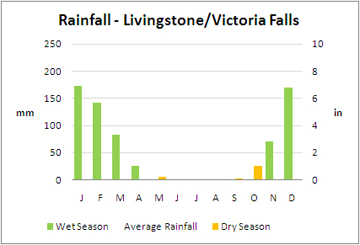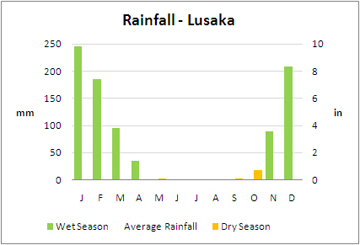 Livingstone, at an elevation of 986m/3234ft, is generally warmer than Lusaka which is situated at a higher altitude of 1279m/4196ft. Low-lying areas, such as the Tanganyika Valley in the north, experience hotter weather. In particular, parts of the Luangwa and Zambezi Valleys in the south can become uncomfortably hot and sticky in October with temperatures in the vicinity of 40°C/104°F.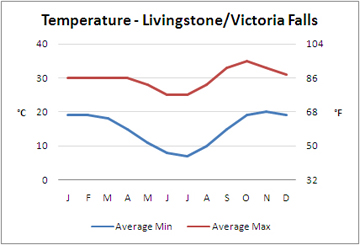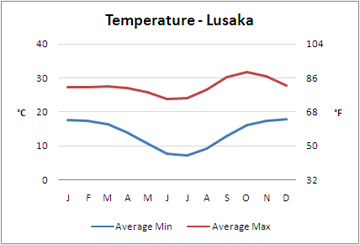 A Visit to Zambia in the Wet Season
During the Wet Season or 'Rainy Season' between November and April the amount of rainfall varies across the country but most areas receive between 700-1200mm/27-47in per year. November is often a mixed bag of hot and dry weather combined with the first burst of rain. The duration of the rainy season and the amount of rainfall is greatest in the north of Zambia and dramatic but brief afternoon thunderstorms are characteristic of summer. The amount of rain decreases towards the south and in the far south west a small pocket of semi-arid country receives the country's lowest precipitation. Interestingly, the onset and end of the rainy season is of great significance to the people of Zambia and much of the economic, social and cultural life of the country revolves around the rainy season and the amount of rain it brings.
Temperature-wise, a typical summer's day in many parts of Zambia is a balmy 25-30°C/77-86°F and a good night's sleep is on the cards with lows between 14-19°C/57-66°F. Visitors on safari in Zambia during summer will be treated to lush, green scenery, outstanding birding and game viewing can still be awesome. The downside however is that unsealed roads and driving conditions can deteriorate rapidly once the rains really set in.
What does this mean for your Zambia safari in the Wet Season?...
• Low Season, also known as the 'Green' or 'Emerald' season, is in full swing by mid-January which means lower rates and camps and parks are quieter.
• Seasonal camps close annually between about December and mid-May as the rains and high water levels make unsealed roads inaccessible.
• Year-round camps offer value for money safari deals which often include boating safaris.
• Birding is spectacular with migratory species arriving in their droves around August.
• September/October offers exciting game viewing but the weather is hot and humid.
• Vegetation becomes dense and game viewing in some areas can be challenging.
• Higher humidity brings out the bugs and mosquitoes.
• Newborn animal antics will keep you entertained.
• Seasoned safari-goers will appreciate something different to see and specialist and species-specific safaris are available.
• Subject material for photographers is brilliant with striking scenery, dramatic skies and turbulent rivers.
A Visit to Zambia in the Dry Season
The Dry Season between May and October starts off delightfully warm and dry with daily temperatures ranging from 21-26°C/70-79°F and nights perfect for snuggling under the duvet at 6-12°C/43-54°F. By September and October the weather really starts to heat up with days between 28-35°C/82-95°F and nights remaining a mild 17-22°C/63-72°F. Rainfall grinds to a halt and June, July and August days are typically clear, cobalt skies and completely rain free. At the beginning of the Dry Season grasses and foliage can still be quite dense and it is not until late-June that the vegetation begins to thin out enough to improve visibility making it easier to spot game. Many camps solely dedicated to walking safaris re-open at the beginning of June when the roads and ground have dried out.
Overall, June to September is the best time to visit Zambia with comfortable weather, good road conditions and a full range of camps and walking safaris are available. Game viewing and on-foot wildlife encounters at this time are truly exceptional and keeps visitors coming back for more year after year. What does this mean for your Zambia safari in the Dry Season?...
• Game viewing is optimal as the vegetation is less dense meaning good visibility through the bush.
• Evenings and morning game drives in June, July and August are chilly so pack warm clothing.
• Humidity is low which means mosquitoes and other bugs are minimal.
• The air is clear and dust is at a minimum, although it can get dustier towards the end of the Dry Season.
• The parks tend to be a little busier and Victoria Falls a lot busier, so plan your holiday well in advance.
• February to May is the best time to view Victoria Falls in full flow, especially from an aerial perspective, however visibility from ground level may be low due to the dense spray.
• Access to Livingstone Island/Devil's Pool will only be possible from July when water levels recede sufficiently.
Victoria Falls is deservedly one of the most frequently visited locations in Zambia, but combining safaris in South Luangwa, Kafue and the Lower Zambezi National Parks will make for a well-rounded Zambian experience. Below is a brief summary of the best time to visit the four most rewarding regions in Zambia…
Best Time to Visit South Luangwa National Park, Zambia
South Luangwa's scenery is out of this world, game activity intense and the camps, being based on or nearby the splendid Luangwa River, offer guests a front-row seat to some phenomenal wildlife sightings. South Luangwa is sizeable at just over 9000sqkm/3475sqmi and was originally established to protect the Thornicroft's or Rhodesian giraffe, a geographically and genetically isolated subspecies of giraffe endemic to Zambia and which can only be found in the Luangwa Valley. Game activity by both day and night is truly world-class and many a safari-goer has been utterly flabbergasted by electrifying predator-prey interactions on South Luangwa's vast open plains.

For a productive and memorable wildlife safari in Zambia, the best time to visit South Luangwa is between June and October when the seasonal and walking-specific camps are operating, there is good road access for game drives, and warm sunny days and refreshing evenings are perfect for travelling, walking safaris and cruising about in open game viewing vehicles. If you are happy to sweat it out in high heat and humidity, the tail end of the Dry Season (September/October) will give you the best possible game viewing opportunities allowing you to fully submerse yourself in the thick of the South Luangwa wildlife experience.
Best Time to Visit Lower Zambezi National Park, Zambia
The alluring Lower Zambezi Valley also offers intense game viewing and prior to 1983, when the 4092sqkm/1580sqmi area was declared a national park, the Lower Zambezi was the private game reserve of Zambia's president. Situated on the north bank of Zambia's iconic Zambezi River and opposite Zimbabwe's beautiful Mana Pools National Park, the Lower Zambezi is a truly stunning tract of pristine, remote and peaceful wilderness somewhat dictated by its limited accessibility which is generally either by motorboat or light aircraft via Livingstone or Lusaka. The Lower Zambezi National Park is characterized by enormous herds of large mammals, in particular elephant, and abundant predators including the African wild dog which has reportedly been seen in increasing numbers in South Luangwa, the Lower Zambezi and Kafue National Parks.
Safari activities are diverse in the Lower Zambezi Valley and visitors not only enjoy walking safaris and day and night game drives but also have unique opportunities to appreciate hippos, elephants, crocodiles and other wildlife in and around the river from both canoes and motor boats. As with South Luangwa, the best time to visit the Lower Zambezi National Park is during the Dry Season between June and October and if you are combining your safari with a trip to Victoria Falls, then June to August will afford you the best of both worlds!
Best Time to Visit Victoria Falls, Zambia
Victoria Falls is renowned as the 'adventure capital of Africa' with valid reason! Victoria Falls and the surrounding area offers a diverse array of activities that will keep you occupied for days, from the heart-pumping gorge swing to something a little more tranquil such as a close-up game viewing experience at Siduli Hide, just the ticket for avid photographers, birders and those who are keen for a completely different game viewing encounter. The Siduli Hide activity is available through the Victoria Falls Safari Lodge on the Zimbabwean side of Victoria Falls and lasts for at least two hours, offering a virtually 'face-to-face' perspective of elephants and other wildlife who are regular patrons of the Lodge's waterhole.
The Victoria Falls experience is very different at various times of the year but the best time to visit Victoria Falls depends largely on your personal interests and how you wish to spend your time. December usually heralds the beginning of the Wet Season rains continuing until about March. The volume of the falls gradually builds and by April, May and June the falls should be raging into the gorge at the full width of the Zambezi River. Between June and November, the falls gradually dwindle and separate into a number of individual cascades.
Overall, the best time to see Victoria Falls at its fullest and most spectacular is between February and May but if you wish to combine a visit to Victoria Falls with a wildlife safari in South Luangwa, the Lower Zambezi valley or elsewhere in the region then the optimum time to consider is from June to August.
Best Time to Visit the Kafue National Park, Zambia
As Zambia's oldest conservation area and one of Africa's largest, the magnificent Kafue National Park stretches over 22 400 square kilometres (8650 square miles) of untamed vegetation and pristine wildlife, taking up 33% of the country's national park system. Situated towards the centre of Western Zambia and still relatively undiscovered, the park's striking landscape features some of the most diverse biodiversity that the continent has to offer. A short two-hour drive from Livingstone, the park is home to the alluvial Busanga Floodplains which flood seasonally from November-April.

It is also characterised by the mighty Kafue River, whose riverine vegetation attracts a number of game species including great herds of puku, sable, lion, leopard and cheetah, allowing for excellent game-viewing opportunities. The park is a bird-lover's paradise with over 500 different species to be spotted, including the wading saddle-billed stork and Zambia's only endemic species, Chaplin's Barbet. The best time to visit the Kafue National Park is during the dry season, (June - October) when roads are traversable, all camps are open and temperatures are pleasant. However, if you would prefer to experience the lush, green vegetation that the park has to offer during the wet, summer season, there are a few camps towards the central and northern areas of the park which are open year-round.