South Africa's Kruger National Park spans two-million hectares, incorporates over 30 camps and lodges and offers a variety of activities that enable visitors to enjoy the area's unrivalled diversity of fauna and flora. This is an all-year-round destination where the best time to visit the Kruger National Park depends on your wildlife interests and activity preferences.

Weather
Located in the north-east of South Africa, the Kruger National Park enjoys weather that ranges from mild to very hot through the seasons. During the winter months of June, July and August, daily temperatures are mild (average daily maximum of 26.1°C) with overnight readings dipping into the single digits. Winters days are warm and dry with little to no rain for many months.
There is little differentiation between average temperatures during the spring (September, October and November) and autumn (March, April and May) months. These seasons have an average daily minimum of 16°C and maximum of 30°C.
During the summer months of December, January and February, humidity soars and the mercury climbs. With daily maximum averages between 29°C and 32°C, you can be sure that maximum temperatures during the day hit 34°C and higher regularly. Babies, young children and old people may find summer maximums to be very uncomfortable. Camping can be unpleasant in the unrelenting heat.
Summer's bushveld thunderstorms are dramatic and exciting and the air carries a scent like no other. As there is an average of only seven days of rain during each of the summer months, the chance that your holiday will be rained out is slim.
For outdoor activities, like mountain biking and the four-day wilderness walking trails, early spring and autumn are best. Open vehicle game drives are often in the early morning and late afternoon, which makes late August to early May the ideal months. If you're self-driving in an air-conditioned vehicle, any time of year will be good.
Game viewing
The Kruger National Park is world-renowned for its wildlife diversity. Its tally of 147 mammal species includes the popular 'Big 5' (buffalo, elephant, leopard, lion, rhino) and an abundance of antelope and numerous large and small mammals.
Visitors can choose to self-drive within the reserve or to book guided game drives. From April, vegetation starts to turn brown and trees begin to lose their leaves. During winter, bare trees, low grasses and sparser, colourless vegetation improves visibility for game spotting. This is undoubtedly the most recommended season for game drives. Chilly mornings and evenings outdoors are made more comfortable with warm clothing, blankets and a flask of hot chocolate.
Winter is also a good time of year to spend a few hours sitting quietly at any water source. After a few dry months, patience will be generously rewarded with rich sightings as animals concentrate at waterholes.
Of course, summer rains fill waterholes and observing animals coming down to drink with their young is a treat. Remember that wildlife is more difficult to locate in the lush dense vegetation of the summer rainfall months, so if you're aiming to tick-off a bunch of boxes on a species checklist, this would not be the best time to visit.
Late summer, from March to May, marks the mating season of antelope like kudu, wildebeest and impala. Males compete for females and clash with each other by exchanging horn thrusts. They also put on elaborate displays, which are well-worth seeing.
Bird watching
With over 500 bird species on the Kruger National Park list, the area is a birder's playground. Hours can be spent at bird hides in the park and in-camp hides at selected camps. Aside from the usual array of hornbills, starlings, vultures, rollers, bee-eaters and shrikes, eagles are commonly spotted too. Water birds like herons, fish eagles, storks, kingfishers and crakes can be found near waterholes, dams, rivers and seasonal pans.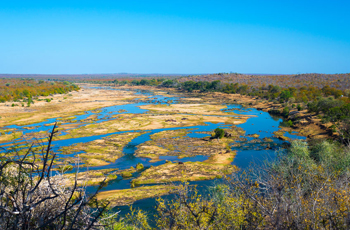 Visitors are encouraged to spot the Kruger National Park's 'Big 6', which are species that are easy to identify even for the layman birder. The six birds are the Saddle-billed Stork, Kori Bustard, Martial Eagle, Lappet-faced Vulture, Ground Hornbill and Pel's Fishing Owl. Spotting the nocturnal Pel's Fishing Owl is the challenge as it is active at night and is thus seldom seen. The far north of the park is the best birding location as it is here that subtropical and tropical species overlap. This region is less child-friendly than the southern sections as distances are greater between camps and safe get-out points.
The months from October to March are the best for birding as this is when the migrant species arrive. During this time, these visitors make up 150 to 200 names on the species list. They leave to return north by mid-April.
Flora
With 336 tree species and an abundance of grasses and flowers, the park is a botanical delight. Spring and summer are the seasons that will most impress.
That's not to say that winter is dull. The sausage tree (Kigelia africana) flowers in winter, as does the impala lily (Adenium multiflorum) with its dazzling bright pink blossoms. Several aloe species make a wonderful winter show. The Loranthus plants also flower in winter to produce fruit at the end of the dry season. This is an important food source for sunbirds.
Malaria
Of the creatures big and small, the malaria-carrying Anopheles mosquito is certainly the most dangerous. Kruger National Park is a malaria area and visitors are advised to be proactive in preventing mosquito bites by using repellents and protective clothing between dusk and dawn and to sleep under mosquito nets. Prophylactic drugs are effective and must be prescribed by a doctor. There are also drugs that can be taken by children but, as with the adult medications, they do have side effects.
The wetter summer months from November to April are the most risky and high-risk patients - young children, pregnant women and old people - are advised not to go into the area.
Before planning your trip, seek counsel from a travel clinic. They will be up-to-date on incidences and risks. If travelling with children, consider visiting the park in the dry winter months when the malaria risk is lowest.
Holiday Seasons
Kruger National Park places a limit on the number of vehicles that are allowed to enter the park daily. Fortunately, reservations can be made online and in advance for day passes and overnight accommodation in the park. As a public-access reserve with day-visitor areas and picnic spots, the park bustles with visitors during the peak holiday periods of December and April (Easter). Accordingly, accommodation options, which range from camping to luxury lodges - can be booked out months in advance.
January to March, after the summer school holidays, is hot but quieter. And, if you can avoid weekends, make use of weekdays throughout the year, outside of the holidays, to visit.

Visitor and conservation fees are standard year-round but accommodation costs can differ with high and low season rates. Use online booking systems to reserve accommodation as soon as you know your travel dates. Leaving this too late will limit your options and affect your budget. Getting the accommodation you want or grabbing a last-minute unbeatable deal for a specific period makes that the best time to visit the Kruger National Park.
Activities
From four-day, three-night walking trails to guided mountain bike rides and walks, activity opportunities are abundant. The height of summer is not the most pleasant time for these; heat saps your energy and sun protection is crucial. Stick to either end of summer and embrace the mild winter days for physical activities.
Photography is superb all year. Depending on what you're interested in, you'll have success with game in the winter months, newborns in spring and birds (resident and migratory) in summer.
Every month at the Kruger National Park has something to offer so there is no one 'best time' to visit. The best time for you will depend on the availability of accommodation options that you can afford, what you want to see in terms of game, birds and flora, the activities you would like to do and the temperatures that you - and your travelling companions - can tolerate. For the Kruger National Park, the best time to visit really is any time that you get there.