The Zambezi Queen is a luxury houseboat that offers guests a unique and elegant way of seeing and experiencing the wildlife, scenery and atmosphere of the Chobe River and Chobe National Park. By spending either two or three nights on the Zambezi Queen guests are exposed to game viewing on land or by tender boat, fishing, birding, fantastic photographic opportunities all the time maintaining a very high level of comfort and luxury. The boat has spared no expenses in delivering a truly opulent safari experience, and is ideal for honeymoon or romantic getaways.
The Zambezi Queen (as with all the Chobe Houseboats) is based officially on the Namibian side of the Chobe River and therefore guests arriving from Botswana, will be taken to Impalila Island (Namibian territory) to clear customs before boarding the boat. Given the fact that the closest airports are Kasane (Botswana), Livingstone (Zambia) and Victoria Falls (Zimbabwe), it turns out that nearly all guests for Zambezi Queen end up accessing the boat via Botswana territory.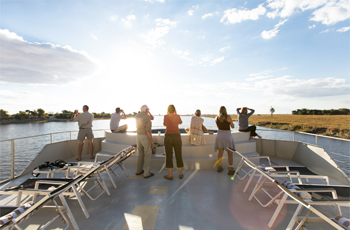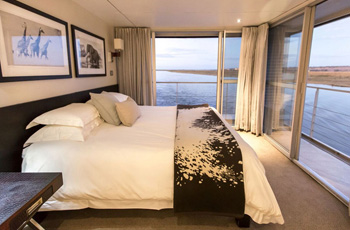 It traverses the Chobe River, which is a perennial body of water that forms the border between northern Botswana and Namibia's Caprivi Strip. The Chobe River joins the Zambezi River not far from the launch and then flows over the Victoria Falls. The region itself is a renowned wilderness area encompassing huge wildlife areas both in and out of national parks. The river is home to many species of fish, including tiger fish as well as hippo and crocodiles while the banks are frequented by large numbers of African wildlife, including elephant, buffalo, lion, puku antelope, leopard, waterbuck, roan antelope and more.

The boat is accessed from a launch on the Botswana banks of the Chobe River, very close to the Chobe National Park. The easiest point of access is flying into Kasane, Botswana, from here it is just a 3 km transfer. The other access options include an 80 km road from Victoria Falls or from Livingstone Airport in Zambia. Either option of access ties in nicely with further highlights of this region, including the Victoria Falls, the Okavango Delta and the Caprivi Strip.
Accommodation on the Zambezi Queen
The Zambezi Queen is made up of three decks. The top deck houses the dining room, lounge and pool deck area, all commanding sweeping views of the river and flat African savanna. The middle deck houses most of the just 14 luxurious en-suite accommodation units, made up of suites and master suites. The lower deck contains a few more suites and the reading room, curio shop and boarding area.
All 14 suites have their own private balconies from which guests can enjoy stunning and mutating views, and of course en-suite facilities. The master suites of which there are four, are located at the bow (front of the boat) and are larger than the suites in that they have a private outdoor area as well. The suites do not have air conditioning due to the limited space for power production but all suites have ceiling fans and the boat has been fitted with strategically placed shutters to neutralize the effect of the hot African sun, and mosquito nets have been liberally used throughout the vessel to ensure a little extra enjoyment.
Safari Activities from the Zambezi Queen
Safari activities on offer to the guests can be divided into two types, either activities conducted from the boat or activities into the surrounding area. Game viewing safaris from one of the tender boats is a very popular pastime and guests get amazing views of herds of elephants coming down to drink as well as other game. During season fishing is a great way to spend the morning or afternoon, and tiger fish and bream are the fish of choice. Bird watching in this region is prolific and can be arranged. To get off the boat for a few hours gives guests the option of game drive safaris into the Chobe National Park. Cultural visits to a local African village gives guests a deep and real insight into another way of life and is often one of the most cherished experiences for people, especially if they come from one of the bigger cities in the world.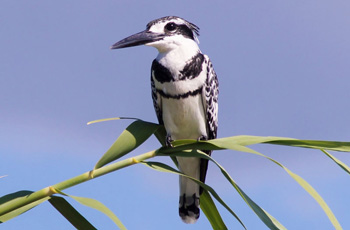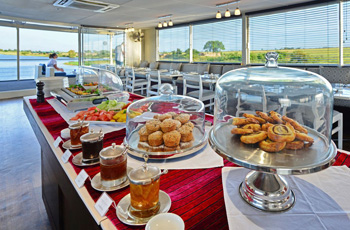 Rates and Departure Dates
The Zambezi Queen operates on scheduled departures, so guests can choose between a 2, 3 or 4 night journey:
The 2 night Journeys depart Mondays and Wednesdays
The 3 Night Journeys depart on Fridays
The 4 night Journeys departs Mondays
Jan - Feb & Dec 2023
R11,104 per person per night sharing (Standard Suite)
R13,099 per person per night sharing (Luxury Suite)
Mar - Nov 2023
R13,454 per person per night sharing (Standard Suite)
R15,881 per person per night sharing (Master Suite)
Jan – Feb 2024
R11,104 per person per night sharing (Standard Suite)
R13,099 per person per night sharing (Luxury Suite)
Mar - Nov 2024
R14,800 per person per night sharing (Standard Suite)
R17,469 per person per night sharing (Luxury Suite)
Dec 2024 - Feb 2025
R13,325 per person per night sharing (Standard Suite)
R15,719 per person per night sharing (Luxury Suite)
* A 30 % single room supplement applies to the above rates
** The above rates are quoted in ZAR (South African Rand). Please view our currency convertor to get an accurate idea of the cost in your own currency.
Rates Include
14% VAT and tourism levy
Transfers to/ from Kasane Airport and Kasane Immigration on the Chobe River
Transfers to/ from Kasane Immigration and the boat
All meals
All soft drinks, mineral water, tea and coffee
Quality wines and beers with meals and during game viewing activities
Water-based game viewing and bird watching on tender boats
A land-based cultural tour of a local village
A land-based half- day 4x4 game viewing in Botswana's Chobe National Park
Tiger & bream fishing in season
Rates Exclude
Air tickets
Community Development Levy
Fuel Levy
Alcoholic beverages (other than wine and beer at meal times and during game viewing activities)
Additional transfers
Private guiding or additional safari activities
Visa Fees
Gratuities
Curio Shop purchases
A Basic Itinerary aboard the Zambezi Queen
Day 1 (for 2 and 3 night itinerary)
15h00 - 16h00- Guestst are collected from Kasane immigration in Botswana (The border closes at 16h30)
16h00 - 17h30 - Game viewing small boat and transfer to Zambezi Queen
19h00 - Welcome aboard the Zambezi Queen and Briefing
20h00 - Dinner on board the Zambezi Queen
Day 2 (for 2 and 3 night itinerary)
06h00 - Wake up call
06h45 - Breakfast
07h15 - Departure for either half day game drive safari or game viewing excursion from a small boat
10h00 - Game viewing boat returns to Zambezi Queen
11h30 - Game drive safari guests return
12h00 - Zambezi Queen starts downstream
12h30 - Lunch
15h00 - Zambezi Queen stops for overnight stay
16h00 - Depart for water based game viewing safari
18h00 - Return from safari activities
20h00 - Dinner on board the Zambezi Queen.
Day 3 (for 2 night itinerary)
06h00 - Zambezi Queen leaves for home base
07h00 - Breakfast
08h30 - Zambezi Queen arrives at home base
10h00 - Depart for Kasane Immigration
Day 3 (for 3 night itinerary)
08h00 - Breakfast
09h00 - Guests can choose between a fishing excursion or game viewing by small boat
12h00 - Return to Zambezi Queen
13h00 - Lunch and subsequent departure to the overnight stopping area
14h00 - Clients have choice of any safari activity (boating, fisihing, game viewing by land)
17h00 - Return to Zambezi Queen in time for a final sundowner
20h00 - Dinner on board the Zambezi Queen.
Day 4 (for 3 night itinerary)
06h00 - Zambezi Queen leaves for home base
07h00 - Breakfast
08h30 - Zambezi Queen arrives at home base
10h00 - Depart for Kasane Immigration
See more Chobe Houseboat options