If you have a morning free in Johannesburg or Pretoria, why not rise to the occasion, and do a hot air balloon flight … The Air Ventures hot air ballooning operation is located near Johannesburg, about 45 minute drive north of Sandton. The flights operate each morning (subject to weather of course).

The hot air ballooning experience entails a serene 50 minutes, during which you float over the picturesque countryside of the Cradle of Humankind and Magaliesberg, with a glass of bubby in hand. The area is characterized by gently undulating grassland hills and valley bushveld. A number of farms, small game reserves, dams, homesteads and tree lined country roads make for an enchanting landscape over which to drift - sometimes at height, and other times at tree top level.
The Air Ventures Hot Air Ballooning operation caters for individuals and groups, as well as the romantics who dream of an exclusive balloon flight for two (…and the pilot of course!) – a notoriously romantic option for popping the question, or just doing something special for your special someone!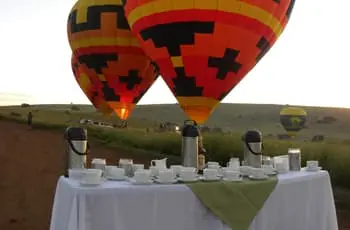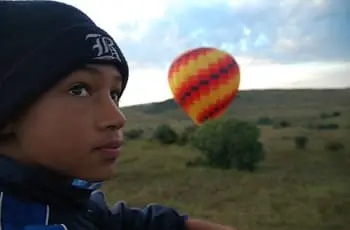 There are two hot air balloon flight packages, namely the Classic Flight Experience and the Safari Flight Experience, that would make use of one of the larger passenger balloons or the Exclusive balloon.
The Classic Hot Air Balloon Flight
The classic balloon flight is the more traditional experience, and flies over the Cradle of Humankind or the Magaliesberg Mountains – just depends on where the wind blows. Although near Johannesburg, green fields, farm dams & distant mountains become your 360 degree panorama. The entire experience covers approximately 3 hours. The morning's outline for the Classic Balloon Experience goes as follows:
* Meeting time at luxury Lodge – to be advised
* A road transfer to the launch site
* You are served tea, coffee and biscuits while you watch the setup of the enormous balloon
* Enjoy your hot air balloon flight for approximately an hour, taking in peaceful views of the Cradle of Humankind or Magaliesberg Mountains
* Keeping with the hot air ballooning tradition, we celebrate with champagne and * orange juice
* Upon landing you are transferred back to the lodge for a full English breakfast and presentation of certificates
The Safari Hot Air Balloon Flight
The Safari Flight experience offers passengers a more 'African safar' experience. The flight launches from inside the Rhino and Lion Nature Reserve (near Johannesburg) and gives passengers the opportunity to view game from the air.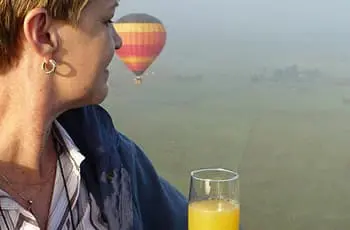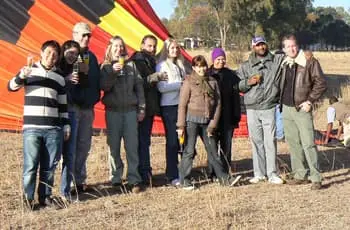 The flights eventually normally drift out the boundries of the reserves sometimes over other reserves of the surrounding countryside. About 80% of the flights have had sightings of at least 2 of the 'Big Five' during the flight. The morning's plan takes about 3 – 4 hours and looks something like this:
* Meeting time at luxury Lodge – to be advised
* Transfer to the balloon launch site inside the Rhino and Lion Nature Reserve
* You are served tea, coffee and biscuits while you watch the setup of the enormous balloon
* Enjoy a game viewing hot air balloon flight for about an hour
* As with the Classic flight we celebrate with champagne and orange juice
* Upon landing you are transferred back to the 5 Star Lodge for a full English breakfast, followed by the presentation of certificates
Hot Air Balloon Prices (quoted in ZAR)
Classic Hot Air Balloon Experience - 2022 - Check Live availability & Book Now
R 2770 per person
R 2670 per person (for a group of 6 - 11 pax)
R 2620 per person (for a group of 12 - 50 pax)
R 8750 for an exclusive flight (Price is per couple +1 pilot)
Safari Hot Air Balloon Experience - 2022 - Check Live availability & Book Now
R 2970 per person
R 2870 per person (for a group of 6 - 11 pax)
R 2820 per person (for a group of 12 - 50 pax)
R 9300 for an exclusive flight (Price is per couple +1 pilot)
Classic Hot Air Balloon Experience - 2023 - Check Live availability & Book Now
R 2970 per person
R 2870 per person (for a group of 6 - 11 pax)
R 2820 per person (for a group of 12 - 50 pax)
R 8750 for an exclusive flight (Price is per couple +1 pilot)
Safari Hot Air Balloon Experience - 2023 - Check Live availability & Book Now
R 3170 per person
R 3070 per person (for a group of 6 - 11 pax)
R 3020 per person (for a group of 12 - 50 pax)
R 9500 for an exclusive flight (Price is per couple +1 pilot)