Whilst exploring the Garden Route of South Africa, why not take to the skies in a hot air balloon one morning. Operating from the George-Oudtshoorn- Mossel Bay Triangle of the Garden Route, this hot air balloon operation takes full advantage of the dramatic scenery of the Outeniqua Mountains, the sprawling spaces of the Klein Karoo and the ocean beyond.

Given the requirement of stable morning air, most launches take place in the Klein Karoo side of the Outenique Mountains, near the town of Oudtshoon. The Klein Karoo is a semi desert region that runs from northwards from the northern slopes of the Outenqua Mountains. It is caged by more mountains to its west and north and is the precursor to the vast Groot (Big) Karoo that lies to its north. Protected from the ocean in the south the are is dry, but striking in its colour, light and arid beauty.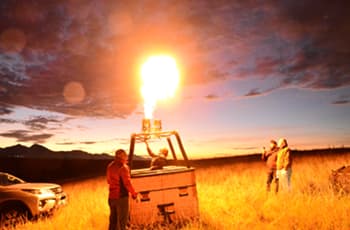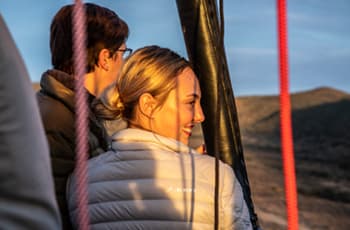 The adventure lasts about 4 hours and involves the predawn set up of the balloon whilst you enjoy a hot cup of tea or coffee. After a safety brief and boarding we take to the skies as the sun cracks the horizon, and float in crisp silence over the early morning light. Whatever very light air movement there is what dictates where we fly, so each flight is adventure!
Touching down after about 45 - 50 minutes we are met and assisted by the ground team, and now get to enjoy a celebratory breakfasts served with sparkling wine and orange juice.

The Garden Route in South Africa is essentially the stretch coast and adjacent mountains that runs along South Africa's south coast between Mossel Bay in the west and the Tsitsikamma National Park in the east. It encompasses ocean, beaches, mountains, farmlands, semi desert and quaint little towns - a journey in itself if you have the time, but one of many exciting areas to tour South Africa
Prices
R 3800 per person including VAT (minimum 2 passengers) (valid until Sep 2022)
R 4500 per person including VAT (minimum 2 passengers) (Oct 2022 - Sep 2023)
Includes
Coffee and Rusks upon arrival at the launch field (Rusks are a traditional South African cookie!)
A 45 - 60 minute flight over the dramatic landscape
A breakfast with sparkling wine upon landing as part of the celebrations
Excludes
Transport to and from the launch site (we can arrange this for you)
Gratuities