About Hot Air Balloon Safaris

Hot air balloon flights are one of the most romantic pursuits you could ever imagine. From way up high you are treated to a 720 degree, wrap-around panorama that allows you to view pretty much everything for your slowly drifting vantage point. One gets a real sense of weightless, and apart from the occasional hiss of the balloon, total peace rules the skies with the only sounds coming up at you from the bushveld or country side below.
Bill Harrops Balloon Safaris
Owned and managed by husband and wife team Bill and Mary Harrop, this balloon safari operation rests in the capable hands of a couple who have been in the balloon operation business for the better part of three decades.
Sip on a glass of bubbles and soak in the experience as Bill Harrop and his team steer you over the green valleys, beautiful mountains, glassy lakes and a tapestry of farmlands. Bill Harrops operates his balloon safari in the Magaliesberg area just north of Johannesburg - a location which boasts some of the most amazing ballooning conditions around the world. Bill Harrops is a licensed, non-scheduled air transport service - (License No: N146D).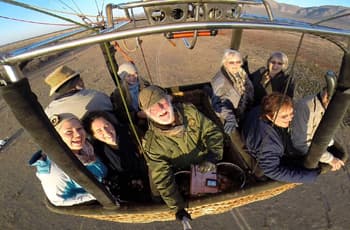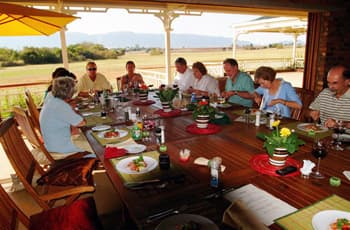 The Hot Air Balloons
Larger balloons carry between six and 18 passengers at a time, which allows the balloon operator to treat each passenger to one of the most memorable, enjoyable experiences of his/her life. Don't believe it? Just ask the 3000 happy passengers that do a balloon safari each year with Bill Harrops Balloon Safaris!
How Does It Work?
Balloon trips commence every morning at sunrise
Hot coffee/tea is served while the crew prepares the balloon for flight
The flight is approximately one hour in length
Champagne is served in-flight (or on landing)
After your flight you will be transferred to a ground base for a freshly cooked, country style breakfast
A champagne brunch and citations for bravery are also included
You will be returned to the meeting point at about midday
Pricing (quoted in ZAR)
Nov 2022 - Oct 2023
R 3295 per person - Normal scheduled flight (requires minimum 4 passengers to fly)
R 3145 per person - for groups of 6 - 11
R 3045 per person - for groups of 12 - 23
R 2975 per person - for groups of 24 or more
R 12 500 - Exclusive use of a balloon that can take 2 passengers & 1 pilot
A minimum of 4 passengers are required to confirm a flight
Road transfers from your hotel in Johannesburg or Pretoria can easily be arranged. Contact us for details on this.
How Do I Prepare For a Hot Air Balloon Flight ?
BRING: Pack a camera, binoculars and video camera if you have access to this technology. The views from aloft are incredible and you will be disappointed if you bring nothing to record your experience.
CLOTHING: Early mornings are quite chilly, so we recommend that participants dress in layers that they can peel off as the day gets warmer.
FITNESS: You should be fit enough to climb in and out of a basket. Participants should be nimble, able to jump unassisted from a height of 60cm and stand for the duration of the flight.
Packages including accommodation & a flight
Special Select Ballooning Lodges packages are also available. These include dinner and African accommodation at a fine lodge or country house near our balloon launch-field, as well as the hot air balloon flight, and an optional car rental at a special rate. Special game viewing balloon safaris are also available on request. Please do not hesitate to contact a friendly African Travel Gateway representative should you have any further queries pertaining to hot air balloon trips.