When we create our client's travel itineraries, we don't just piece together great accommodation that meets their needs, we also work in exciting adventures such as hot air ballooning. Ask us to help you plan your safari itinerary, or take a read below on this brilliant adventure near Cape Town!

There are many ways to see the Cape Winelands, with its brilliant colours, craggy mountains and maniucured vineyards, but none as exciting and unique as riding in a hot air balloon over this picture perfect countryside just outside Cape Town, South Africa. Wineland Ballooning has been operating hot air balloon rides in the Berg River Valley - a picturesque area not far from the Cape Winelands town of Paarl, since 1990. Paarl itself is a small town 40 minute drive from Cape Town and is famous for its reputation as one of South Africa's premier wine growing areas, and among other things the world's second largest granite rock outcrop.
Hot Air Ballooning in the Cape Town & Winelands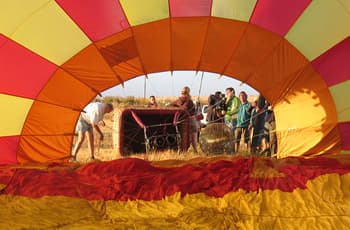 Hot air ballooning is strictly an early morning activity as very stable weather is a requirement for safe flying, and because of this, this specific hot air balloon operation does have a higher potential for cancelling flights the day before due to weather. We therefore advise that if it is your intention to enjoy hot air ballooning in the Cape Town or winelands areas (above other parts of South Africa), then try allow for 2 days during which your flight could take place.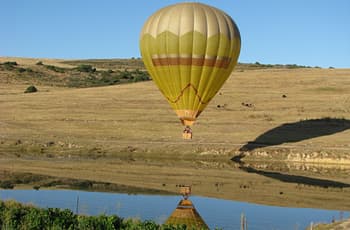 Your day will start with a very early morning phone call from the hot air balloon pilot to confirm wether or not the weather conditions are suitable. If you get a green light you then drive out to the meeting point (entrance of Diemerskraal Airfield, along the R45 between Paarl and Malmesbury), where you are met and transferred to the launch site. (We can arrange return road transfer form your hotel should you prefer this).
On arrival tea & coffee is served while you watch (or assist!) in the rigging of the hot air balloon. After about half an hour or so you climb into the basket for a safety briefing from the pilot, and then it's up and away! The flight lasts for approximately an hour, and you will float high above land below, and also drift just above the tree tops ... the scenery is striking and varies from vineyards, to fields, mountains, dams and homesteads.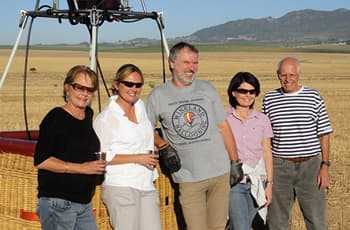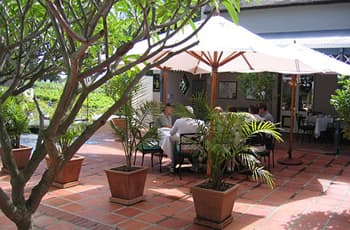 The gentle breeze is the ultimate decider on which direction you take as the pilot only really can control the upward and downward movement of the balloon. Upon landing the ground crew will come to your assistance to meet & and oversee the packing of the balloon. After an exciting hour in the air you are then transferred by road to Paarl where a full hot breakfast awaits at the Grande Roche Hotel. After breakfast you are free to drive back to your hotel, or in the case of a transfer, we will transfer you back to your hotel.
Cost of the Package - 30 Nov 2023 - 30 Apr 2024
ZAR 4900 per person
*** Winelands Ballooning only operates in the summer months, and is closed outside of the above stipulated dates, due to the unreliable weather conditions in the Cape over this winter period time.
Includes:
Tea & Coffee upon arrival
Approximately one hour hot air ballooning flight
Ground crew recovery
A full hot breakfast at the Grande Roche Hotel in Paarl
Excludes:
Transfers to and from the launch site (we can arrange this for you)
What to Wear & Bring for Hot Air Ballooning
Since the flights take place at sunrise, it is advisable to wear long cotton pants with something warm for the top half and take the option of a wind proof jacket. Shoes should be closed, comfortable and practical for climbing into and out of the basket. A camera and or video camera (with fully charged batteries) is a must and binoculars can also be fun to take with.
Requirements & Limitations
Although there is no upper age limit for hot air ballooning, all passengers should be fit and able enough into the basket without assistance. As long as children are tall enough (1.2m or taller), to see over the top of the basket they are welcome too. Pregnant women and any person recovering from injury or in post operative recovery should not take part.