Since its inaugural trip in 1989, Rovos Rail has earned the reputation of being 'the most luxurious train in the world'. Experience the ultimate in long-distance travel aboard Rovos Rail's opulent trains which offer epic journeys throughout Southern and East Africa. Also known as 'The Pride of Africa', Rovos Rail recaptures the charm and ambiance of yesteryear and lavishes its guests with comfort, luxury, and personal service.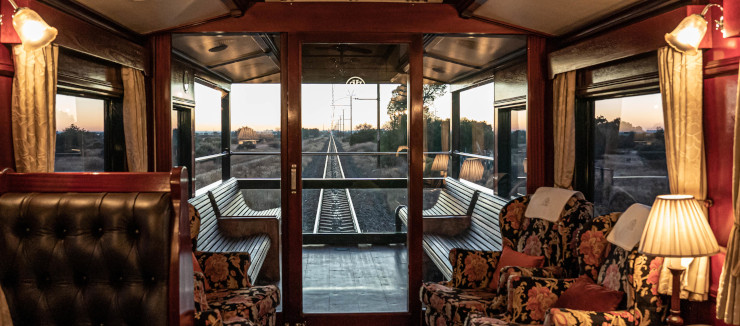 In 2016, The Shongololo Express, one of South Africa's other luxury trains, began operating under the Rovos Rail umbrella. In January 2024 the Shongololo Express will fully merge with the Rovos Rail, increasing the number of journeys on the Rovos Rail to 12 extraordinary luxury train experiences. The Shongololo Express Brand will be dissolved.
A Brief History
For three decades, South African entrepreneur Rohan Vos - the owner of Rovos Rail - has painstakingly acquired railway locomotives and coaches from the old Rhodesian and South African Railways, foreign rail operators, private owners, and auctions. Each has been carefully chosen, restored, and assigned to duty. His fleet of vintage coaches make up one of the biggest private collections in the world.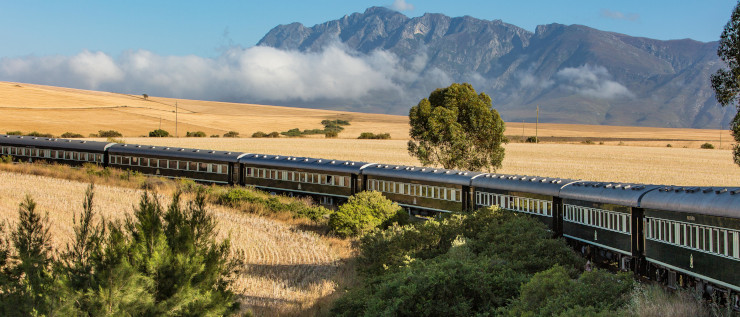 On The Train
The coaches, which serve as suites, dining cars, lounge cars, observation, and kitchen cars, have been meticulously restored to preserve their most alluring features. The ornate wood-paneling and carved roof-supporting pillars and arches of the suites tell of old-world charm and character, while the custom-built wing-back chairs, button-leather seats, and deep sofas of the lounge and observation cars envelop guests in comfort.
Each Rovos Rail train accommodates a maximum of 72 passengers in guest suites on Rovos Rail that tastefully combine period Edwardian furnishings with modern conveniences.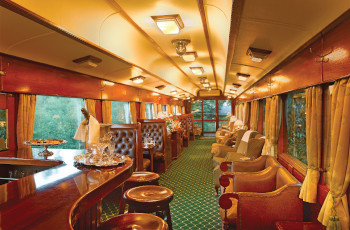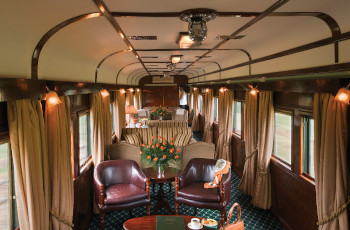 As the train meanders through Southern Africa's most breathtaking scenery, guests relax amidst sophisticated five-star facilities, service, and fine dining. A journey with Rovos Rail adds an exciting highlight to any travel itinerary and can be easily incorporated into other Africa Travel Gateway tours and safaris.
The Different Journeys
Journeys on Rovos Rail travel to Cape Town, Victoria Falls, Durban, Dar es Salaam and Namibia with two different Golf Journeys also available. Journeys depart several times per month and can be booked in either direction. Pretoria is Rovos Rail's main headquarters.
The scenery en route - vineyards, mountains, deserts, forests, rugged coastline, game reserves, and African savanna - is truly spectacular. Trains are drawn by diesel, electric or, for special occasions, steam locomotives.

Contact African Travel Gateway to discuss how we can incorporate one of Rovos Trail's train journeys into your Southern African itinerary. Alternatively, look at the rates & dates for 2024 or
2025.
In addition to Rovos Rail, we also recommend another luxury train service - The Blue Train which offers journeys between Pretoria, Cape Town, and the Kruger National Park.
For more information about these or other Luxury Train Travel options in South Africa, please Email us