Namibia is a big country with vast blue skies and unimaginable scenery. On this 12 day tour we focus on the southern half of Namibia. The itinerary makes sensible use of time and distance and gives the visitor a very good insight into the gems that exist in this half of Namibia, including places like Fish River Canyon, Sossusvlei, The Kalahari and Swakopmund. It starts and ends in Windhoek, and we can also offer a fully guided version of this itinerary if you prefer.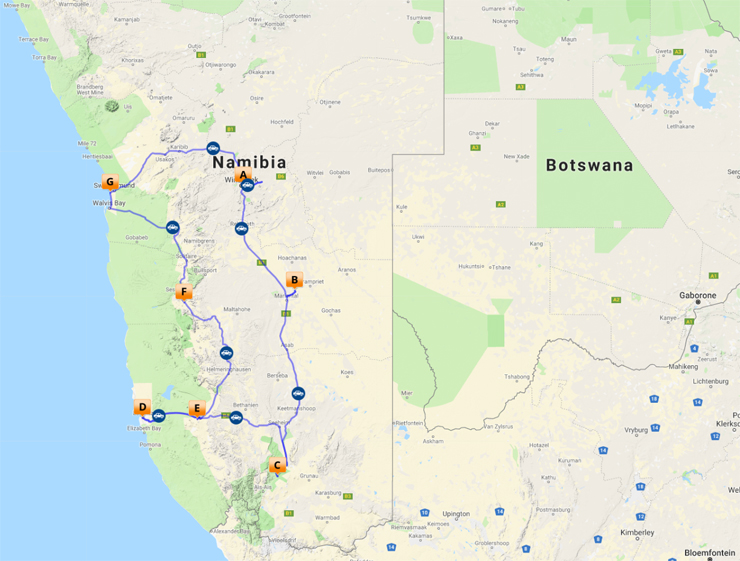 Day 1 - Arrive Windhoek - The Weinberg
• You will be met by the car rental company representative on arrival and transferred to their offices in Windhoek to complete all rental procedures
• You will then meet with our representative to hand over your travel documents
• The remainder of the day can be spent relaxing at your leisure
• For dinner tonight, you can head into town for a bite to eat at one of Windhoek's well known restaurants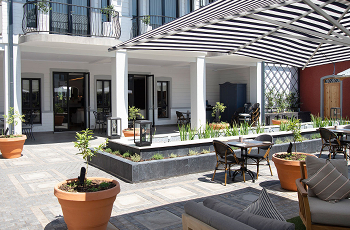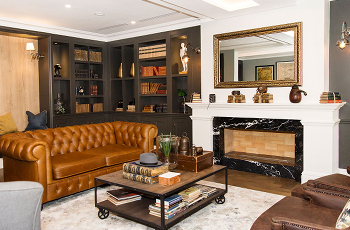 The city of Windhoek is located almost dead centre of the country, and was initially developed around a permanent spring that local pastoral communities would use. Today the city is a clean, safe and orderly city with a strong German influence that dates back to the late 1800s. There are lots of shops and restaurants as well as historical buildings that can be experienced.
Day 2 - Windhoek to Intu Afrika Camelthorn Lodge, Namibia
Travel Time: 245km - approximately 3 to 4 hours

• After breakfast, you can still pop into town for anything you might need and then depart heading south from Windhoek to the red sand dunes of the Kalahari
• Spend the remainder of the day at leisure in this beautiful setting
• Optional activities here include game and nature drives as well as a Bushman experience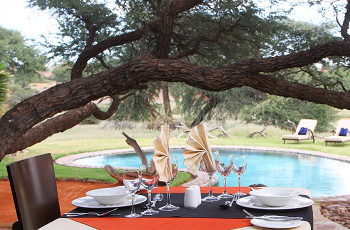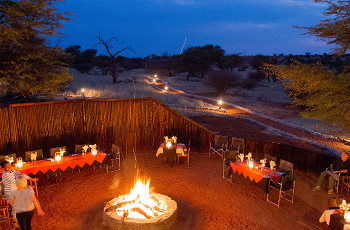 Day 3 & 4- Camelthorn Lodge to Fish River Lodge, Fish River Canyon
Travel Time: 440km - approximately 7 to 8 hours

• Head south via Mariental and Keetmanshoop to the Karas region, the Fish River Canyon area
• Detour en-route to Giant's Playground and Quiver Tree Forest, a beautiful site where three large aloes grow between rocks
• Enjoy the view from the lodge at sunset to end the day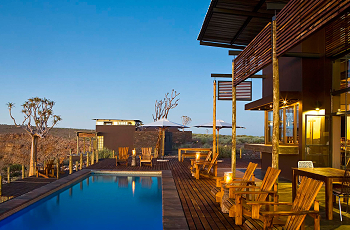 Carved by centuries of eroisen this rocky chasm in the south of Namibia, the world's second largest canyon. Hot, dry and stony, the Fish River Canyon measures a whopping 160 kilometres in length, at times 27 kilometres in width and 550 metres in depth. Hot springs, hiking trails and many different view points along its rim are just a few of the attractions around this natural spectacle.
Day 5 & 6 - Fish River Canyon to Luderitz Nest Hotel, Luderitz
Travel Time: Fish River Canyon – Luderitz 385km - approximately 5 to 6 hours

• Enjoy a morning canyon view before heading west through harsh but beautiful terrain which changes to wide open desert plains as you make your way to the coast
• Your drive will take you via Aus, where you may be lucky to view the wild desert horses in the area
• 1 full day is set aside to enjoy the historic town of Lüderitz and visit the amazing Kolmanskop Ghost Town
• Lunches and dinners can be enjoyed at any of the local restaurants in town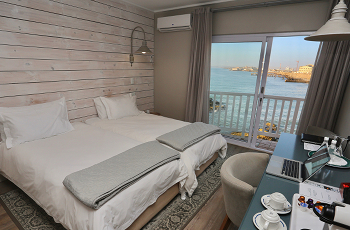 Day 7 & 8 - Luderitz to Desert Homestead Lodge, Namibia
Travel Time: Luderitz – Sossusvlei 505km - approximately 7 to 8 hours

• After breakfast, you will depart to the "sea of sand" backtracking to Aus and then heading north via Helmeringhausen
• Wake up early for breakfast (Day 7) and then head to the entrance to Sossusvlei, the Sesriem Gate
• Spend the whole day in the beautiful Sossusvlei area, exploring the highlights: Sossusvlei, Dead Vlei, Dune 45, Big Daddy, Elim Dune and the Sesriem Canyon
• Return to the lodge for lunch or arrange a lunch pack to enjoy in the dunes and return late afternoon for a well-earned rest
• Optional extra activities: Guided Sossusvlei excursion, Hot air balloon safari, Nature drives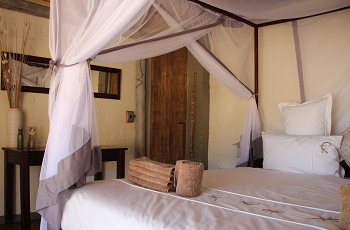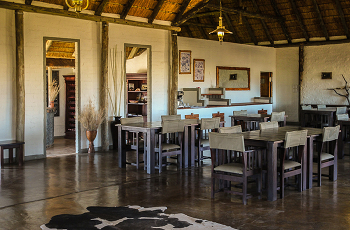 The Homestead is located in a wide grassy valley against the Nubib, Tsaris and Naukluft Mountains and has far reaching vistas to the dunes that tis area is famous for. The Desert Homestead offers traditional Namibian hospitality that you will know becoming to expect. Fresh farm cuisine, a cool swimming pool and string of amazing sunsets & sunrises are standard.
Day 9 - 11 - Desert Homestead Lodge to Swakopmund Luxury Suites, Swakopmund, Namibia
Travel Time: Sossusvlei – Swakopmund 350km - approximately 5 to 6 hours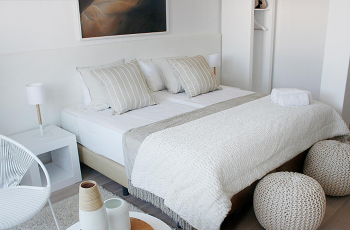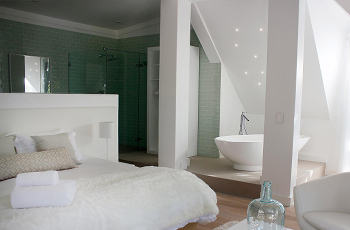 • Depart after breakfast and head north to Solitaire, then west crossing the Tropic of Capricorn, through the Gaub and Kuiseb Canyons via the Namib Gravel Plains to the coast
• Either via Walvis Bay to Swakopmund, or (recommended) detour via Ganab to the Welwitschia Plains and Moon Landscape
• The Namibian coastline is generally known as The Skeleton Coast due to the barren areas, ship wrecks and, in days gone by, whale skeletons left on the beach
• 2 full days are set aside for this lovely area where Swakopmund and Walvis Bay offer a wide range of activities such as: Dolphin cruise, Sandwich Harbour excursion (a real Skeleton Coast experience), Dune quad biking, Sand boarding, Sea kayaking, Lots more…
• Lunches and dinners can be enjoyed at a café or restaurant overlooking the sea
Day 12 - Swakopmund to Windhoek
Travel Time: Swakopmund - Windhoek 350km - approximately 4 to 5 hours
• Head back to Windhoek today, where the vehicle is dropped off and your holiday comes to an end
• Transfer to the airport to catch your departure flight. (Keep in mind that you need to be at the airport 2 hours prior and the airport is still a 45 minute to 1 hour drive from town)
Tour Cost
Jul - Dec 2023
R43,096 per person sharing (Based on 2 adults)
R34,431 per person sharing (Based on 4 adults)
Jan - Jun 2024
R44,880 per person sharing (Based on 2 adults)
R35,535 per person sharing (Based on 4 adults)
R11,350 Single supplement
Jul - Dec 2024
R49,325 per person sharing (Based on 2 adults)
R38,980 per person sharing (Based on 4 adults)
R12,420 Single supplement

Cost Includes
Accommodation as indicated - can change depending on availability and request at time of booking
Meals as indicated
Meet and greet upon arrival
Car hire as below
Airport transfers on arrival and for departure
Activities as indicated
Tour file with detailed itinerary, map with route descriptions, vouchers etc.
24 hour personal and friendly support
Fast and efficient response to service providers
Vehicle Hire:
4X4 Toyota Fortuner – Automatic Transmission
Which includes GPS, ZERO excess - maximum insurance, tyre & windscreen cover, unlimited mileage, 2nd spare tyre, additional driver, cell phone with local sim
Cost Excludes
Items of a personal nature
Optional extra activities
International flights
Holiday or personal insurance
Staff gratuities
Park entry fees
Fuel for vehicle rental
Visas and visa applications