This 16-day self-drive adventure aims to give you an excellent cross-section of what Namibia is all about. We start & end in Windhoek at Hosea Kutako International Airport, and from there move south initially, then up the west interior to Etosha in the north, and then back south through the central interior.
On this journey you will see some remarkable places of wilderness and beauty, including but not limited to Fish River Canyon, Sossusvlei, Damaraland, Etosha and some of the bigger centres like Windhoek and Swakopmund.

Your 16 Days in Namibia at a Glance
1 night Windhoek - The Weinberg Hotel
1 night Kalahari - Camelthorn Lodge
1 night Fish River Canyon - Canyon Roadhouse
2 nights Lüderitz - Alte Villa Boutique
2 nights Sossusvlei - Namib Outpost
2 nights Swakopmund / Walvis Bay - Swakopmund Luxury Suites
2 nights Damaraland - Mowani Mountain Camp
1 nights Etosha National Park - Etosha Village
2 nights Etosha National Park - Mushara Bush Camp
1 night AfriCat Foundation - Okonjima Plains Camp
Day 1 - Arrival in Windhoek
Welcome to Windhoek, the capital and largest city in Namibia which is situated in the centre of Namibia. At the car rental company, you will be assisted with your paperwork by one of our representatives who will also hand you your travel documents and welcome pack. After checking into your accommodation explore the town with its German colonial vibe, visit the lush national botanical garden and museums before enjoying dinner. Overnight at the The Weinberg Hotel on a bed and breakfast basis.
Day 2 - Windhoek to the Kalahari
Today you will depart to the red sands of the Kalahari which are roughly a 3-4 hour drive. After breakfast stock up on supplies and on-the-road snacks before heading south where your adventure begins.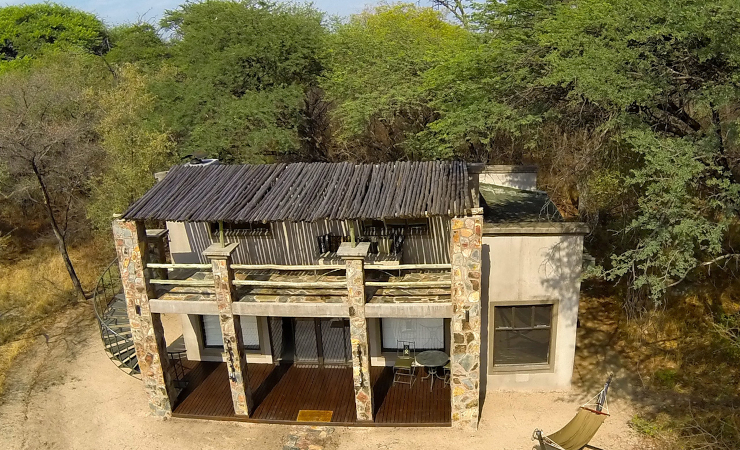 With a 900,00sq km mass of sand stretching across 7 countries, The Kalahari desert is the largest sand sea in the world. With plenty of rain, it's not a real desert, but an eerie and silent fossil desert. The Kalahari is a mecca for birds, reptiles and animals, so get out your bird and mammal checklist (which is in your welcome pack). Enjoy learning about the first settlers while on the Bushman experience or take a game or nature drive.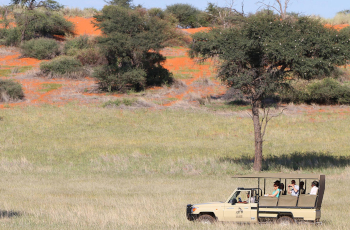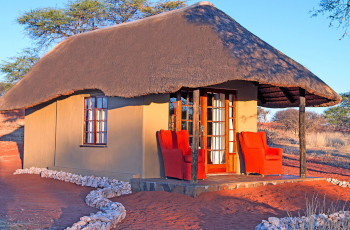 Overnight at the Camelthorn Lodge on a dinner, bed and breakfast basis.
Day 3 - Kalahari to Fish River Canyon
Today you will be driving for 7-8 hours to get from the Kalahari to the largest canyon in the world (Make sure to pack snacks for the road). The Fish River Canyon are a huge 100-mile-long ravine.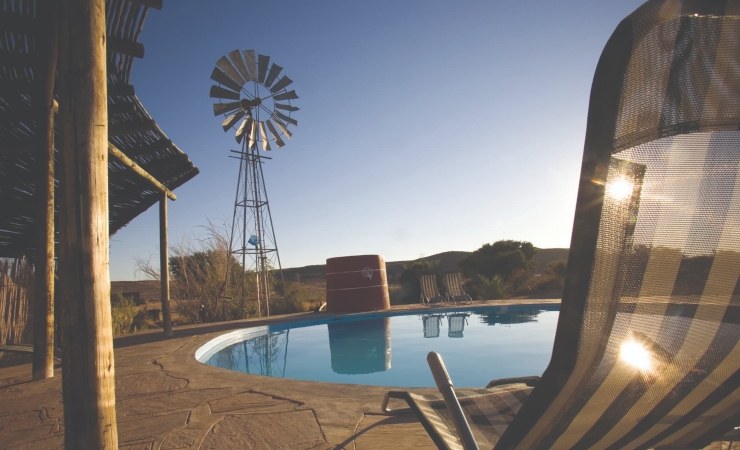 On route visit the lush Quiver Tree forest 13km northwest of Keetmanskoop. Between the rocks grows 100's of the three quiver tree species. Visit the Giant's playground just 5km away.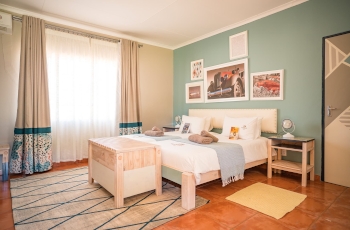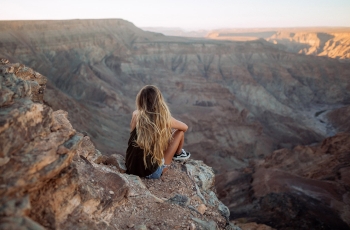 Fish River Canyon's remote locations mean you do not have to share the Canyon with millions of other tourists. With its several viewpoints, it's not a vast tourist honey pot and the sunsets are amazing. Enjoy the fresh air and spectacular light then head for dinner. Overnight at the Canyon Roadhouse on a dinner, bed and breakfast basis.
Day 4 - Fish River Canyon to Luderitz
Before heading west take one final sneak peek of the massive canyon and drive a 5-6 hour drive to Luderitz. See the wild desert horses on your way through Aus. Overnight at the Alte Villa Boutique Hotel for (2) nights on a bed and breakfast basis.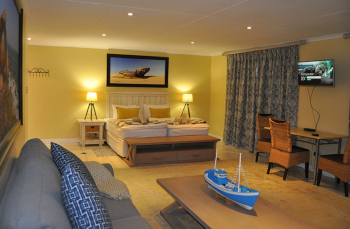 Day 5 - Explore the Luderitz area
On this full day for Luderitz and Kolmanskop. Visit the Art Deco Building, the beach and the Irmgard Shipwreck at Grosse Bucht. Kolmanskop the ghost town are just 10km from Luderitz. The buildings are being digested by the desert. Take a guided walk and visit the museum. Overnight at the Alte Villa Boutique Hotel.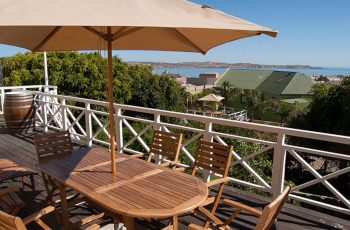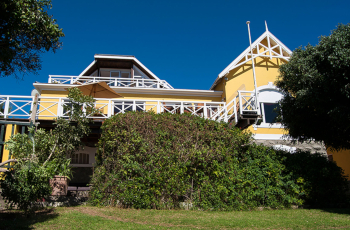 Day 6 - Luderitz to Sossusvlei
After breakfast backtrack through Aus, heading north via Helmeringhausen to the sea of sand, the only coastal desert. After approx 7-8 hour drive enjoy dinner and have a great night's sleep. Overnight at Namib Outpost for (2) nights on a dinner, bed and breakfast basis.

Day 7 - Explore Sossusvlei
After rising early and breakfast you will go straight to the Sossusvlei entrance and the Sesriem Gate. Spend the day exploring the beauty of Sossusvlei, the Dead Vlei, Dune 45, Big Daddy and Elim Dune.
Make sure to also visit Sesriem Canyon. Arrange with your lodge for a packed lunch to enjoy on the dunes or return to your lodge for lunch. Optional extras include a guided Sossusvlei trip, a nature drive or a hot air balloon safari. Overnight at Namib Outpost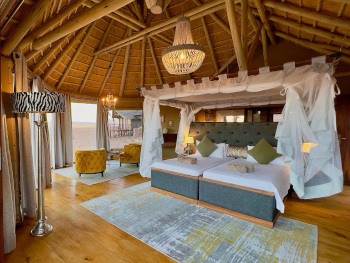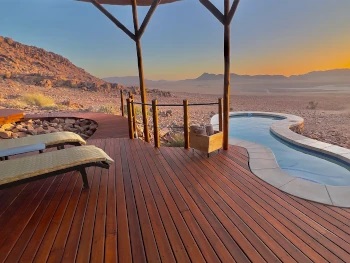 Day 8 - Sossusvlei to Swakopmund
Time to say goodbye to the desert and head into town, Swakopmund. The drive is about 5-6 hours taking you north to Solitaire before heading west along the Namib gravel plains to the coast. You will cross the Tropic of Capricorn and drive through the Gaub and Kuiseb Canyons. You can go to Swakopmund via Walvis Bay but ideally do a detour and go via Ganab to the Welwitschia Plains and Moon Landscape. Overnight at the Swakopmund Luxury Suites for (2) nights on a bed and breakfast basis.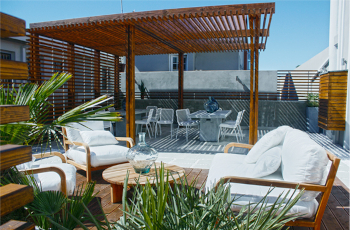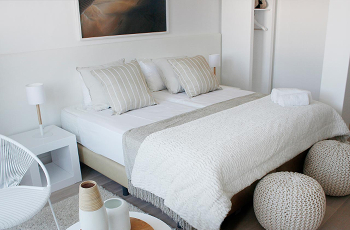 Day 9 - Explore Swakopmund Area
The Namibian Coastline are full of broken shells, rusting hulls and lots to do between Swakopmund and Walvis Bay. Enjoy sand boarding, Dolphins cruises, dune quad biking or sea kayaking. Or enjoy a Sandwich Harbour excursion if that interests you. You will be staying in a B&B so enjoy lunches and dinners on your own arrangements overlooking the sea. Overnight at the Swakopmund Luxury Suites
Day 10 - Swakopmund to Damaraland
Swakopmund to Damaraland is about a 7-8 hour drive taking you back to the bush. On route head north via Henties Bay along the Skeleton Coast to visit the Cape Cross seal colony. Detour within a detour - stop at the Lichen Fields and the shipwreck between the holiday town Wlotskasbaken and Henties Bay. Backtrack to Henties Bay before heading inland through Uis, and continue north to the Twyfelfontein area. Overnight at the Mowani Mountain Camp for (2) nights on a dinner, bed and breakfast basis.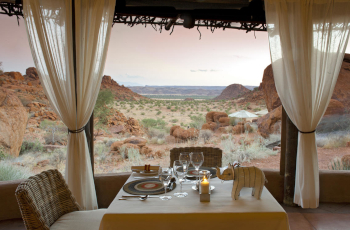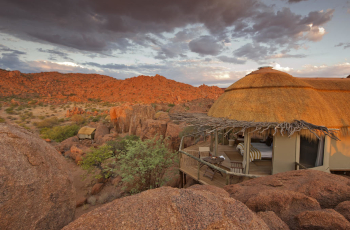 Day 11 - Explore Damaraland
Go with a lodge guide to look for the desert-adapted elephants around the Huab River. Other game you will find are springbok, ostrich and oryx. Visit the Damaraland Living Museum for a bit of culture before enjoying dinner. Overnight at the Mowani Mountain Camp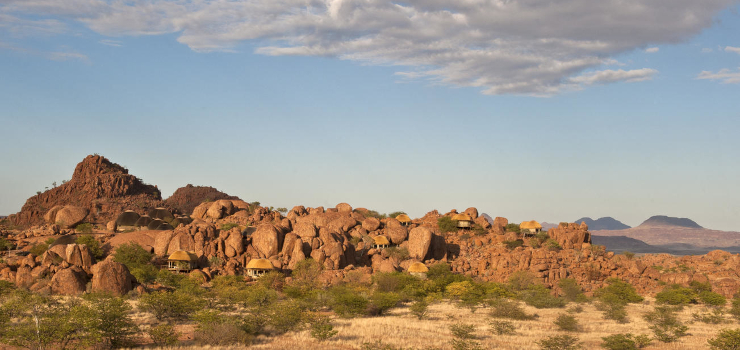 Day 12 - Damaraland to Etosha National Park - South
Enjoy the shorter drive today. Within 4-5 hours you will be watching animals while enjoying a drink.
On route, you can head east towards Khorixas and detour via the Petrified Forest before heading back to Khorixas and on to Outjo and north to Etosha.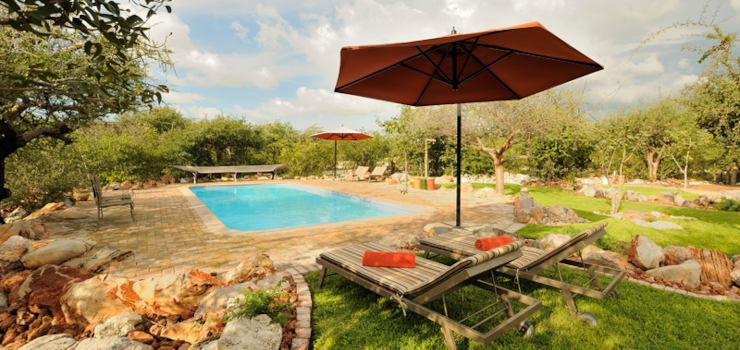 It's close to the southern entrance of Etosha, the Anderson Gate. vernight at the Etosha Village for (2) nights on a dinner, bed and breakfast basis.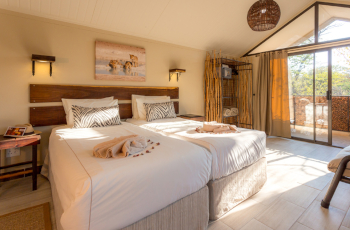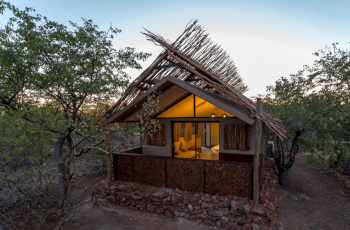 Depending on how many times you've stopped on route you should arrive at your lodge in time for lunch (option extra). Head into Etosha for an afternoon drive, paying for your entry fee at Okaukeujo and stock up on supplies as well as get a map showing all the waterholes. Overnight at the Camp Kipwe.
Day 13 - Etosha National Park - East
Spend the day at your own pace, driving from one side of the park to the other stopping at many waterholes. There are animals everywhere so be on the lookout. Overnight at the Mushara Bushcamp for (2) nights on a dinner, bed and breakfast basis.

Day 14 - Explore Etosha National Park - East
Today enjoy a full-day drive or a morning and and afternoon drive. Pack a lunch and explore or book a guided drive as an optional extra with your lodge. Head into the park early morning when the gates open at sunrise and in the late afternoon before the gates close at sunset. This is when the animals are most active. Overnight at the Mushara Bushcamp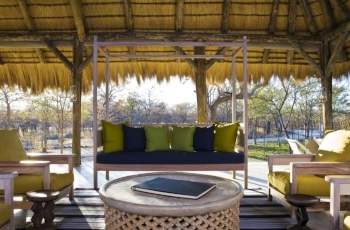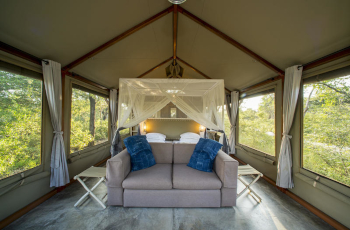 Day 15 - Etosha to Waterberg
Today head south via Otavi, Otjiwarongo to Okonjima where it's cheetah time, home of The African Fountation. Here you check in at the Okonjima Plains Camp for (1) night on a dinner, bed and breakfast basis, with twice daily activities included.

Arrive latest 14:00 to enjoy afternoon tea and treats before heading on your afternoon excursion *You'll have 2 activities included. Discuss this with the lodge on arrival to plan which activities you can do and the timings of such.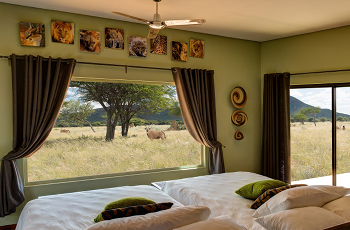 Day 16 - Waterberg to Windhoek
Enjoy your last early breakfast and activity before heading to Windhoek, a 3-4 hour drive. After dropping your car off you will be transferred to the airport where you will check in 2 hours before your flight home.
Tour Cost
Jan - Jun 2023 – Low Season
R87,345 per person sharing (Based on 2 pax)
R77,390 per person sharing (Based on 4 pax)
R26,215 Single supplement
Jul - Dec 2023 – High Season
R97,625 per person sharing (Based on 2 pax)
R86,590 per person sharing (Based on 4 pax)
R29,465 Single supplement

Jan - Jun 2024 – Low Season
R97,140 per person sharing (Based on 2 pax)
R86,320 per person sharing (Based on 4 pax)
R29,280 Single supplement
Jul - Dec 2024 – High Season
R109,070 per person sharing (Based on 2 pax)
R96,970 per person sharing (Based on 4 pax)
R33,030 Single supplement

Includes
• Accommodation as indicated - can change depending on availability and request at the time of booking
• Meals as indicated
• Meet and greet upon arrival
• Car hire as below
• Airport transfers on arrival and for departure
• Activities as indicated
• Tour file with detailed itinerary, map with route descriptions, vouchers etc.
• 24-hour personal and friendly support
• Fast and efficient response to service providers
• Care hire: 4X4 Toyota Fortuner – Automatic Transmission including a GPS, ZERO excess - maximum insurance, tyre & windscreen cover, unlimited mileage, 2nd spare tyre, additional driver, cell phone with local sim
Excludes
• Items of a personal nature
• Optional extra activities
• International flights
• Holiday or personal insurance
• Staff gratuities
• Park entry fees
• Fuel for vehicle rental
• Visas and visa applications