Our 5 day / 4 night Singita Pamushana package offers guests the ultimate safari experience! Hidden away amidst remote and pristine African wilderness, this private wildlife reserve in Zimbabwe's south eastern corner borders the breathtaking Gonarezhou National Park. This incredible safari adventure begins at OR Tambo International Airport and a short flight takes guests virtually straight to the lodge…how's that for service!

A beautiful suite with stunning views awaits at the luxury Singita Pamushana Lodge as well as fine dining cuisine, exciting safari activities and a warm welcome from the Pamushana team! The Singita Pamushana package includes return airfares from Johannesburg and departs every Monday and Thursday.
Itinerary at a Glance
Day 1 - Depart Johannesburg for Singita Pamushana Lodge, Zimbabwe.
Day 2, 3, 4 - On Safari at Singita Pamushana.
Day 5 - Transfer to Buffalo Range Airport for your flight to Johannesburg.
Day 01 Johannesburg to Singita Pamushana Lodge
On arrival at OR Tambo International Airport in Johannesburg, your scheduled Federal Air flight will depart at 12h30, arriving at Buffalo Range International Airport at 14h15. Following customs formalities, a Singita representative will welcome you and transfer you 45 minutes by road to the magnificent Singita Pamushana Lodge where you will spend (4) nights in a luxury suite on a full board basis.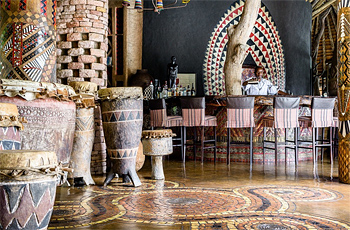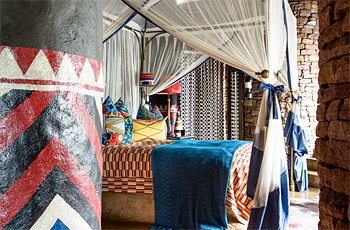 Singita Pamushana Lodge is located in the private 150,000 acre Malilangwe Wildlife Reserve adjacent to the north western end of Gonarezhou National Park. This pristine and tranquil hideaway will soothe the soul - time spent at Pamushana is a true African wilderness experience. The lodge thoughtfully harmonizes eco-friendly with luxury and comfort and the feeling of being 'at one' with the wilderness comes naturally. Situated high on a forested hilltop crest, everything about Pamushana is nature-inspired and blends effortlessly into the landscape.

The main lodge area and guest suites offer commanding views of the lake below and the décor is evocative of the local Shangaan culture. Each spacious guest suite offers a private game viewing deck with plunge pool, and two swimming pools, a Jacuzzi, gym and spa facilities are available in the main area. Pamushana is family-friendly and offers a babysitting service and tailor-made children's and family activities. Accommodation: Singita Pamushana Lodge. Meal Plan: Lunch, Dinner.
Day 02 - 04 On Safari at Singita, Pamushana
Pamushana Lodge has a bounty of delights in store for the week ahead! The beauty of staying for 7 nights is twofold – there is plenty of time to rejuvenate whilst taking full advantage of the wonderful range of interesting, fun and educational activities at a gentle, unhurried pace.

Today, you will most likely be keen to discover the extraordinary wildlife and put some 'faces' to the night sounds from your first magical evening in the wilderness! Pamushana's open Land Cruisers set out into the bush twice daily and with just 6 guests per vehicle there is room to stretch out. The morning game drive catches the tail end of nocturnal activity and sunrises in the bush are inspirational.
Once the heat of the day eases, the evening game drive offers an opportunity to observe the plains game as they settle down and the nocturnal animals preparing for an eventful night ahead. After pausing at sunset for a sundowner refreshment, the excitement continues with the chance to see animal eyeshine by spotlight. Evenings at Pamushana are also the perfect time for stargazing with dark night skies free of light pollution.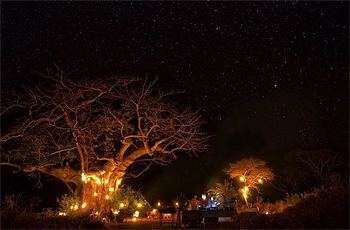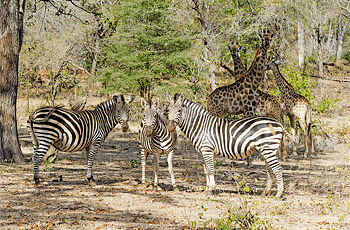 Over the course of your stay, cherish opportunities to encounter truly wild animals going about life in their natural habitat. A great diversity of species is present in the area, so as you weave between ancient baobab trees and through pretty mopane forests be on the lookout for predators such as lion, leopard, wild dog and cheetah as well as antelope species including sable, roan, nyala, klipspringer and Lichtenstein's hartebeest.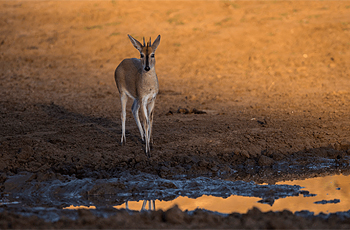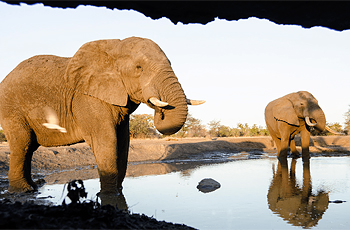 Both white and black rhino roam the reserve and the recessive 'king' cheetah gene is present in the local cheetah population, evident by the unusual fur pattern of blotchy spots and stripes. Photography enthusiasts will jump at the chance to observe wildlife at close range and at eye level from the underground hide. On one day you may feel like discovering your surrounds in finer detail and a guided safari walk is a wonderful way to heighten your senses and enhance the wilderness experience. Your expert guide and tracker will lead you on a leisurely-paced walk through the bush with the chance to observe plants, animal tracks and signs and other interesting features such as nests, termite mounds, burrows, middens and some of the smaller bush critters that you may not notice on game drives. A guided safari walk is a great way to energize both body and soul and an excellent way to maintain your usual exercise routine whilst in the bush. Cycling enthusiasts may also be interested in Pamushana's guided mountain biking outings.
Pamushana is a birdwatching paradise with hundreds of species including a variety of raptors. Whether you are a seasoned twitcher or new to the birding world, admire the incredible birdlife in the beautiful grounds of the lodge, on game drive, on a guided safari walk or from your suite. A sundowner cruise on Malilangwe Dam is a memorable Pamushana highlight. Savour a cool refreshment as the boat drifts by impressive sandstone outcrops, and enjoy the sights and sounds of hippos, crocodiles and perhaps even a herd of elephants eagerly making their way to the water's edge to drink and bathe. The fish eagle is also a regular at the dam, its distinctive call resonating through the valley. Accommodation: Singita Pamushana Lodge. Meal plan: Breakfast, Lunch, Dinner.
Many travelers enjoy blending educational cultural endeavours into their trip, and gaining an insight into a local culture adds a meaningful dimension to ones holiday experience. Community visits provide Pamushana guests with the opportunity to meet the local Shangaan community and learn more about the valuable development programs that are active in the area.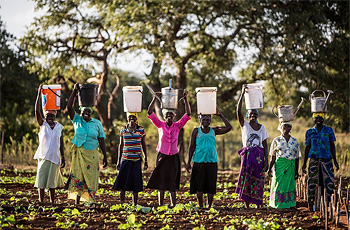 Back at the Lodge, enjoy the rare treat of simply contemplating the world whilst soaking up the breathtaking views from the heated swimming pool. Guests with a yen for a more active afternoon can head to the gym for a workout or to one of the two surfaced courts for a hit of tennis. Pamushana Lodge really does excel at offering activities to suit all interests! Keen anglers will enjoy casting a lure into picturesque Malilangwe Dam. Mid-morning is the ideal time for fishing, so head out in the boat with your guide and enjoy the challenge of reeling in game fish such as bass, tiger fish and bream (tilapia) and learn about some of the fascinating traditional fishing methods used by locals.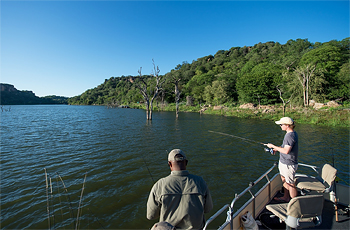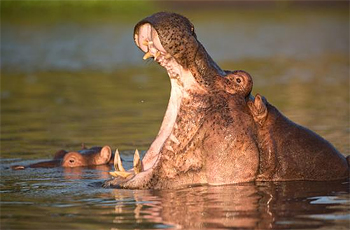 Ladies, now is the perfect time to head to Pamushana's Spa for a little pampering. An excellent selection of spa treatments can be enjoyed in the peaceful ambiance of the spa therapy rooms or in the comfort of guests' suites. A visit to the San Bushmen rock art site is a favourite Pamushana highlight. After all, it is not every day that one gets an opportunity to witness a painting that was created tens of thousands of years ago. The San Bushmen are the original hunter-gatherer tribes of Southern Africa and today their descendants are dispersed throughout the southern countries of Africa.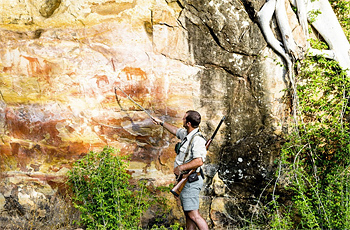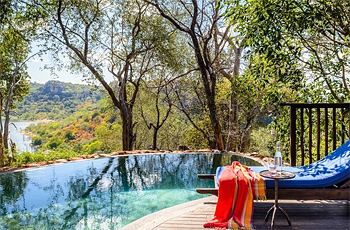 Wine connoisseurs will fall head over heels for Pamushana's phenomenal wine selection. The cellar stocks over 200 different labels and Singita's cellars have an exceptional reputation. Chat with the experienced sommeliers about Pamushana's collection of fine wines from around South Africa and the world including rare and highly sought-after limited production wines. This is a wonderful opportunity to bolster your home collection. Accommodation: Singita Pamushana Lodge. Meal plan: Breakfast, Lunch, Dinner.
Day 05 Singita Pamushana to Johannesburg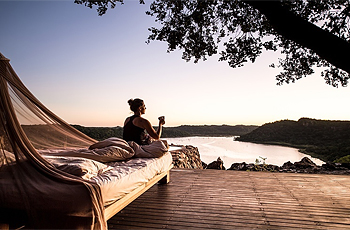 Today, your extraordinary safari experience in one of the most incredible regions of untouched African wilderness draws to a close. Cap off an unforgettable week with a morning safari, take a last exquisite opportunity to snooze a little longer, or enjoy a coffee in the tranquility of your private deck. Following a transfer back to Buffalo Range Airport, your flight to Johannesburg will depart at 15h00 arriving at OR Tambo International Airport at 16h45. Meal plan: Breakfast, Lunch.
Safari Cost (quoted in USD)
$8,914 per person sharing (06 Jan - May & Oct - 14 Dec 2023)
$11,274 per person sharing (Jun & Sep 2023)
$12,677 per person sharing (Jul - Aug & 15 Dec 2023 - 05 Jan 2023)
$9,305 per person sharing (6 Jan - May 2024, Sep - 14 Dec 2024)
$13,251 per person sharing (Jun - Aug 2024, 15 Dec 2024 - 05 Jan 2025)
Above Cost Includes:
04 night's accommodation at Singita Pamushana Lodge
All meals and beverages (including premium wines, spirits and liqueurs, but excluding French Champagne)
Twice daily open Land Cruiser safaris, walking safaris, boat cruises, fishing, excursions to ancient rock art sites (accompanied by experienced guides), tennis
Return road transfers between Buffalo Range International Airport and the lodge
Laundry service
Telephone calls
Tourism Levy
Flights: Johannesburg – Buffalo Range International Airport return flight incl. taxes (Federal Air)
Above Cost Excludes:
Purchases from the Singita Boutique & Gallery
French Champagne
Spa treatments
Visas if required