When booking the 11-Day Namibia Highlights Private Guided Safari, you are met by your guide upon arrival in Windhoek and he or she and together will begin an 11-day journey across some of Namibia's most beautiful landscapes.
From a converted 4 x 4 safari vehicle and under the expert guidance of the private safari guide, you will witness Sosussvlei's red dunes, the stark and harrowing stretches of the Skeleton Coast, the striking rocky outcrops of Damaraland and the vast open spaces of Etosha National Park.
In these wild areas, you stand a very good chance of seeing all sorts of wildlife from elephants, rhinos & lions to some of the more desert-unique wildlife species including brown hyenas, ostrich, seals and gemsbok.
Itinerary at a Glance
Day 1 Windhoek - The Weinberg Windhoek
Day 2 & 3 Sossusvlei - Namib Outpost
Day 4 & 5 Swakopmund / Walvis Bay - Strand Hotel
Day 6 & 7 Damaraland - Mowani Mountain Camp
Day 8 Etosha National Park - Ongava Lodge
Day 9 & 10 Etosha National Park - Mushara Outpost
Day 11 Windhoek - End
Day 1 - Arrive in Windhoek, Namibia
On arrival in Windhoek, you will be met by your guide and he will hand you your travel package and give you a briefing and orientation on what to expect over the next few days. The great great thing about having a guide is that things are flexible so chat with your guide as you go along.
If time permits you will enjoy a Windhoek City tour after which you will be transferred to The Weinberg Windhoek. Here you will enjoy 1 night on a bed-and-breakfast basis. Head into town for dinner tonight.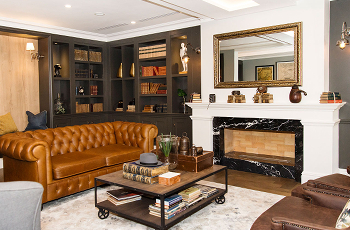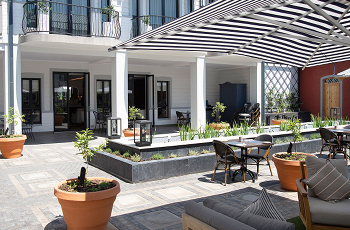 Day 2 - Windhoek to Sossusvlei
After breakfast you will have time to pop into the shop with your guide should you wish to get some snacks and drinks for the 5-hour road trip.

Today your Namibia adventure starts as you leave the city. You will depart south from Windhoek taking the beautiful route via Spreetshoogte or Remhoogte Pass revealing the transition from Kalahari to desert. You will enjoy 2 nights at Namib Outpost on a dinner, bed and breakfast basis.
Day 3 - Full Day Excursion to Sossusvlei, Namibia
Today your guide will wake you up early for a quick breakfast. You will then head to the entrance to Sossusvlei, the Sesriem Gate for the most beautiful part of the day, sunrise (when the gates open).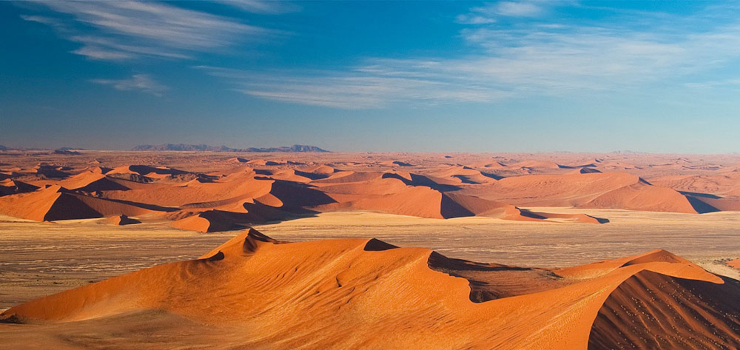 The whole day can be spent in the Sossusvlei area, exploring the highlights: Sossusvlei, Dead Vlei, Dune 45, Big Daddy, Elim Dune and the Sesriem Canyon.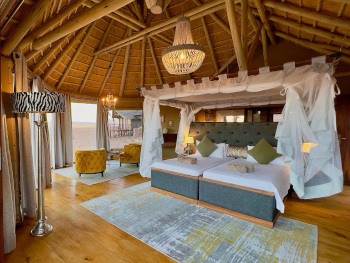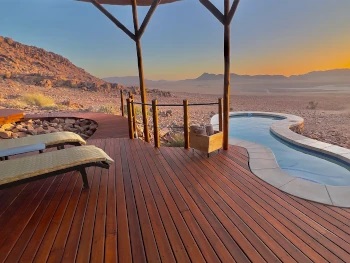 Lunch can be enjoyed at the lodge or a packed lunch can be arranged to enjoy in the dunes and then return late afternoon. Optional extra activities: Hot air balloon safari, Nature drives
Day 4 - Sossusvlei to Swakopmund
After breakfast head north to Solitaire, then west crossing the Tropic of Capricorn, through the Gaub and Kuiseb Canyons via the Namib Gravel Plains to the coast. On route detour via Ganab to the Welwitschia Plains and Moon Landscape. It's a 5 to 6-hour drive but there's loads to do and see along the way.
You will enjoy 2 nights at Strand Hotel on a bed and breakfast basis in a luxury room.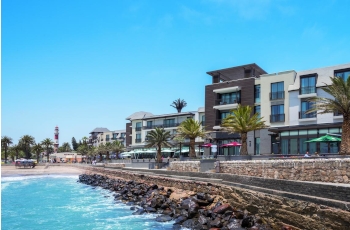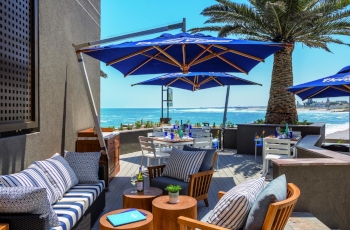 Day 5 - Full Day to enjoy Swakopmund
The whole day is set aside for this lovely area where Swakopmund and Walvis Bay offer a wide range of activities such as Dolphin cruise, Sandwich Harbour excursion to see where the dunes run into the sea (a real Skeleton Coast experience), Dune quad biking, Sand boarding, Sea kayaking, Lots more…
Lunch and dinners can be enjoyed at a cafe or restaurant overlooking the sea
Day 6 - Sossusvlei to Damaraland
Head north along the Skeleton Coast, via Henties Bay to visit the Cape Cross seal colony where you can enjoy lunch. Stop at the Lichen Fields along the way as well as the shipwreck between the colourful small town of Wlotskasbaken and Henties Bay.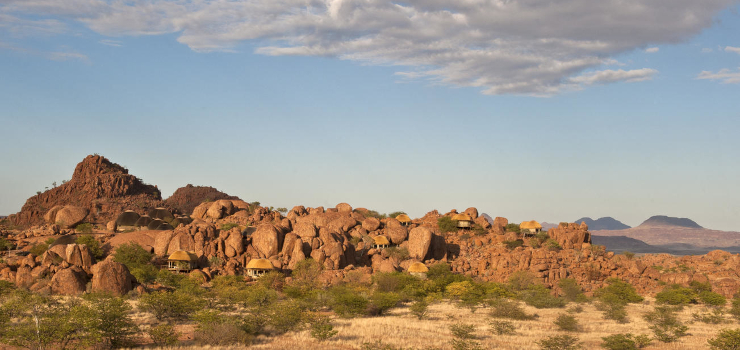 Head inland via Henties Bay through wide open plains to Uis, then north to the Twyfelfontein area for their rock paintings, Burnt Mountain and Organ pipes. The drive to Damaraland can take all day depending on the route taken. Damaraland is known for its endless open skies, dry riverbeds, enormous granite outcrops and grassy plains where you will experience the best sunsets over the harsh, arid, dry and desolate expanses.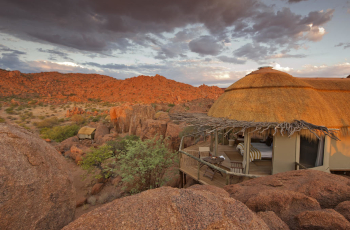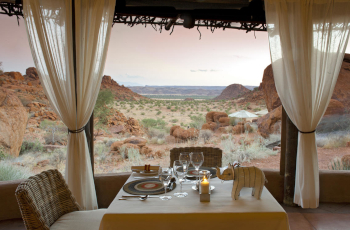 You will spend 2 nights at Mowani Mountain Camp on a dinner, bed and breakfast basis in a superior-view room.
Day 7 - Full Day in Damaraland
Take a drive with your guide to the Huab River to look for the desert-adapted elephants, black rhinos and giraffes as well as other game such as oryx, springbok, ostrich and lots more. For a hint of culture, we visit the Damara Living Museum.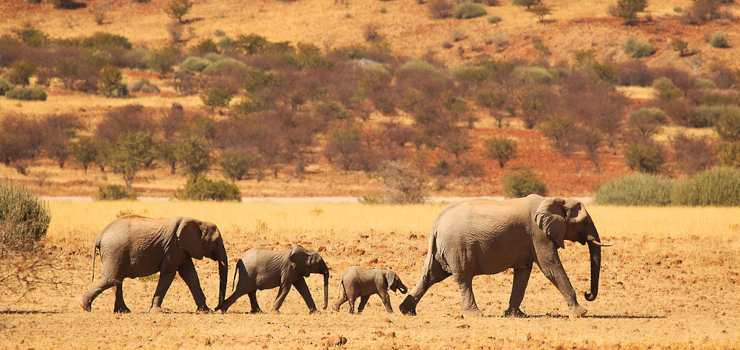 Day 8 - Damaraland to Etosha
After breakfast you will head on to Etosha for your safari in Namibia, stopping at the Petrified Forest en-route. If time permits, your guide will take you to Etosha for an afternoon game drive. You should arrive at your lodge in time for lunch (optional extra), depending on how often you stop on the route.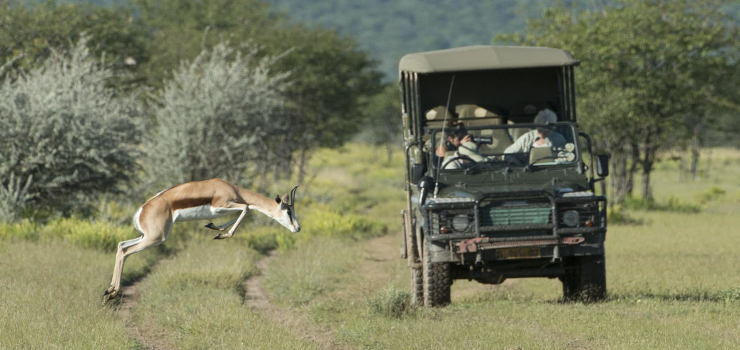 The first stop on entering the park will be Okaukuejo where you pay your entry fee (included) and we suggest you pop in at the local shop to purchase some drinks and snacks and a map of Etosha showing all the waterholes along the way.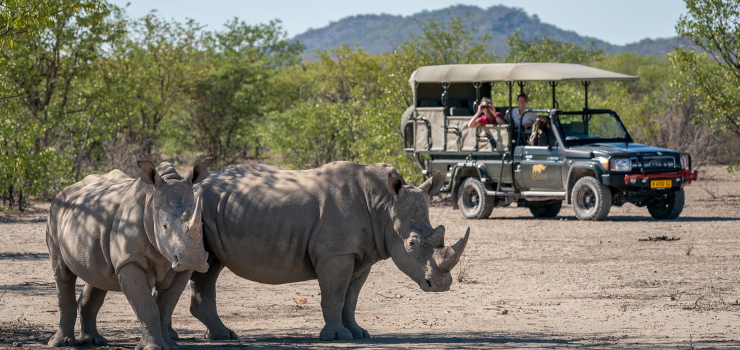 Etosha is one of Africa's great game parks. With an estimated 250 lions, 300 rhinos, 2,500 giraffes, 6,000 zebras, 20,000 springbok and 2,000 elephants and 340 species of birds you are sure to see a great variety of wildlife on your safari. You will spend 1 night at Ongava Lodge on a dinner, bed and breakfast basis.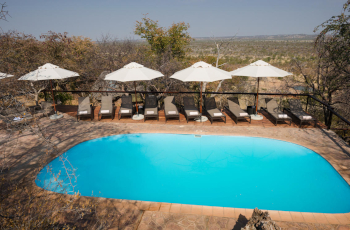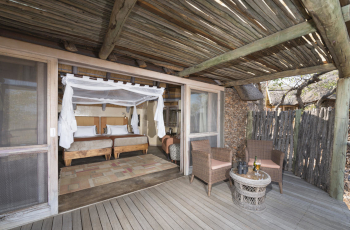 Day 9 - Full Day Safari in Etosha
Today will take you slowly from one side to the other side of the park stopping at numerous waterholes along the way. Enjoy lunch at the Halali Resort which is halfway between Okaukuejo and the eastern exit gate or take a picnic lunch along and stop off at a waterhole.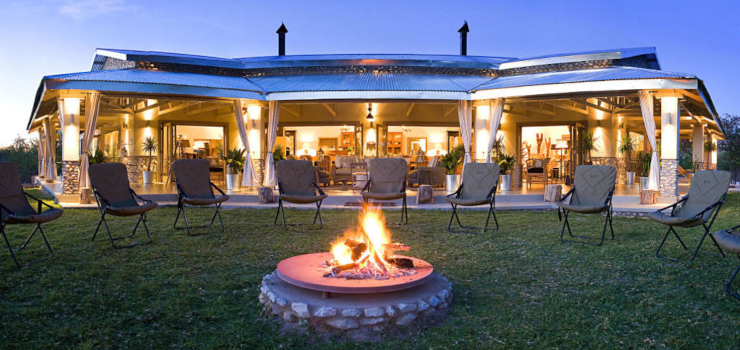 You will spend 2 nights at Mushara Outpost on a dinner, bed and breakfast basis.
Day 10 - Another Full Day Safari at Etosha
Another full day is set aside for game viewing, either all day or alternate with morning and afternoon guided drive.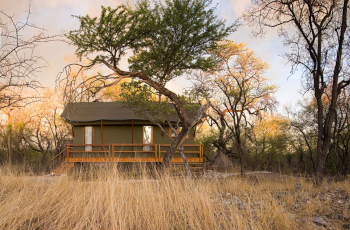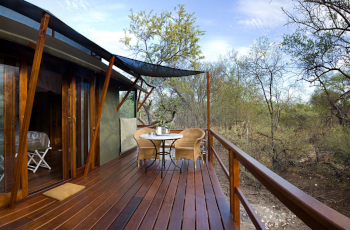 Day 11 - Etosha to Windhoek
Head back to Windhoek today, the roads are all paved so it's a comfortable ride to arrive in time for your departure flight (You need to be at the airport 2 hours prior and the airport is still a 45-minute to 1 hour drive from town)
Safari Cost (Quoted in ZAR - South African Rand)
Jan - Jun 2023 – Low Season
R107,855 per person sharing - 2 pax
R78,255 per person sharing - 4 pax
R69,140 per person sharing - 6 pax
R17,900 - Single supplement
Jul - Dec 2023 – High Season
R119,090 per person sharing - 2 pax
R86,990 per person sharing - 4 pax
R77,125 per person sharing - 6 pax
R20,395 - Single supplement

Jan - Jun 2024 – Low Season
R114,610 per person sharing - 2 pax
R86,385 per person sharing - 4 pax
R76,480 per person sharing - 6 pax
R20,025 - Single supplement
Jul - Dec 2024 – High Season
R128,580 per person sharing - 2 pax
R97,525 per person sharing - 4 pax
R86,530 per person sharing - 6 pax
R22,950 - Single supplement

Safari Cost Includes
• 10 Nights Accommodation as indicated - can change depending on availability and request at the time of booking
• Meals as indicated
• Car hire as per picture below for 2 & 4 pax - for 6 pax the vehicle is slightly larger
• All vehicle costs including fuel
• All park entry fees
• Guide and guide costs
• Water in the vehicle at all times
• Activities as shown in the itinerary … all activities that can be done with NTS guide and vehicle are included
• Tour file with detailed itinerary, map with route descriptions, vouchers etc.
• 24-hour personal and friendly support
• Fast and efficient response to service providers
• Transport in a 4X4 Safari Converted Vehicle
Safari Cost Excludes
• Items of a personal nature
• Optional extra activities
• International flights
• Holiday or personal insurance
• Staff gratuities
• Visas and visa applications