This six night safari focuses on the magic of Victoria Falls and the Chobe River. It starts in Johannesburg with a flight to Zimbabwe where you experience the magical Victoria Falls. From here it then moves to Botswana where you get the opportunity to enjoy open vehicle safaris in the Chobe National Park, and then continues with a water based safari on the Namibian based Chobe Princess Houseboat. This itinerary can easily be extended or altered if it does not match your exact requirements
Day 01 - Johannesburg to Victoria Falls
On arrival in Johannesburg, make your way to the British Airways check-in counter and check in for your flight to Victoria Falls, Zimbabwe. On arrival at the Victoria Falls airport, you will be met by our representative and transferred to the Victoria Falls Safari Lodge, where you check in for two nights on a bed & breakfast basis.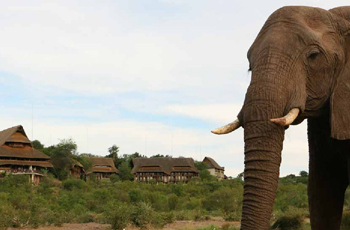 The Victoria Falls Safari Lodge is located on some elevated ground that over looks the Zambezi National Park. The waterhole the lodge faces attracts an abundance of wildlife including elephant and buffalo.
Day 02 - Tour Victoria Falls
After breakfast, you will be will collected from your lodge for a guuided tour of Victoria Falls and the Monde Tribal Village. Remember your camera for photographs of iconic features at Victoria Falls - the Devil's Cataract, Main Falls and Horseshoe Falls. If it is high-water season, bring your rain jacket! At the Monde Village, guests observe rural Africa life by first visiting a rural primary school and then the village's business centre. You'll get to meet local people when you visit two traditional homesteads. Your day slides into night with a sunset cruise - complete with drinks (beer and wine) and light snacks - on the Zambezi River.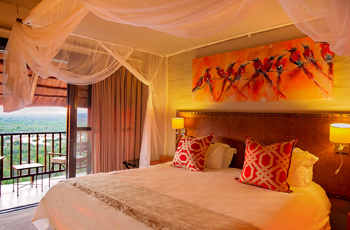 Day 03 - Victoria Falls to Chobe Game Lodge, Chobe, Botswana
Today after breakfast you will be transferred across the border into Botswana. You'll be staying at the Chobe Game Lodge for two nights on a fully-inclusive package. Chobe Game Lodge is located in the national park itself and overlooks the expansive Chobe River.

Day 04 - On safari at Chobe Game Lodge, Chobe, Botswana
Hosted and guided by the Chobe Game Lodge's staff and rangers, you will have the pleasure of morning and afternoon game-viewing safaris in the Chobe National Park.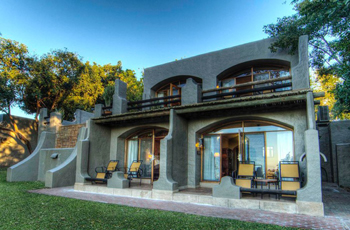 Day 05 - Chobe Game Lodge to Chobe Princess Houseboat, Namibia
After breakfast and a morning safari, you'll be transferred to Kasane immigration where a representative of the Chobe Princesses will meet you. After clearing Namibian customs, you will be transferred by boat across the Chobe River to Namibia's Impalila Island where the Chobe Princess awaits. You'll spend two luxurious nights, with full-board, onboard this beautiful houseboat. This first afternoon, the boat will cruise along the river in the Chobe National Park. Enjoy excellent views over the water and sightings of elephant, buffalo and antelope on the banks of the river. In the evening, the boat docks for the night and dinner is served with magical stars above and sounds of Africa all around.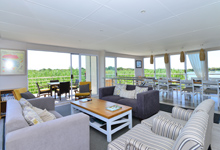 Day 06 - On Safari aboard the Chobe Princess
This day has been left open for you to choose your own activities. Laze on the deck or take the Chobe Princess' tender and a guide to explore river channels, enjoy some birding watching or to fish. For a more cultural experience, visit one of the local fishing villages. Breakfast is normally served at 08h30 with lunch at about 13h00. The crew of the Chobe Princess are open to change
to allow you to schedule your excursions and activities.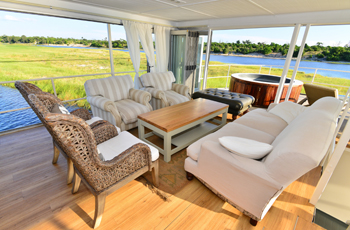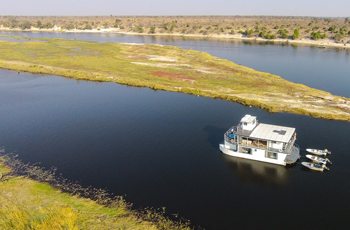 Day 07 - Chobe Princess to Jo'burg via Victoria Falls
As your tour comes to an end, it is time to head home. We return you by boat to the customs border post on Impalila Island, clearing you from Namibia to Botswana. Here you will be met by our representatives who will transfer you by road back to Victoria Falls Airport in Zimbabwe and your flight to the OR Tambo International Airport in Johannesburg, South Africa.
Safari Price (quoted in USD)
U$ 4745 per person sharing - Jul to Oct 2018
U$ 4235 per person sharing - Nov 2018
U$ 3730 per person sharing - Dec 2018
U$ 4065 per person sharing - Jan to Mar 2019
U$ 4385 per person sharing - Apr to Jun 2019
U$ 4885 per person sharing - Jul to Oct 2019
U$ 3880 per person sharing - Dec 2019
** This itinerary can depart on any date, so long as 'day 5' in the itinerary falls on one of the following dates to fit in with the scheduled departures of the Chobe Princess:
2018
Jul 2, 4, 9, 11, 16, 18, 23, 25, 30
Aug 1, 6, 8, 13, 15, 20, 22, 27, 29
Sep 3, 5, 10, 12, 17, 19, 24, 26
Oct 1, 3, 8, 10, 15, 17, 22, 24, 29, 31
Nov 5, 7, 12, 14, 19, 21, 26, 28
Dec 3, 5, 10, 12, 17, 19, 24, 26, 31
2019
Jan 2, 7, 9, 14,16, 21,23 28, 30
Feb 4, 6, 11, 13,1 8, 20, 25, 27
Mar 4, 6, 11, 13, 18, 20, 25, 27
Apr 1, 3, 8, 10, 15, 17, 22, 24, 29
May 1, 6, 8, 13, 15, 20, 22, 27, 29
Jun 3, ,5, 10, 12, 17, 19, 24, 26
Jul 1, 3, 8, 10, 15, 17, 22, 24, 29, 31
Aug 5, 7, 12, 14, 19, 21, 26, 28
Sep 2, 4, 9, 11, 16, 18, 23, 25, 30
Oct 2, 7, 9, 14, 16, 21, 23, 28, 30
Nov 4, 6, 11, 13, 18, 20, 25, 27
Dec 2, 4, 9, 11, 16, 18, 23, 25, 30

Cost Includes
02 nights' accommodation on a bed and breakfast basis - Victoria Falls Safari Lodge
02 nights' accommodation on a fully inclusive basis - Chobe Game Lodge
All meals
Teas / coffees & snacks
Twice daily game viewing activities
Park fees
The services of a professional ranger and camp staff
02 nights' accommodation on a full board basis - Chobe Princess
All meals
All house wines, beers, soft drinks and water
All activities (including game viewing by boat, fishing, birding & guided walks)
All equipment hire (including fishing rods, lures, boats etc)
Dedicated guides and tender boats for each group
Boat fuel
Park fees, fishing licenses and tourism levies
All road & boat transfers as per itinerary
Sightseeing in Vic Falls as per tinerary
Flights: Johannesburg - Vic Falls - Johannesburg return excl taxes (British Airways class)
Cost Excludes
Airport taxes
Visas
Voluntary Community Development Levy at Chobe Princess (R40 per person, per stay)
Gratuities
Meals not specified
Bar accounts not specified & premium-brand drinks on the Chobe Princess