In this 14 day epic luxury safari we handpick the best Tanzania has to offer for a once in a lifetime experience. We traverse the Ngorongoro Crater, The Tarangire National Park and experience the best the Serengeti has to offer in both a luxury tented safari camp as well as on a luxury mobile safari. The safari starts and ends in Arusha making the Kilimanjaro International Airport the most convenient point of access.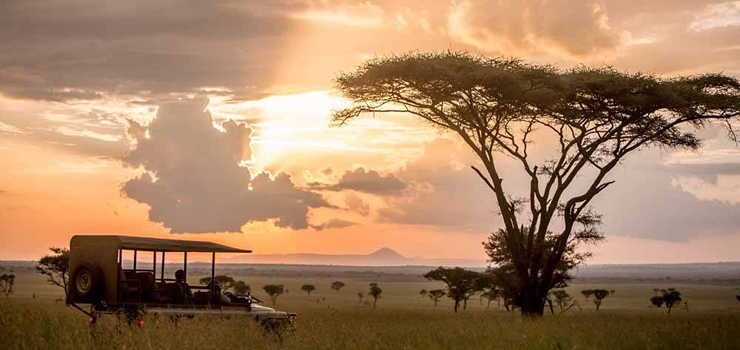 Day 1 Arrive Kilimanjaro, Tanzania
On arrival at Kilimanjaro International Airport (JRO) our representative will meet you outside the customs hall at the pick-up point and you will be transferred to Legendary Lodge. Here you will spend 1 night on a fully inclusive basis which includes all meals, house wines, beers, local spirits, water, juice, soft drinks, daily laundry, mini bar, fruit basket, internet, telephone usage (call limits may apply) (Garden Cottage One-Bedroom).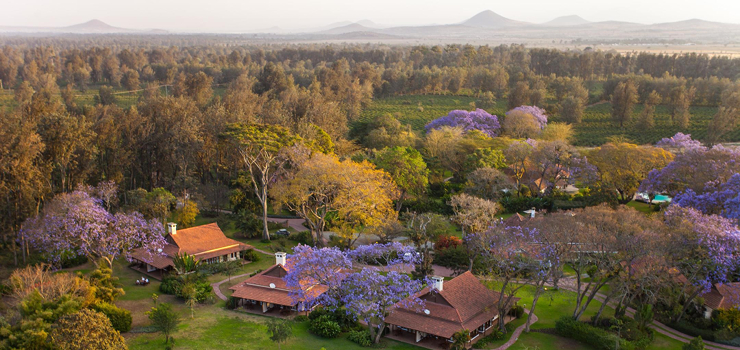 Legendary lodge is located on the outskirts of the bustling town of Arusha, surrounded by coffee farms and have lush tropical gardens. The perfect place to start off your safari. The lodge is conveniently located, a mere ten minutes' drive from the Arusha Airport and 90 minutes from Kilimanjaro International Airport.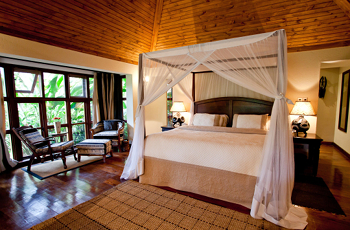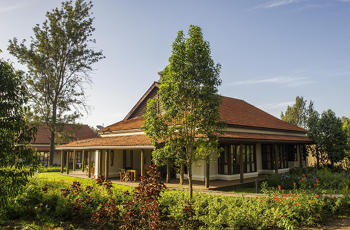 Day 02 Arusha to Little Chem Chem, Tarangire Area
After breakfast you will be transferred to Chem Chem Concession where you will spend 3 nights at Little Chem Chem on a fully inclusive basis which includes a daily private vehicle & Chem Chem guide.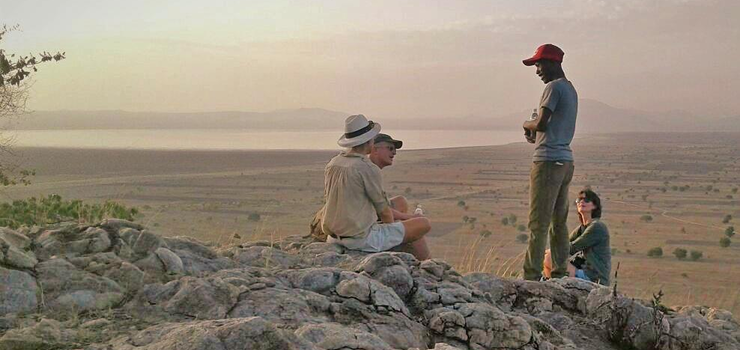 Chem Chem is situated on the edge of an acacia forest and within the migration corridor, between Tarangire National Park's endless savannas and the bird-rich Lake Manyara National Park's. Known for its unlimited grasslands with baobab trees and variety of wildlife.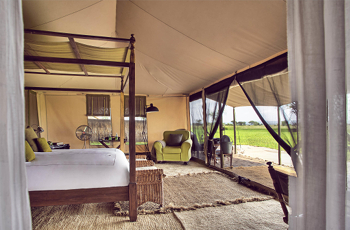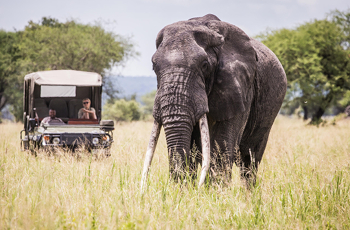 Day 03 - 04 On Safari at Little Chem Chem
Little Chem Chem is a bird-watchers paradise and big game territory. Explore the game-rich Tarangire National park or the incredible wilderness concession in a safari vehicle. Have an authentic Maasai culture experience by interacting with the local community. And end your day with sundowners on the edge of Lake Burunge.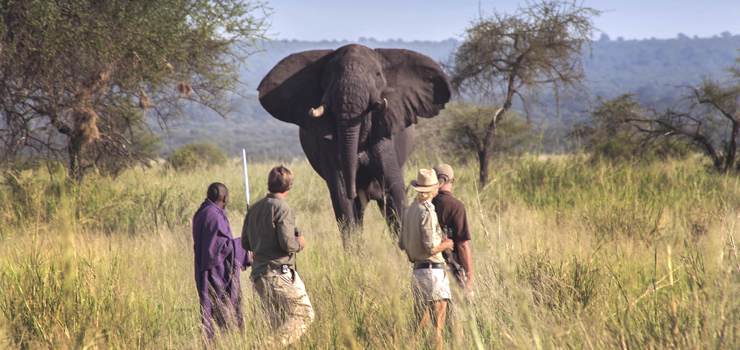 Day 05 Little Chem Chem to Ngorogoro Crater Lodge
After your morning safari you will be transferred to andBeyond Ngorongoro Crater Lodge where you will spend 2 nights on a fully inclusive basis, which includes all meals, soft drinks, house wines, local brand spirits, beers, teas, coffees, refreshments on activities, laundry, safari activities, emergency evac, transfers from lodge airstrip and Grumeti, Tourism Development Levy + Concession Fee, Park fees and Crater fees (Suite).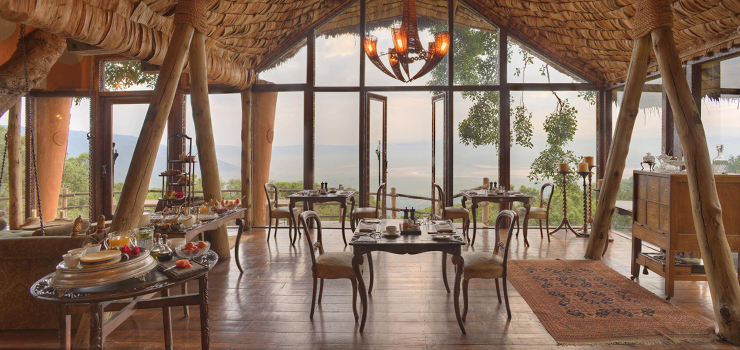 Ngorongoro Crater, the word's larges intact volcanic caldera is one of Africa's most popular safari destination. Known for its abundance of wildlife, excellent bird watching, local Maasai village and Olduvai Gorge. Ngorongoro Crater Lodge suites have floor-to-ceiling windows overlooking the magnificent crater below.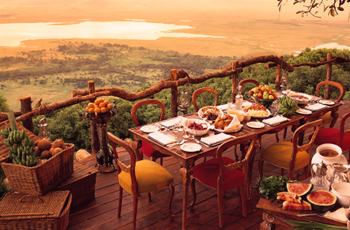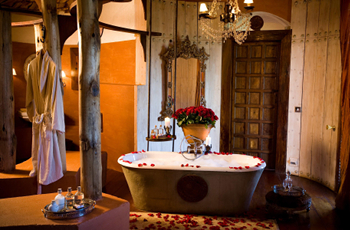 Day 06 On Safari at Ngorogoro Crater Lodge
Today you will enjoy safari game drives, cultural interaction with Maasai and Hadzabe tribes, walks, hikes and coalface of lion conservation.
Day 07 Ngorogoro Crater Lodge to Singita Sabora, Serengeti
After your morning safari activity and breakfast you will be transferred to Lake Manyara Airstrip where you board your charter flight and fly to Singita Sabora Tented Camp via to Grumeti Airstrip. Here you will spend 3 nights on a fully inclusive basis which includes all meals, beverages, twice-daily game drives, return road transfer between Sasakwa airstrip and lodges, telephone calls, laundry, wifi, Wildlife Fee and Tourism Development Levy (Tent).
Singita Sabora is an elegant luxury tented safari camp, set in 400 000 acres of wilderness called Grumeti adjacent to to the Serengeti National Park. This vast tract of grasslands, rivers and bush forms part of the annual wildebeest migration that runs between the Masai Mara (in Kenya) and the Serengeti. With just 9 tented suites this exclusive camp offer intimacy, vast private traverse for not just game drives but also guided walks, night drives, visits to the community or even the conservation / anti-poaching operations in the area.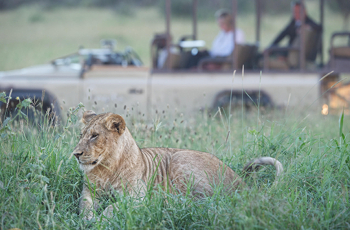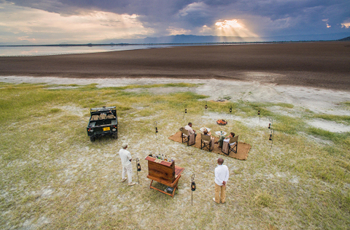 Day 08 - 09 On Safari at Singita Sabora
Enjoy days packed with opportunities for wildlife sightings or relax by the pool of book a treatment at Singita's wellness spa! Game drives with professional guides provide the perfect opportunity to get up close to Africa's incredible animals, while evening drives reveal the elusive magic of nocturnal Africa. Guided walking safaris are an incredible way to experience the bush up close and personal. Guest are invited to visit the nearby communities as part of Singita's commitment to community development.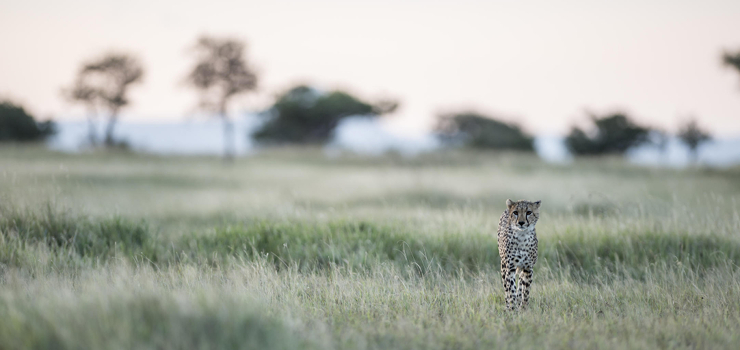 Day 10 Singita Sabora to Serian's Serengeti Mobile Lamai Camp
After your morning safari activity and breakfast you will board your charter flight to Grumeti Airstrip where you will board your onwards charter flight to Lamai. From here you will be transferred by road to Serian's Serengeti Mobile Lamai camp. Here you will spend 4 nights on a fully inclusive basis which includes meals, drinks, sundowners, picnic, bush meals, exclusive use of 4WD vehicle with private guide, unlimited game drives, airstrip transfers, daily laundry and Serengeti National Park Fees (Mobile Tent).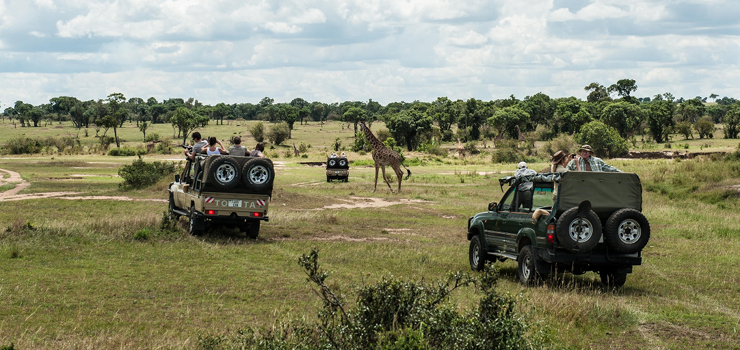 The Northern Serengeti is known as the hub of the great migration. Wildlife can be spotted on the banks of the Mara River and an abundant of game will be seen on the open plains of the Lamai Wedge. This camp is perfectly situated to see the spectacular wildebeest crossing.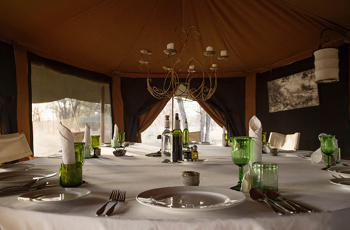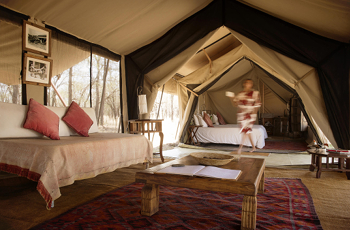 Though it's a mobile camp, its furnishings and creature comforts are much the same as Serian's Serengeti North – with flushing toilets and bucket showers in an en suite bathroom, enormous wrought-iron beds, Moroccan rugs, and all the trimmings make it simplistically elegant and comfortable.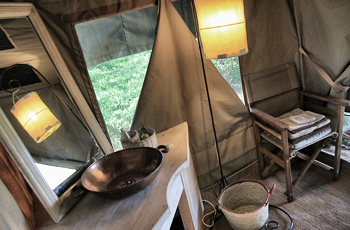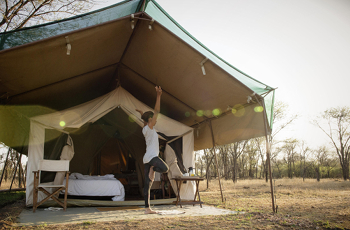 Day 11 – 13 On Safari with Serian's Serengeti Mobile Safari
Days are spend watching the wildebeest crossing, enjoying open-top safari's or relax at your camp while watching the sun setting over the beautiful landscapes.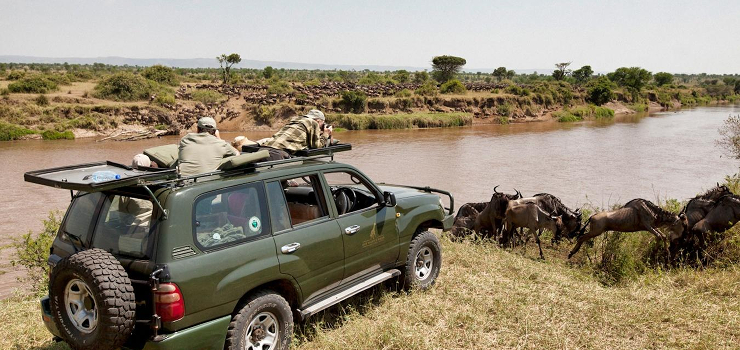 Day 14 Northern Serengeti to Kilimanjaro
After your morning safari activity and breakfast you will be transferred to Lamai Airstrip where you will board your charter flight to Kilimanjaro Airport. From here you will continue home on own arrangements.
Safari Cost
15 Jun - 31 Aug 2023
USD 24 870 per person sharing
01 Sep - 30 Sep 2023
USD 22 340 per person sharing

01 - 30 Oct 2023
USD 20 995 per person sharing

01 - 15 Nov 2023
USD 18 815 per person sharing
Cost Includes
1 Nights accommodation at Legendary Lodge on a fully inclusive basis which includes all meals, house wines, beers, local spirits, water, juice, soft drinks, transfer arrival & dep Arusha Apt/Kilimanjaro Apt, daily laundry, mini bar, fruit basket, internet, telephone usage (call limits may apply)
3 Nights accommodation at Little Chem Chem on a fully inclusive basis which includes all meals, house wines, beers, spirits, water, soft drinks, daily private Chem Chem guide and private vehicle in Chem Chem concession & Tarangire NP, night game drive in the Burunge WMA, arrival trf from Kuro Tarangire, Laundry, internet - park fees included to Tarangire, Lake Manyara (only include 1 set per adult), Ngorongoro National Parks, Conservation, Community Fees and Tourism Development Levy
2 Nights accommodation at Ngorongoro Crater Lodge on a fully inclusive basis which includes all meals, soft drinks, house wines, local brand spirits, beers, teas, coffees, refreshments on activities, laundry, safari activities, emergency evac, trf from lodge airstrip and Grumeti, Tourism Development Levy + Concession Fee, park fees and crater fees
3 Nights accommodation at Singita Sabora Tented Camp on a fully inclusive basis which includes all meals, beverages, twice-daily game drives, return road transfers between Sasakwa airstrip and lodges, telephone calls, laundry, wifi, wildlife fees and Tourism Development Levy
4 Nights accommodation at Alex Walker's - Serian Serengeti Lamai Mobile Safari, Lamai on a fully inclusive basis which includes meals, drinks, sundowners, picnic, bush meals, exclusive use of 4WD vehicle with private guide, unlimited game drives, airstrip transfers, daily laundry and Serengeti National Park Fees
All road transfers and charter flights as per itinerary
Cost Excludes
Visas if required
Personal items and gratuities
Bar accounts not specified
Meals not specified
Flights not specified
Laundry not specified
Travel Insurance
Additional activities