This luxury fly-in safari makes use of &Beyond's East Africa camps, located in both Kenya and Tanzania over an 8-day / 7-night safari itinerary. The itinerary gives the safari goer a good cross-section of East Africa's safari destinations and covers the big game areas such as Masai Mara, Serengeti and Lake Manyara. The itinerary begins in Nairobi, Kenya and ends at Kilimanjaro, Tanzania. From here we can easily add a visit to Zanzibar for some beach time or arrange an additional flight back to Nairobi.

The Safari at a Glance
Start in Nairobi, Kenya and end in Kilimanjaro, Tanzania
2 nights at &Beyond's Bateleur Camp in the Masai Mara, Kenya
3 nights at &Beyond's Grumeti Serengeti Tented Camp in the Serengeti, Tanzania
2 nights at &Beyond's Lake Manyara Tree Lodge in Lake Manyara National Park, Tanzania
Day 1 - Arrive Nairobi, fly to Masai Mara
On arrival at Jomo Kenyatta International Airport, you will be met. You will then board your charter flight to andBeyond Bateleur Camp where you will spend 02 nights on a fully inclusive basis.

The Bateleur Camp is located in the Masai Mara Reserve, Kenya's flagship game reserve. Known for its vast open plains that are home to an abundance of wildlife including millions of wildebeest that migrate through the region on an annual basis. The camp itself is a classic luxury tented camp each suite with viewing decks that gaze over the plains.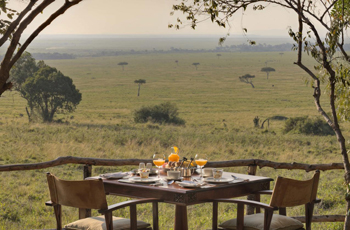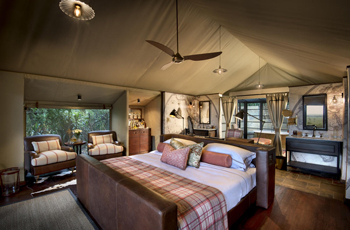 The decor of the camp is of the classic colonial era with polished wood, leather and handcrafted artefacts and antiques. Guests staying at the camp enjoy the services of a personal butler and game viewing takes the form of guided open vehicle game drives, but the option of an early morning hot air balloon flight is always there.
Day 2 - On Safari at Masai Mara
Adventures at &Beyond Bateleur Camp include twice-daily game drives, including spot-lit night drives. The camp also offers a range of additional activities such as bush walks, hot air balloon safaris and community excursions that include soul-tickling interactions with the Maasai.

Day 3 - Masai Mara (Kenya) to Serengeti (Tanzania)
Today you will board your charter flight to andBeyond Grumeti Serengeti Tented Camp in Tanzania, where you will spend 03 nights on a fully inclusive basis.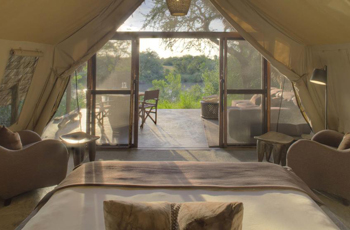 Day 4 - 5 - On Safari in the Serengeti
Days spent on safari exploring the plains of the Serengeti in Tanzania. The Grumeti Serengeti Tented Camp is located in the Western Corridor of Tanzania's Serengeti Game Reserve. Also the stage for the annual wildebeest migration, the area promises astounding game viewing even when the migration has moved to other parts of this mega-reserve. The Grumeti River plays an important role in the number and variety of wildlife species that occur and is just one of the rivers that the wildebeest cross each year offering those iconic wildlife moments.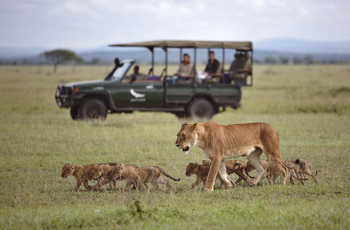 The camp itself is also a luxury tented camp with full en-suite facilities. It has a shady deck area that adjoins a cool swimming pool giving guests that all-important hideaway during the hotter times of the day. Safaris are conducted by way of game drive safaris, but hot air ballooning is also on offer as well as the option of a full-day trip to Lake Victoria.
Day 6 - Serengeti to Lake Manyara
Today you will board your charter flight to andBeyond Lake Manyara Tree Lodge where you will spend 02 nights on a fully inclusive basis.

Day 7 - On Safari at Lake Manyara
Enjoy the full day to explore this incredibly diverse national park. The lake itself lies at the foot of the Manyara Escarpment that lords over the vast bushlands known for its diversity of habitat including acacia woodlands, water forests, rocky crags that are home to baobab trees, natural hot springs and wetlands, not to mention the lake itself, home to hundreds of thousands of pink flamingoes.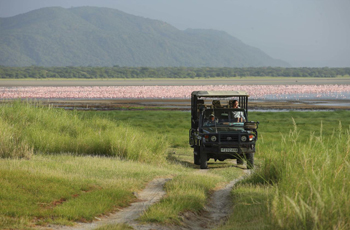 The lodge is made up of ten tree house suites that are built up on stilts among the foliage of the bush. All are luxurious, fully private and with a bathroom en-suite. The lodge also has a communal boma for star-lit dinners and decks with beautiful views of the forest
Day 8 - End at Kilimanjaro
After breakfast, you will be transferred to the airstrip in time for your scheduled flight to the Kilimanjaro International Airport. Here you will board your outbound flight back home (as booked by you). Continue under your own arrangements, or we can arrange an extension to the idyllic beaches on the island of Zanzibar.
Safari Cost
$5,305 per person sharing (11 Jan - 28 Feb 2023)
$7,825 per person sharing (1 Mar - 31 March 2023, 1 May - 31 May 2023 & 1 Oct – 20 Dec 2023)
$12,570 per person sharing (1 Jun – 30 Sep 2023, 21 – 31 Dec 2023 & 1 - 10 Jan 2024)
$9,806 per person sharing (11 Jan - 29 Feb 2024)
$8,302 per person sharing (1 Mar - 31 May 2024 & 1 Nov – 20 Dec 2024)
$14,308 per person sharing (1 Jun – 31 Oct 2024, 21 – 31 Dec 2024 & 1 - 10 Jan 2025)
Safari Includes
Seven night's accommodation as per itinerary
Road transfers between airstrips and lodges or camps
Three meals daily, soft drinks, house wines, local brand spirit and beers, teas and coffees, refreshments on game drives, laundry, safari activities and emergency medical evacuation insurance.
All inter-camp flights
One regional flight routing between Kenya and Tanzania excluding airport taxes
Standard meet and greet service at Jomo Kenyatta International Airport
Road transfers between airstrips and lodges or camps
Transfers Jomo Kenyatta International Airport to Wilson
Park fees
Safari Excludes
Airport taxes
Telephone calls
Safari shop purchases, gratuities, all items of a personal nature
Champagne, cognac, fine wines, premium brand spirits and cigars
Visas if required
Bar accounts not specified
Meals not specified
Flights not specified
Laundry
Travel Insurance