No desert trip in Namibia is complete without a sunrise hot air balloon flight over the dunes and mountains of Sossusvlei, Namibia.
The Namib Desert offers and ever changing visual fest of rocks, sand dunes, moonlike landscapes and mountains. When you add the early morning light to this vast desert wilderness, colour, texture and shadows make it a truly mesmerizing experience that photographs simply fail to capture!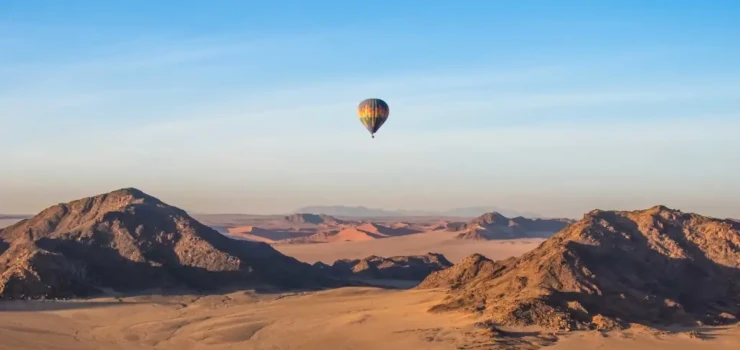 How Does It Work?
Your day starts very early (2 hours before sunrise) with a drive to the the meeting point 22 km south of Sesriem. From there your experience starts as you witness the enormous hot air balloon being prepared while you enjoy your first cup of hot tea or coffee.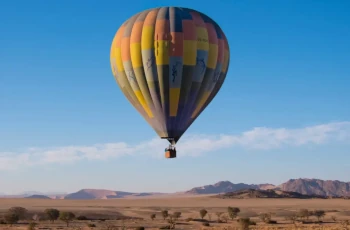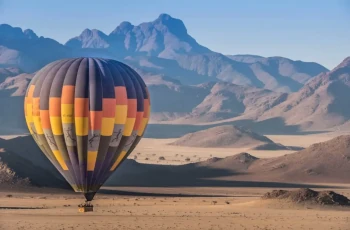 After a safety briefing you climb into the basket with the pilot and the other passengers and float up into the air to witness a desert dawn from a perspective that is impossible to better. The flight lasts about 1 hour and you will float in whichever direction the calm morning air drifts.

Upon landing you will be met by the recovery vehicle and taken to a site in the desert for a celebratory breakfast, served as is hot air ballooning tradition with sparkling wine & orange juice. From here you are transferred back to the meeting point. The whole experience from meeting up to being returned there will be 3 - 4 hours.

What Should I Wear?
The early mornings in the desert can be very cold, so dress warmly with layers that can be peeled off as the sun begins to warm the day. It is important to bring a sun hat and sun cream, and of course your camera!
Children Policy
Children under the age of 6 yrs are alllowed, only if they are taller than 1.2m. However it is required that adults accompany any children under 16 yrs of age. Children too small for the hot air balloon flight can follow the balloon with the ground crew and join for breakfast - a baby sitter is provided at no charge in this event.
Flight Cost
N$ 7350 per person - 1 Jul 2021 - 30 Jun 2022
N$ 7800 per person - 1 Jul 2022 - 30 Jun 2023
(N$ is Namibia Dollars which is common rated with ZAR (South African Rands))
Check Live availability & Book Now
Includes
Return transfers to the launch site and back
1 hour hot air ballooning flight
A celebratory breakfast with sparkling wine & orange juice
Park entrance fees
A flight certificate