This 14-day Luxury Safari package shows off some of South Africa & Botswana's most striking destinations. Start with a tour around the coastal city of Cape Town, where you are exposed to mountainous views, pristine beaches and world-class vintage wines. Next, you enjoy a luxury train journey towards the Lowveld region of South Africa to spend some time searching for wildlife in the African bushveld. To top it all off, your trip ends in Botswana's magnificent Okavango Delta, where vegetation is thriving, and animal life is in abundance.
Itinerary at a glance:
3 Nights Cape Grace- Cape Town
3 Nights Rovos Rail Luxury Train- Cape Town to Pretoria
1 Night Catello Di Monte - Pretoria
3 Nights Zambezi Queen Houseboats - Chobe River (Namibia/Botswana)
3 Nights Little Vumbura- Okavango Delta
Day 01 - Cape Grace, Cape Town
On arrival at Cape Town International Airport, South Africa, you will collect your luggage and meet our friendly driver-guide who will transport you through the city, to the spectacular Cape Grace Hotel. Settled on a secluded quay between the idyllic international yacht marina and the lively shopping district of the V&A Waterfront, the Cape Grace epitomises class and sophistication in the Mother City.

With its service-orientated atmosphere and stunning views of Table Mountain, there is no better place to spend the first three (3) nights of your safari, than at this luxury 5-star hotel on a bed and breakfast basis.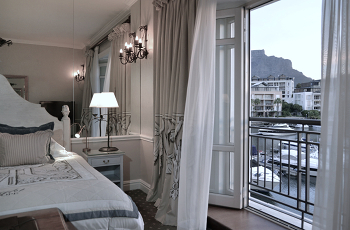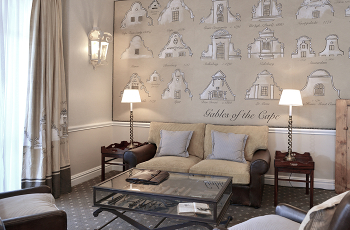 Day 02 - Cape Grace, Cape Town
This morning after breakfast, you get to embark on an exciting adventure around the southwestern most point of the African continent- the Cape Peninsula. Known for its rocky outcrops rich in biodiversity, the Cape Peninsula is a scenic route off the Cape's beaten path, dotted with charming towns and stunning beaches.

Stop off for a chat with the local fishing folk in the coastal gem of Kalk Bay, or enjoy a special visit to Boulder's Beach in Simons Town. This is the only place in the world where you can interact with a colony of African Penguins whilst roaming around the beach's shore or snorkelling, kayaking and SUPing in the shallow waters that surround it.

For lunch, head off on a secluded gourmet picnic along this wild peninsula, taking in the panoramic views and natural beauty of the Atlantic Ocean.
Day 03 - Cape Grace, Cape Town
After a delicious breakfast, it is time to wander 140km towards the beautiful seaside town of Hermanus, in the Overberg area. Nestled amongst the coastal nature reserve of Walker Bay and the Kleinrivier Mountain Range, Hermanus is one of the world's top whale-watching destinations. The picturesque bay acts as a breeding ground for the majestic Southern Right Whales who can often be seen frolicking off the shoreline with their calves from May to November.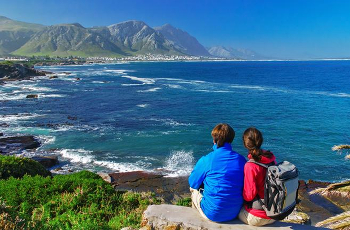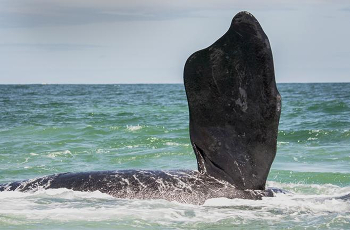 Your morning in Hermanus is spent from the decks of a whale-watching cruise, trailing the Marine Big 5 (Southern Right Whale, Shark, Dolphin, Seal and Penguin). Once back on land, you get to explore the unspoiled hiking trails of the vast Stanford Mountains followed by an elegant, fine-dining lunch experience at The Tasting Room in the Stanford Hills Estate.
Day 04 - Rovos Rail Journey to Pretoria
After your final breakfast at the Cape Grace, you are transferred to the Cape Town Station to set off on a three (3) night, all-inclusive trip to Pretoria on the luxurious Rovos Rail. Celebrated for its world-class service and authentic Edwardian-style design, the Rovos Rail prides itself on transporting guests back to the bygone era whilst allowing them to admire the beautiful passing scenery in style.

Day 05 & 06 - On Board Rovos Rail
The most popular journey on Rovos Rail is this 3-night trip that runs both ways between Pretoria and Cape Town. It showcases South Africa as a world in one country. This journey departs weekly, rolling through Highveld grasslands, the semi-desert Karoo, dramatic mountain ranges and the picturesque vineyards of the Cape Winelands.
Off-train excursions include Kimberley's Diamond Museum and the 'Big Hole', the world's largest hand-excavated hole, as well as the historic settlement of Matjiesfontein.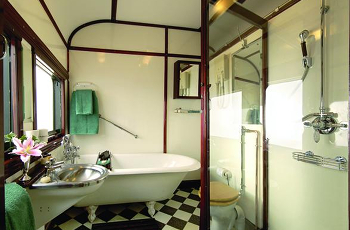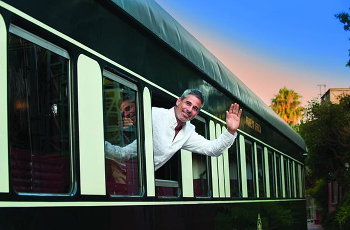 Day 07 - Castello di Monte, Pretoria
Your train is scheduled to arrive at the Pretoria Station at 12h00, from where you will be greeted and transferred to the enchanting Castello di Monte located in the Jacaranda City. Conveniently close to the station, the Castello Di Monte offers a touch of Italy in the suburb of Waterkloof, a leafy suburb in South Africa's administrative capital of Pretoria. Tranquil gardens, elegant décor and top-notch service are what you will receive at Castello de Monte. You will be staying here for one (1) night on a bed and breakfast-basis.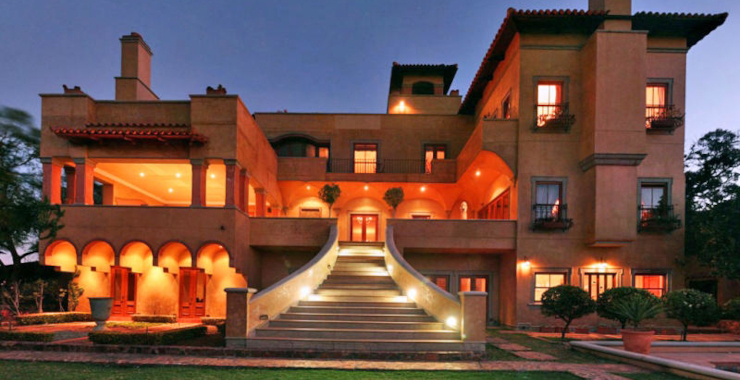 Day 08 - Pretoria to Zambezi Queen. Chobe River
After an early breakfast, you will be transferred to OR Tambo International Airport in Johannesburg. Here you will board your flight to Kasane, Botswana.

On arrival you will be met and transferred by road and motorboat, via the Kasane Immigration onto the Namibian side of the Chobe River and finally, on the magnificent Zambezi Queen Houseboat where you enjoy (3) nights on a fully inclusive basis.
Day 09 & 10 - Enjoying a Safari aboard the Zambezi Queen
Safari activities on offer to the guests can be divided into two types, either activities conducted from the boat or activities in the surrounding area. Game viewing safaris from one of the tender boats is a very popular pastime and guests get amazing views of herds of elephants coming down to drink as well as other game. During season fishing is a great way to spend the morning or afternoon, and tiger fish and bream are the fish of choice.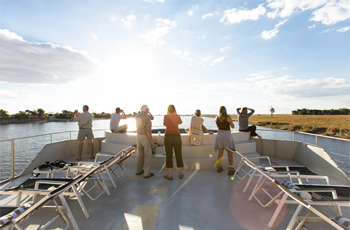 Bird watching in this region is prolific and can be arranged. Getting off the boat for a few hours gives guests the option of game drive safaris into the Chobe National Park. Cultural visits to a local African village give guests a deep and real insight into another way of life and are often one of the most cherished experiences for people, especially if they come from one of the bigger cities in the world.
Day 11 - Zambezi Queen to Little Vumbura, Okavango Delta
After breakfast and a farewell to the crew of the Zambezi Queen, you are transferred by motor boat & road, via the Namibia Immigration on Impalila Island back into Botswana and onto the Kasane Airport. Here you board a light aircraft for a flight transfer deep into the Okavango Delta. You land at Little Vumbura Camp and here you spend the next (3) nights on a fully inclusive safari in this never to forget wilderness. Nestled on a peaceful island within the Delta, the Little Vumbura's welcoming hospitality and prime location is a great way to encounter the natural splendour of the Okavango.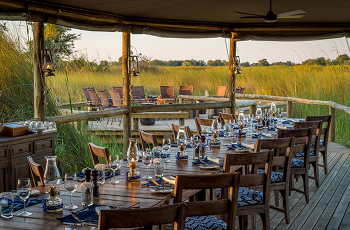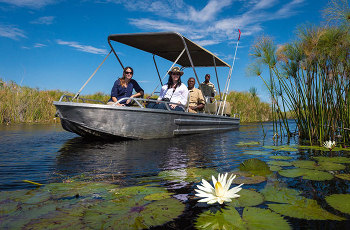 Situated in the northwestern section of Botswana, the Delta is a magical oasis of interwoven waterways and crystal clear lagoons studded with water-lilies and papyrus plants. Several species call this flourishing area home, including lion, rhino, leopard, hippos, elephants, and crocodiles, as well as an array of bird species, making it an optimal place for wildlife enthusiasts.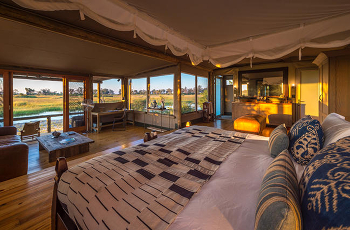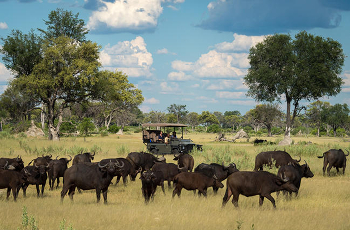 Day 12 - On Safari at Little Vumbura, Okavango Delta, Botswana
Before the sun rises this morning, you will head out via helicopter to a hot-air balloon launch pad where you get to embark on a pleasing balloon safari over the Delta. This unforgettable flight allows you to peacefully drift amongst the clouds, taking in the spectacle of wildlife and varying vegetation below. Your arrival back on land is met with an impressive breakfast spread followed by an amazing 30-minute helicopter flight back to camp for some relaxation time.

*** The Ballooning season only runs from mid-April - to the end of August, as this is when the calmest mornings allow for hot air ballooning. If you are not travelling in season for the hot air ballooning, you will still enjoy the 30-minute scenic helicopter flight.
Day 13 - On Safari at Little Vumbura, Okavango Delta, Botswana

Today provides you with more time to venture into the pristine beauty of the Okavango Delta. Submerge yourself in the tranquillity of this area through several exciting safari-based activities. Many of these include fishing, birding and game-viewing, as well as authentic guided Mokoro excursions in traditional dugout canoes- all of which show off this unique area's alluring environment.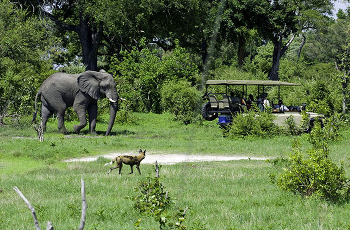 Day 14 - Okavango Delta to Johannesburg, South Africa
Sadly, today your 14-day Luxury Safari comes to an end. After an early morning safari (if time allows) you will board your light aircraft flight back to the Maun Airport. From here you connect to your outbound flight to OR Tambo International Airport in Johannesburg, followed by your late afternoon /evening outbound flight back home (at your own arrangement).
Cost of Safari
* The costs below are split out into the SA section (in ZAR) and the Botswana section (in USD). The exchange rate between the ZAR : USD can be seen here
Jan - Mar 2023
R158,590 per person sharing
$6,040 per person sharing
1 - 30 Apr 2023
R151,600 per person sharing
$6,530 per person sharing
May 2023
R150,340 per person sharing
$8,010 per person sharing
Jun 2023
R134,860 per person sharing
$9,330 per person sharing
Jul - Oct 2023
R150,340 per person sharing
$10,235 per person sharing
Nov - 14 Dec 2023
R152,790 per person sharing
$7,555 per person sharing

Jan - Mar 2024
R169,855 per person sharing
$6,875 per person sharing
1 - 30 Apr 2024
R166,085 per person sharing
$6,765 per person sharing
May 2024
R164,585 per person sharing
$7,466 per person sharing
Jun 2024
R165,975 per person sharing
$9,695 per person sharing
Jul - Oct 2024
R168,915 per person sharing
$11,080 per person sharing
Nov - 14 Dec 2024
R164,541 per person sharing
$9,695 per person sharing

Cost Includes
02 Night's accommodation on a dinner, bed and breakfast basis - Castello Di Monte Hotel only
03 Night's accommodation on a bed and breakfast basis, with the following complimentary services also included:
- Use of the Hot Spa area and its facilities
- 24-hour use of the in-house Fitness Studio situated at the Spa on the 4th floor
- Unlimited wireless internet access
- Undercover and surface parking; 24-hour security
- 24-hour computer hubs with internet
- Morning tea and coffee with wake-up calls
- Morning local newspaper on request
- Use of our in-room iPod docking stations
- Use of our Playstations and collection of DVDs (available on request)
- Complimentary shower rooms, with standard guest amenities, available for early arrivals and late departures *
- Over-night shoe shine service
- Luxury chauffeur transfers for a maximum of 3 guests, within the City Bowl (10km radius) from 07h00 to 23h00
03 Night's accommodation on a fully inclusive basis: Rovos Rail from Cape Town to Pretoria: All meals, bar accounts (excluding premium imports), 24-hour full room services and bar facilities, limited laundry, guided excursions where applicable, entrance fees and great staff. (*** Please note SET Departure Dates under T's & C's!)
03 Night's accommodation on a fully inclusive basis: Zambezi Queen Houseboat (Master Suite): Accommodation, all meals, soft drinks, mineral water, coffee, tea and local beer & wine Guided water-based game viewing and birding, Guided water-based fishing (all fishing is strictly catch and release), Guided (non-professional) water-based photographic safari, Guided cultural tour of a local village
03 Night's accommodation on a fully inclusive basis: Little Vumbura in the Okavango: All meals, twice daily game viewing activities, park fees, laundry, bar accounts (excluding premium imports) and the services of professional ranger and camp staff.
All road transfers on a private basis as per itinerary
A great Cape Peninsula Tour including entry fees and a wild picnic
An awesome Whale Boat Trip and tour of Hermanus with some fine dining
A Half-Day Pretoria City Tour as per itinerary
Private meals and game viewing whilst at Little Vumbura
1 Hot Air Ballooning Experience in season in the Okavango Delta (19 April - 30 August 2020 only)
30 Minute Scenic Helicopter Flight in the Delta
Flights:
Johannesburg - Hoedspruit - Johannesburg return way excl. taxes (SAA)
Johannesburg - Maun - Johannesburg return way excl. taxes (BP)

Cost Excludes
Visas if required
Meals not specified
Bar accounts / beverages not specified and premium imports
Laundry not specified
Flights not specified
Airport taxes (still to be included and subject to change)
Additional activities/sightseeing/entry fees/park fees not specified
Travel Insurance
Table Mountain Tickets (weather dependent)
Personal items & gratuities