Our 12 Night Best of Botswana Safari stitches together 4 of Botswana's flagship safari areas into one itinerary, by means of inter-camp light aircraft transfers.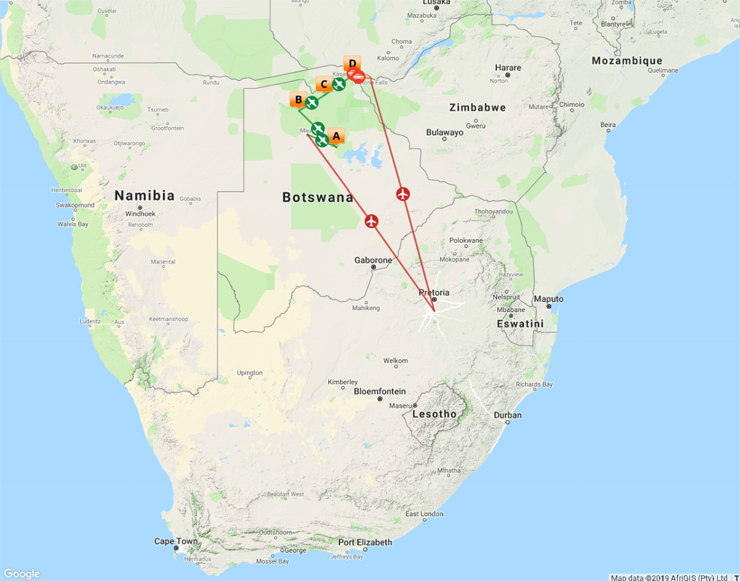 Your journey begins in the wide-open spaces of the Makgadikgadi Pans National Park, where the flat, salt-pan landscape is perfect for capturing views of the endless horizon. The park is also home to an abundance of fossil dunes and wildlife, including the Makgadikgadi meerkat, pink flamingo and a number of predator species, such as cheetah and lion.
From here to the alluvial paradise of the Okavango Delta. The Delta is one of Africa's largest wetland resources and the world's largest inland delta that floods and swells annually, as water from the neighbouring Angolan Highlands enters Botswana between the months of June to October. This natural phenomenon attracts a wide range of bird and animal life that flock to the water-rich region, creating a unique and memorable safari experience.
From the Delta, we continue to the iconic Savuti Region, home to the episodic Savuti Channel, a water source that supports an array of wildlife, including vast herds of elephant and large prides of lion.
The magic continues as you move to the Chobe River in northern Botswana, where you embark on a luxurious Chobe Houseboat Safari operating from the Namibian bank. Home to big crocodiles, many hippo and a critical water source to all wildlife.
Itinerary at a Glance
(View the Detailed Itinerary here)
Days 01-03: Depart Johannesburg for Maun (Botswana) from where you will travel to the first safari camp, Leroo La Tau in the Makgadikgadi Pans National Park. Here you spend the first 03 nights of your safari, exploring this stark but fascinating place.
Days 04-06: Depart Leroo La Tau for Camp Okavango in the Okavango Delta. You will be spending the next three nights of your safari here, exploring the delta and its scenery through a number of adventurous activities, including traditional moroko excursions.
Days 07-09: Travel from Camp Okavango, to Savute Safari Lodge in the Savuti region of Botswana. Here you will spend the next 03 nights on Safari, experiencing the area's diverse environment, rich in flora and fauna.
Days 10-12: From Savuti it's onto the Chobe National Park, where you board the Chobe Princess Houseboat, where you spend the last 03 nights soaking up the wildlife spectacle of the Chobe River.
Day 13: Transfer across the border to the Victoria Falls Airport, to board your flight back to Johannesburg. (The safari can easily be extended to include a night or two at Victoria Falls)