Famous for its mild Mediterranean climate and pristine nature, you are in for a treat when you book the newly established Oystercatcher Trail. The trail is named after a charismatic wader, native to the rocky shores along Southern Africa. This noisy bird, easily recognisable by its black plumage, bright red legs and bill, is threatened but its numbers are currently increasing due to conservation initiatives that protect their habitat, such as the Oystercatcher trail.

Starting in Mossel Bay, a town along South Africa's Garden Route, hikers can choose between 3 options on the Oystercatcher Trail: Gold Trail, Silver Trail or Green Trail.
On all three options, in true 'slackpacking' style, your luggage is shuttled ahead to the overnight accommodation, and hikers are accompanied by a knowledgeable guide every day. Daily distances range from between ten to twenty kilometers. Hiking is typically easily completed in about six hours, leaving plenty of time to play and relax.
So What is Slacpacking?
- Do you love hiking and enjoy an active, outdoor holiday - but you want to travel light
- Do you want an adventure in pristine and unspoilt nature - but with a guide to lead the way
- Do you want to breathe fresh air, smell the flowers, enjoy the views and dip in the sea – but with a home cooked meal, a glass of wine and a comfortable bed waiting at the end of each day
If said 'yes' 2 or more of the above, then you are a confirmed slackpacker! Be part of the growing number of hikers that traverse the Garden Route in style and join us on the Oystercatcher trail, one of South Africa's pristine slackpacking destinations!
Renowned for its environmental and cultural educational value, the Oystercatcher Trail is complete with four star accommodation and excellent meals. Hikers only need to carry a light day pack and can therefore focus their time and energy on enjoying the scenery and experiences rather than lugging heavy backpacks along the beaches.
What can I expect on the Oystercatcher Trail?
Friendly people, a laid back atmosphere and a constant holiday feel characterizes the town of Mossel Bay, the starting point of the Oystercatcher trail. Conveniently located with easy access from major centers such as Cape Town and Port Elizabeth, hikers arrive for their first overnight here.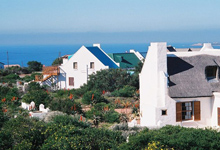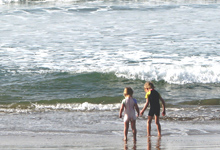 A year round hiking destination, Mossel Bay is blessed with a mild climate and an average of 320 days of sunshine per year. Although best known as the place where explorer Bartholomeu Dias landed to replenish his water supplies in 1488, the history of Mossel Bay can be traced back more than 200,000 years.

This is evident on day two where the first point of call is a visit to the Cape St. Blaize Cave. Here archaeologists have uncovered middens laid down by Khoisan herders. Mossel Bay straddles the Cape St. Blaize peninsula and spreads out along the shores of the warm Indian Ocean. Hikers can enjoy refreshing dips in the sea on the route that ends with overnight stays in the Sandpiper Guest Cottages in Boggomsbaai. This tiny hamlet, with its near unpronounceable name, acts as the central point for hikes on the following days. Picturesque beaches, a rich birdlife and regular schools of dolphins great hikers upon arrival to this idyllic retreat.
At the start to each day, hikers are treated to a hearty breakfast. Then it is time to head out - hike up sand dunes and explore the Gouritz River, swim in secluded bays and take in the beauty of coastal fynbos, visit Khoisan middens and shipwrecks; each day on the trail brings unique highlights.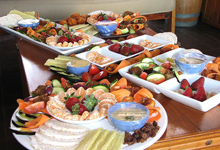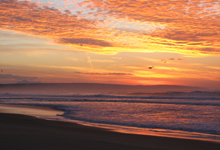 During the days hike, wildlife enthusiasts have plenty of time to watch out for game. Smaller antelopes and Cape hares are frequently spotted and year around the area is home to a wide variety of bird species so twitchers (birders) are advised to bring their binoculars. Between July and December, it is the breeding season of the southern right whale. These gentle giants are easily spotted from the beaches and your guide will point out characteristic behavior such as 'lobtailing' and 'spyhopping'.
At the end of each day, tired hikers can enjoy the sauna, indoor heated pool and other excellent facilities of the Sandpiper Sport and Spa Centre. For the energetic visitor, how about a game of squash, tennis or spinning class in the gym? If a relaxing Jacuzzi is more appealing, then you'll be happy to discover that this one comes with exceptional views of the bay below. Massages and health therapies are also great treats for tired legs!
For some of the freshest air that you can breathe – make your way to the Garden Route and discover the allure of the Oystercatcher trail!