A self-drive holiday in South Africa and Namibia is an intriguing mix of adventure, excitement and a sense of freedom - a unique and inspirational experience that will leave you with some great lasting memories of Southern Africa and tales to tell for years to come….Take a quick look at some of our self-drive tours below, or call us! We would love to discuss our exciting self-drive journeys with you and help you discover the magic of self-driving South Africa and Namibia!
14 Day Southern Africa Tour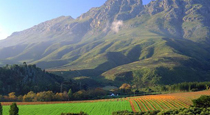 This 14 day tour highlights some of South Africa's most breathtaking scenery. It is a diverse itinerary that includes Cape Town and its surrounds, the Kruger Park area for a private safari camp experience, and the last 5 days is a guided & assisted tour of Victoria Falls in Zimbabe and Chobe National Park in northern Botswana ... Read More+
11 Day Self-Drive Tour of South Africa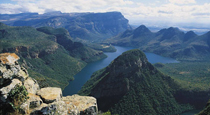 This 10 night self drive tour starts and ends in Johannesburg, and covers the north and east parts of South Africa. The itinerary takes in the Blyde River Canyon, an exhilirating hot air ballooning experience, the Kruger National Park, Swaziland and Zululand. It allows for adventure, relaxation, safaris, culture and stunning scenery ... Read More+
South Africa in 10 Days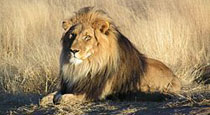 This 10 day South Africa Tour is a carefully grafted itinerary that makes use of guided touring & transfers, as well as having a self-drive component. It starts with a few days in Cape Town and then takes in Zululand for a safari and to experience the Zulu culture and ends with some quality beach time ... Read More+
More Information Self-Drive Tours in South Africa and the Region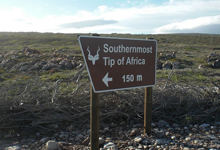 Self-drive tours are an excellent option for travellers who enjoy a sense of independence and flexibility, and are an increasingly popular way to explore Southern Africa. African Travel Gateway's self-drive holidays have been specially designed with the independent and adventurous traveler in mind. So if you enjoy the freedom of being able to stop when you want to and spend a little more time at an interesting attraction, then a self-drive tour may be the ideal choice for you. We take care of all of the planning and organizing for you so it's as simple as fly in, collect your pre-booked rental vehicle, load your bags and go.
Self-drive holidays are typically a very economical way to explore a region. Our itineraries are thoughtfully planned to take in as many highlights as possible while keeping each day's drive time to only the necessary minimum. So your precious holiday time is utilized wisely and not spent driving for days on end, and there is also ample time to relax and see the sights. Planning ahead for each day of your tour is easy as African Travel Gateway assists you by providing approximate travel times and distances between destinations. Reserves and national parks only accessible by four wheel drive vehicles are also not a problem. Just park your rental car, and join a guided tour pre-booked by African Travel Gateway. We have all bases covered so you won't miss anything.


Travellers often have a limited time to tick off everything on their itinerary and distances between some destinations in Southern Africa can be unexpectedly vast, especially to visitors from small countries. African Travel Gateway offers itineraries that combine shorter self-drive sections, flights between some destinations and guided sectors where necessary, at private game lodges for example. This way you will see a whole lot more of the top destinations in the same amount of time, exploring at your own pace and stopping to relax when you need to instead of pushing on with a long, tiring drive. A road journey through Africa is a visual delight and you want to be fresh to enjoy seeing everything. Browse our selection of self-drive tours or give us a call. Come and explore!
South Africa is a superb destination for self-drive holidays. The country has a well-developed road infrastructure with an established network of national routes. All major roads are tarred, well maintained and clearly signposted with well-stocked service stations at regular intervals along the way. Friendly attendants will re-fuel and check your vehicle for the next segment of your journey and there are often curios to browse and a good selection of refreshments available while you stretch your legs.
South Africa is a beautiful country with incredibly varied scenery
The south west region boasts the cosmopolitan city of Cape Town, nestled into the Cape Peninsula and flanked by Table Mountain and the other peak's of Table Mountain National Park. A visit to the Cape Winelands is a must, offering world class wines, magnificent scenery and quaint historical villages. The Garden Route is one of the easiest and most rewarding self-drive holidays in Africa, a naturally beautiful stretch comprising indigenous temperate forest and coastal and mountain fynbos.

In the north, the bustling metropolis of Johannesburg is the starting point for our self-drive itineraries. Make your way through the highveld to the scenic Mpumalanga Escarpment. Have your cameras at the ready for The Panorama Route which will astound you with its breathtaking and dramatic views and at most viewpoints you will find a selection of curio stalls. The Blyde River Canyon is a must-see and, depending on your interests, you can pick and choose from the many unique geological features including Bourke's Luck Potholes and God's Window as well as the numerous cascading waterfalls that tumble over the edge of the escarpment. Continue on from here for a wildlife safari at the world famous Kruger National Park.
Swaziland, the smallest country in the Southern Hemisphere, welcomes visitors wholeheartedly and offers an easy and pretty drive along winding roads in a rural setting. Border crossings are straightforward and the road network continues seamlessly between the two countries making it easy to include Swaziland as part of your self-drive tour. On to the rolling hills and lush tropical coastline of Kwa Zulu Natal and a visit to some first-rate game reserves - a perfect way to finish off your journey!
A drive through South Africa is a feast for the senses, an exhilarating and vibrant blend of adventure, relaxation, safari, culture and beautiful scenery that will leave you pleasantly surprised.
Self-drive tours in Namibia
The central location of Namibia's capital, Windhoek, makes it an ideal starting point for African Travel Gateway's self-drive tours in Namibia. Windhoek is a fascinating collage of friendly faces and cultural diversity and the country is well known for ecotourism, dramatic desert landscapes and a huge variety of wildlife. The peripheral Namib and Kalahari deserts embrace the vast interior of Namibia with its harsh, yet beautiful scenery. The varied terrain of Namibia makes it an exciting destination for a self-drive holiday offering a myriad of natural features such as canyons, steep red sand dunes, rugged peaks, salt pans, dry savannah, wetlands and long stretches of ocean beach. All major roads in Namibia are tarred, well maintained and clearly signposted, even prepared gravel roads are easily negotiated by two wheel drive vehicles.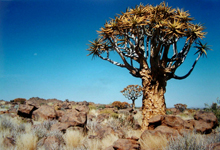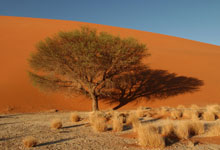 Due to the arid conditions, Namibia is a sparsely populated country. Most settlements offer little more than a service station with a basic store where travellers can re-stock with very general supplies like food and water. African Travel Gateway offers itineraries that are specifically planned to ensure that driving distances are manageable, concentrating on either the desert regions south of Windhoek or on the wildlife experiences in the northern areas.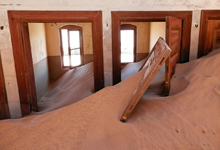 A tour of southern Namibia is incomplete without a visit to Sossusvlei, a salt and clay pan encircled by tall red sand dunes. This starkly contrasting desert landscape symbolizes the image of the vast unspoiled Namibian landscape and makes an everlasting impression on visitors. Sossusvlei can only be accessed by a four wheel drive vehicle, so African Travel Gateway provides guided tours of this spectacular natural feature. A good tarred road will lead you to the harbor town of Luderitz and be sure to take a look at Elizabeth Bay, Pomona and Kolmanskop on the way, ghost towns once flurrying with activity in their diamond mining heyday. There is also plenty to keep you busy in the waterfront town of Swakopmund with its charming colonial architecture and relaxed seaside ambiance. In northern Namibia, Etosha National Park awaits. Etosha is easily accessible by all vehicle types on good prepared gravel roads and its diverse vegetation and the immense Etosha Pan attract an abundance of wildlife. The scenery transforms further east in the Caprivi, a narrow corridor of Namibia bordered by Angola, Zambia and Botswana. Here, more wildlife encounters can be enjoyed at Nkasa Lupala National Park with its plentiful game and bird species. Here you will join our guided tours on the Kwando-Linyanti river system.
Self-drive tours in Botswana and Zimbabwe
Botswana, as sparsely populated as Namibia, is a relatively flat country with gently rolling tablelands and is world renowned for its remarkable wetland system, the Okavango Delta. Botswana is easily traversed on tarred and well maintained main roads, however routes to most popular destinations off the main road network require a four wheel drive. Similarly, road conditions in both Zimbabwe and Mozambique can be poor and remote areas can only be reached by four wheel drive. We advise travelling with two vehicles when visiting these countries and some experience in four wheel driving is also recommended. African Travel Gateway's self-drive tours in Botswana and Zimbabwe include only areas which are comfortably navigated in a two wheel drive vehicle and we also incorporate guided tours in national parks and reserves.
Learn more about:
Advantages of Self-Drive in South Africa
Accommodation used on a Self-Drive Tour
Cars We Use on a Self-Drive Tour
Navigation on a Self-Drive Holiday
Drivers Licenses & Safety when Self-Driving in South Africa