This company was started in 1986 by PJ and Barney Bestelink. They operate in the Okavango Delta which promises some of the best wilderness areas that Southern Africa has to offer.
The horses are mostly thoroughbreds and range from TB crosses, Arabians and American Saddle bred crosses and boerperds. PJ and Barney have ensured that only top quality tack is used and on offer are English leather saddles with leather bridles as well as South African trails saddles.
This safari itself operates over 2500 sq kilometres of startlingly beautiful wilderness in the Okavango Delta and uses three camps each located in rich wildlife areas. A maximum of eight riders is taken and non-riders are also welcome. The horseback safari itineraries are designed around set departures and as such guests can choose between 5, 7 or 10 night horseback safari itineraries.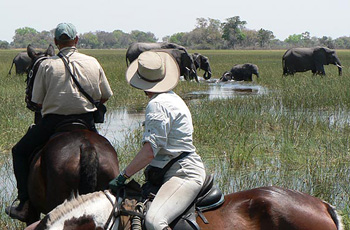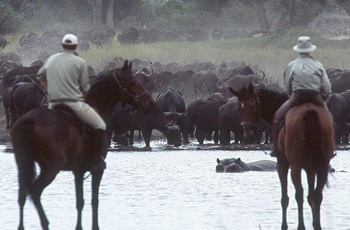 Guests spend about 4-6 hours a day in the saddle and the rest of the day is open for relaxation including swimming, game drive safaris, mokoros safaris or walking safaris. On offer is also the option of full day riding safaris, and then a picnic lunch is supplied and laid on by a spport vehicle.
The Safari Camps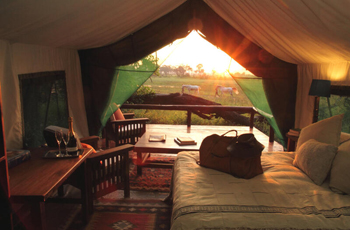 Kujwana Camp is made up of six large Meru ensuite tents set along the Xudum River on an island featuring a forest of awesome trees bustling with birds of all sorts. The main area has a bar and dining area, as well as a tree house that watches over the Xudum River. Solar lights are present in all tents. This camp serves as the "main casmp" or base and it is where the horses and staff are permanently located.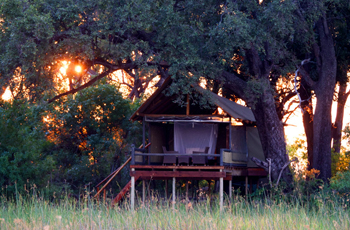 Moklowane Camp is NW of Kujwana on the Matsebi River. This safari camp is made up of tree houses built about two meters off the ground. It is a camp regularly visited by elephants that arrive to feed on the lala palms that grow in the area. Accommodation at Mokolwane is made up of five ensuite units. Each unit commands amazing views across the floodplain.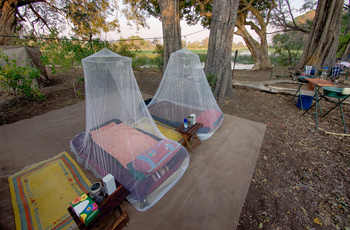 Fly Camp is a remote fly camp that offers accommodation in the traditional Meru safari tents. This is the more rustic safari camp of the three and each tent has its own bucket shower and bush toilet. It is located in an area of bigger islands that have thick groves of mopane trees. The area is also host to good game and a lot of game is seen coming to drink from the river that runs past it.
The Horseback Safaris
The horseback safaris are designed around set departures that essentially run for 10 nights, but departures are scheduled so that guests can join & depart at set times therefore allowing them to choose between 5, 7 or 10 night horseback safari itineraries:
5 Night Safari
This safari could form the first five nights of a ten night safari or the last. Guests would depart on day 6 of the safari after an early horseback safari and breakfast.
7 Night Safari
This safari would start on the first night and would typically use at least two camps, giving guests more time to explore the area thoroughly.
10 Night Safari
On the 10 night safari all three camps are used. Guests that opt for this safari will have the privilage of exploring the full area and have a horseback safari that will remain with you forever.

Rates & Departure Dates for Horseback Safaris (quoted in Pounds Sterling)
Price Includes
Accommodation
All meals
Local drinks
Guiding, horse riding, game drives, walks & mokoros
Concession fees
Price Excludes
Air Transfers ex Maun
Staff gratuities.
Single supplement of 50%