Each year from April to September, hot-air balloon safaris over the scenic Okavango Delta, offer travellers an extraordinary game-viewing adventure, without the bustling noise that accompanies an aeroplane or helicopter engine. This balloon safari allows you to calmly float across the skies of the region, taking in the picturesque views of a true African sunrise and the Okavango Delta below, enhancing your overall experience of northern Botswana. (Should your safari be taking you to other parts of Botswana, we also offer Hot Air Ballooning in the Chobe area)

Hot Air Ballooning in the Okavango Delta is possible from 3 safari camps that are located within reach of the launch area. These camps are:
Kadizora Camp
Mapula Lodge
Little Vumbura
If you are going to be staying at one of these camps, then we can simply book a hot air balloon flight for you.
Flight Rates
USD 520 per person - 1 May - 15 Sep 2021
USD 395 per person - 15 Apr - 30 Apr 2022
USD 495 per person - 1 May - 15 Sep 2022
The Price Includes:
An early morning game drive to the launch site.
Hot tea & coffee is served upon arrival while you witness the set up of the hot air balloon.
45 - 60 minutes of serene weightlessness as you float over the magnificent Okavango wilderness
A celebration of champagne & orange juice upon landing
The awarding of a flight (bravery) certificate!
The game drive back to your safari camp
Okavango Hot Air Balloon Flight with Accommodation
African Travel Gateway builds safari itineraries and offers packages comprising of (2) nights accommodation at any of the 3 balloon flight participating camps in the Okavango Delta.
Firstly the luxurious Kadizora Camp located beneath a thicket of shady trees, or the rustic Mapula Lodge set amongst a beautiful web of inland lagoons, or the Little Vumbura Camp located in the northern part of the Okavango Delta in an area that has access to both excellent land based game viewing and water based activities.
African Travel Gateway can offer this package as a standalone tour, or can easily link it onto the beginning or end of longer Southern Africa tours- the choice is yours.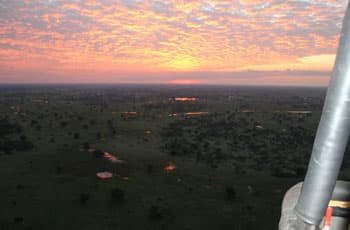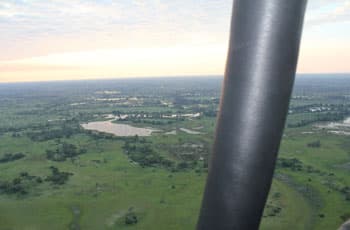 Your two day trip starts with a light aircraft flight from Maun Airport to your preferred camp, where friendly staff await your arrival. After a short camp briefing, you are guided to your suite where there is plenty of time to unpack and unwind, whilst soaking up the breath-taking views of the delta and its pristine wildlife. You will also have the opportunity to participate in a range of game-viewing activities, including game drives, mokoro (traditional dug-out canoe) excursions and guided natures walks within the heart of the delta.
Depending on the weather, your peaceful balloon safari is scheduled to take place on the morning of day two. At the break of dawn, you will be transferred to the balloon launch site in an open safari vehicle, allowing you the opportunity to do some wildlife spotting along the way. Upon your arrival tea, coffee and light snacks will be provided as you observe the ground crew prepare and inflate the balloons. The safari embarks 10 minutes before sunrise, when the air is at its calmest and the rising sun begins to peak over the horizon. Your hot-air balloon flight will last for approximately 45 minutes, allowing you to fully immerse yourself in the pink and orange painted sky, whilst embracing the beautiful panoramic views of the landscape and wilderness below.

Once back on land and keeping with tradition, you will celebrate your flight with champagne, fresh orange juice and more snacks. You will also be presented with a commemorative flight certificate by your pilot, and on the drive back to camp, there will be ample time to reflect on your charming hot-air balloon safari over one of Africa's largest alluvial paradises, the Okavango Delta.