During April - October each year, hot air ballooning safaris in the Okavango Delta, Botswana are an option! A hot air balloon flight over the sprawling wetlands of the Okavango Delta is truly a once in a life time experience. Unlike a flight in an aeroplane or helicopter where speed and engine noise fill the experience, a hot air balloon is instead, a silent float sometimes at treetop level and at times high above. The sights, sounds and smells of the dawn fill your senses, and the chance of seeing wildlife is very good and simply enhances your overall Botswana safari experience.
Hot Air Ballooning in the Okavango Delta is offered by African Travel Gateway as a stand-alone tour, or can be linked to the beginning or end of other tours. This package comprises of (2) nights accommodation at one of 4 camps in the Okavango Delta in northern Botswana. Simply decide between Kadizora Camp and Mapula Lodge, as to which of these two great camps you wish to call home for two nights, and African Travel Gateway will take care of the rest!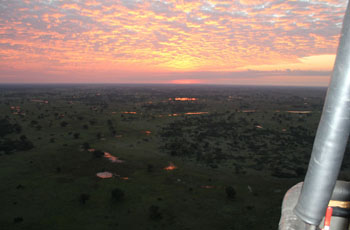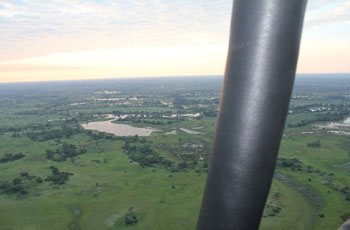 The 2 day tour begins with a light aircraft flight from Maun Airport that will take you to the camp of your choice. A warm greeting awaits and after a brief camp orientation you will be shown to your suite. Your first day will be spent taking in the picturesque surroundings of the camp, enjoying the sensation of being deep in the heart of the magical Okavango Delta and taking advantage of the great game viewing activities on offer which include game drives, guided walks or mokoro (canoe) excursions.
Your Balloon Safari will take place on the morning of your second day, weather permitting. The camp will transfer you to the balloon launch site in an open safari vehicle providing opportunity for wildlife spotting along the way. Refreshments - tea, coffee, snacks - will be served at the launch site while you watch the ground crew inflating the balloon. Take off is 10 minutes before sunrise when the air is at its calmest and to make the most of the spectacular morning glow on the landscape as you enjoy game viewing, take photos and absorb the breathtaking panorama of the Okavango Delta from your vantage point. The balloon flight will last approximately 45 minutes.

Keeping with tradition, the flight will be celebrated with champagne and orange juice and snacks and a commemorative flight certificate presented by the pilot. On the game drive back to camp, enjoy reminiscing about your amazing Balloon Safari over the extraordinary inland oasis of the Okavango Delta.