The Selinda Spillway in northern Botswana is an ancient channel that connects the northern part of the Okavango Delta with the Linyanti Swamps. This channel winds through thousands of hectares of prime African wilderness. What makes it fascinating is that for over 30 years the Selinda Spillway has been bone dry! The exceptional rains and floods of 2009 caused the channel to flow once again, changing the dynamics of game movement and viewing in the area. Since 2009 the continued high floods of 2010 and 2011 have ensured that this river is becoming somewhat of a permanent feature to the wilds of northern Botswana.

The Selinda Canoe / Walking Trail was thus born, and has proved in its short lifetime to be a wilderness safari experience, extraordinaire! The canoe trail covers about 45 kilometers over 4 days & 3 nights. The trail can accommodate a maximum of 8 guests that makes the trail small and intimate. The boats themselves are very stable Canadian canoes, accommodating two paddlers in molded seats that are fixed to the canoe. The channel winds its way through vast tracts of bush home too many species of wildlife, including elephant, buffalo, lion, roan antelope, wild dog, hippo, giraffe and much more. Birding is of course phenomenal, and since the channel is essentially a river the game and birdlife of the area are still getting used to the idea of there being such an abundance of crystal clear water in a formally dry area!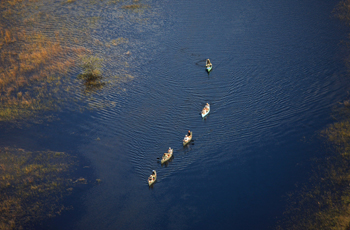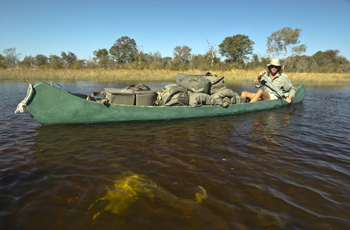 The Selinda Canoe / Walking Trail can be booked as a safari in itself, but we can also package it into a broader Northern Botswana safari tailored too your requirements. Here a few samples of other safaris in Botswana that can be worked into the canoe trail.
Canoeing the Selinda Spillway
Guests are required to fly into Selinda Airstrip by 12h00 on the day of departure. Here they are met by the guide and enjoy a 3 hour game drive that penetrates deeper into the wilderness to the start of the canoe / walking trail. Guests are introduced to his/her canoe in which will be your bed roll and whatever small bag you wish to keep with you whilst you paddle. After a safety briefing the canoe / walking trail begins with a tranquil drift-paddle down to the first campsite. The canoe trail is staffed by a professional guide (armed with a rifle) who paddles with the group, and then a four member support team (each in their own canoes) who paddle ahead and set up camp, at a site they think is suitable-the beauty of this canoe / walkingtrail is that there are no set campsites, which makes the experience extra special. The support team take care of every detail and guests are not expected to do any camp chores whatsoever - the focus is on absorbing the amazing wilderness around you!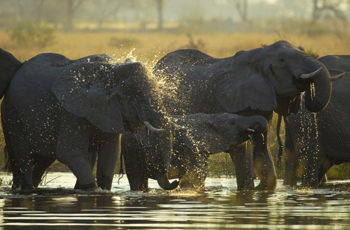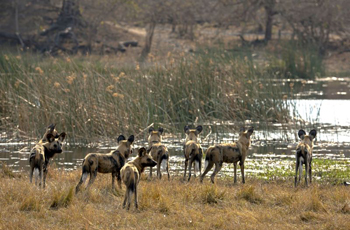 The support team set up the 2m x 2m dome tents and place the comfy bedrolls when you arrive. A temporary long drop toilet is part of each campsite, as well as a bucket shower strung up on a convenient tree, which is filled with hot water for guests to use when required.
Days 2 - 3 and the morning of day 4 are spent paddling down the Selinda Spillway at a very leisurely and non-strenuous pace (no previous paddling experience is required). Breakfast is had at camp in the early morning, and a snack pack is provided to each guests to take with on the canoe. Occasional stops on the river bank are made for lunch and a siesta, and game walks into the surrounding bush are also taken if the interest or need arises. As you paddle down the river the guide will stop and point out birds, mammals and trees or any other features of interest, making the whole experience informative, relaxing and rejuvenating! The evenings are spent around the camp fire, serenaded by the sound of the bush that could include lions roaring, owls calling, hippo grunting or a peaceful silence that in itself nourishes the soul!
Since you need to carry on your canoe your own luggage & bedroll, it is highly recommended that you keep you baggage weight to less than 20 kg per person packed into a soft bag, the lighter your luggage the easier it is to paddle! Excess luggage that you may happen to have with you is easily stored at Selinda Camp on your arrival for the trail. Dress code for this safari is very casual. Neutral coloured and comfortable clothing (browns, khaki etc..) should be taken.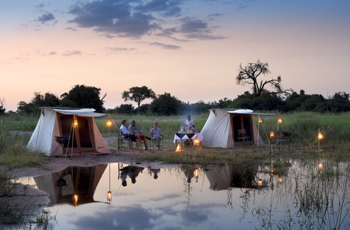 What to Bring & Remember
* A good flashlight (torch) and spare batteries is a must since we camp in the wilderness and there if of course no lighting other than the campfire and the stars! In fact a headlamp is an extremely useful torch to use around camp and in your tent at night.
* Spare Camera batteries - given the nature of this wilderness canoe / walking trail there are no battery charging facilities
* Dietary requirements need to be stipulated at the time of making your reservations as the support crew need to be able to plan well in advance of a trail departing
* Walking shoes and a comfortable pare of sandals that you can wear on the boat, that you don't mind getting wet.
* A complete suggested packing list is provided upon booking
* Families with children between the ages 10 - 13 yrs can be accommodated on a private basis. Children 14 yrs and older can join the canoe / walking safari as adults.
Cost of the Canoe / Walking Trail
May - Sep 2019
U$ 2985 per person sharing - for the 3 night trail
+
U$ 45 per person conservation levy (for the full trail)
Cost Includes
Accommodation in 2m x 2m dome tents equipped with a comfortable bedroll
All meals
All canoeing equipment
Concession fees
All guided activities (canoeing & game walks)
Local beverages (soft & alcoholic, but excludes premium brands)
Return airstrip transfers
Cost Excludes
Light aircraft transfers to and from Selinda Airstrip
Pre & Post canoe trail accommodation at Selinda Explorers Camp or Zarafa Camp (if required)
Gratuities
2019 Canoe Safari Dates
27 - 30 May
02 - 05 June
10 - 13 June
17 - 20 June
23 - 26 June
29 June - 02 July
05 - 08 July
11 - 14 July
17 - 20 July
24 - 27 July
30 July - 02 August
05 - 08 August
11 - 14 August
17 - 20 August
23 - 26 August
29 August - 1 September
04 - 07 September
10 - 13 September